by
posted on June 24, 2016
Support NRA American Hunter
DONATE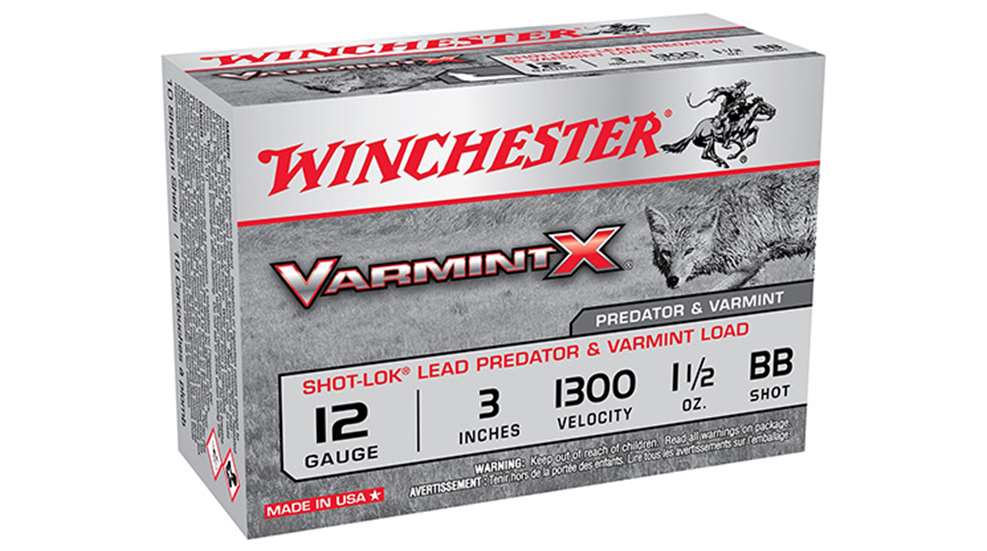 When Winchester first released its popular Varmint X line of ammunition, the engineers were going for something fast and flat with minimal recoil. All the things that dedicated varmint hunters are looking for. And on those counts, the company succeeded. What wasn't offered in the original Varmint X line, though, was ammunition for those who prefer to deploy their favorite scattergun against feral hogs, coyotes and other predators. That's changing in 2016, as Winchester has officially announced a new 12-gauge shotshell addition to the Varmint X line.
Varmint X, as you might imagine, comes standard with Winchester's vaunted Shot-Lok technology. The liquid gel of Shot-Lok surrounds the pellets in the shot cup and then hardens. When fired, the shot launches nearly perfectly round from the barrel, as the hardened resin fractures and disperses like any shotshell buffer. The result? Extremely tight, long-range patterns.
"Until now, predator hunters who use shotguns have had to use shotshells designed for other game. This dedicated load with Shot-Lok Technology offers them the proven performance they need from a shotshell to deliver tight patterns at longer distances and will work perfectly on a broad range of predators," said Brett Flaugher, Winchester Ammunition vice president of marketing, sales and strategy. 
The new Varmint X shotshell load will be available in a 3-inch offering loaded with 1½ ounces of plated BBs that leave the muzzle at 1,300 fps.
For more information, go to Winchester.com.