by
posted on July 11, 2022
Support NRA American Hunter
DONATE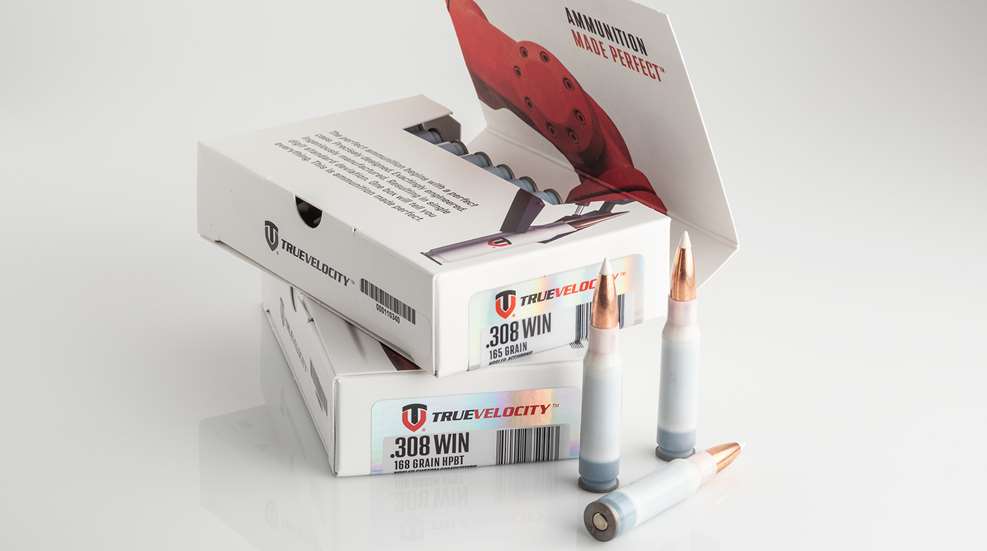 Steel, wood, aluminum, brass, copper: These are, historically, the materials associated with firearms and ammunition. Then came the polymers—the first time I saw a "plastic" stock on a rifle was the military M16, then the Remington Nylon 66. By the end of the 20th century, polymer stocks were prevalent, our shotshells had nearly entirely changed from paper hulls to plastic and in some instances even the brass head of the shotshell was replaced by plastic.
Our rifle and pistol cases have long been made of brass—sometimes nickel plated to resist corrosion—with some instances of steel and aluminum being used. Brass remains the most popular choice, as it is rigid enough to resist deformation, strong enough to handle the pressures generated in the firing probes, yet malleable enough to be resized and reused for several firings. Reloaders will hoard fired cases for reuse, and as the price of metals increases, and the availability of component brass cases remains at a low, good brass cases are a treasure. Simply put, for nearly all of the hunting ammunition, the cases are made of brass, and that's just how things are. Until now.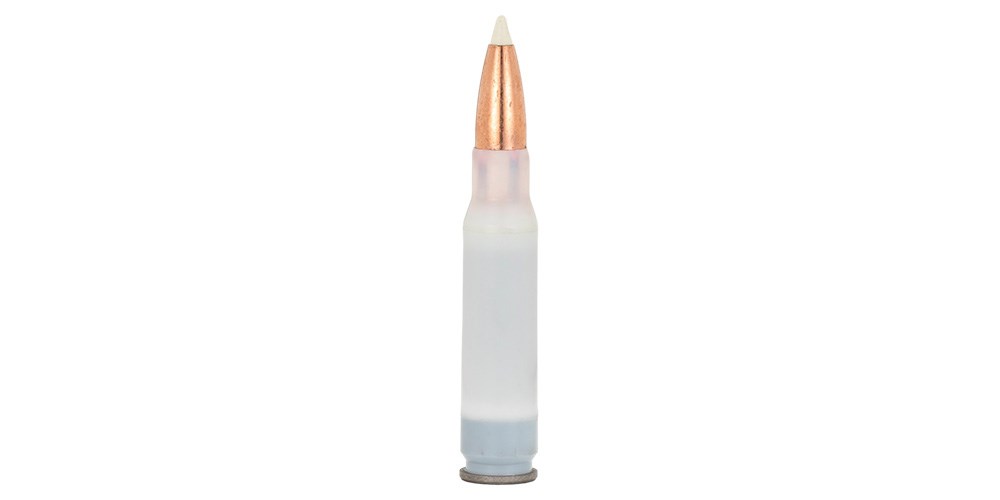 True Velocity has released a line of rifle ammunition that uses polymer cases, and while the concept may sound bizarre, it works. Hailing from Garland, Texas, the folks at True Velocity use a polymer composite to craft their cartridge cases. It all starts with a steel cup, used for the cartridge base and extractor groove, as well as holding the primer. In the .308 Winchester ammunition I tested, this cup measured roughly ⅜ inch, with the composite case body-shoulder-neck being molded right down over the extractor groove.
Why use a composite polymer? Well, there are a few reasons. Though True Velocity is producing some ammo designed for hunting, their primary focus seems to be military ammunition; their offerings are all military chamberings. And just as the .45-70 Government gave way to the .30-40 Krag, and the .30-06 Springfield gave way to the .308 Winchester, weight has always been a concern. The lighter a cartridge is, the more the soldier can carry (a big part of the choice of the 5.56mm NATO by the U.S. Army), and the True Velocity
composite-cased ammo certainly shaves the weight. Comparing the weight of a 165-grain load in a brass-cased cartridge to a True Velocity cartridge with the same weight of bullet, the brass case is 100 grains heavier; the brass cartridge weighed 393 grains and the True Velocity polymer case weighed 293 grains. It might not make a huge difference to the average hunter, but for the sheep/goat crowd, where ounces matter, there's a definite weight savings. For the foot soldier, this is a very important point.
Consistency is another reason. Drawn brass cases come with pleasures and pitfalls, and while our modern ammunition is better than it has ever been, any handloader worth his or her salt will tell you that paying attention to the dimensions of the cases can make a world of difference. When a brass case is drawn—a rather violent process—the wall thickness will vary, and even the premium stuff will have variations. True Velocity's composite cases can be manufactured to extremely tight tolerances, and that will, in theory, result in a more consistent cartridge. This should equate to tighter groups at the target board.
Cost is another viable reason, as the recent economic inflation has forced many of us to tighten our belts, and when ammunition is available it has certainly gone up in price. Brass is costly, and getting costlier, so perhaps these composite cases are a viable alternative, helping to solve the ammo shortage.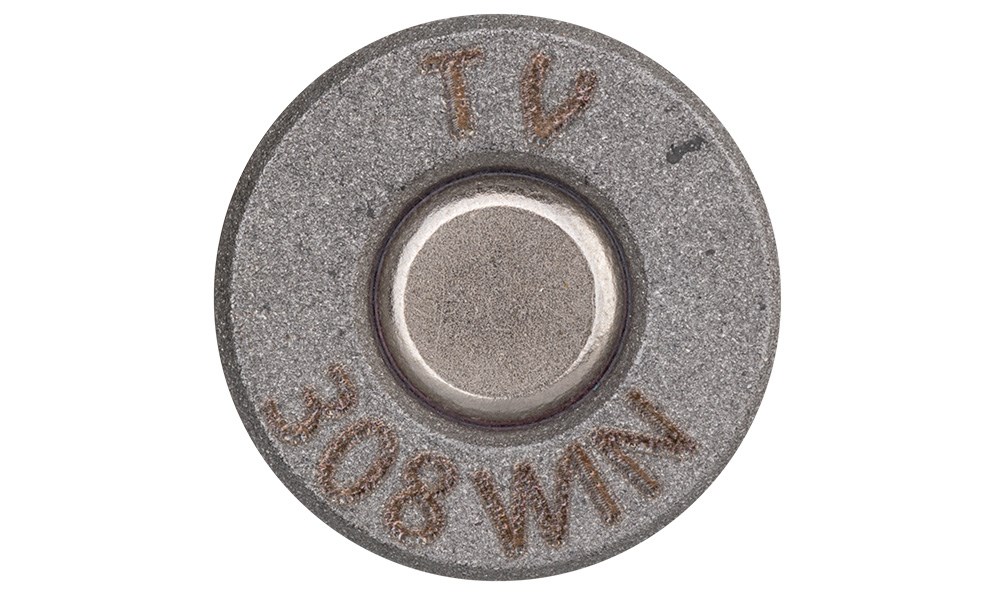 I had two loads to take to the range: a 165-grain Nosler AccuBond hunting load and a 168-grain Nosler Custom Competition match load, both at an advertised muzzle velocity of 2650 fps. While I could've borrowed one of a number of .308 Winchester target rifles from one of my pals, I reached for my well-worn Ruger Model 77 MKII hunting rifle; this is American Hunter after all. This rifle has one of the heavy triggers common to the early 1990s, but I know it well; it could be a rifle you bought off the used rack at your local gun shop to drag through the deer thickets. Topped with a vintage Leupold Vari-X IIC 3-9x40mm, this rig has accompanied me all over, being my go-to deer/bear gun for well over a decade. Starting with the Nosler AccuBond load, I noticed the first two shots were an inch apart, and from there things just got tighter. The average of my five-shot groups came in at .96 inch; this is more than accurate enough for almost any hunting situation. According to the Oehler 35P chronograph, velocities for the hunting ammo averaged 2635 fps, and gave an extreme spread of 18 fps. The match load, with the Custom Competition bullet, shot slightly better, with the five-shot group average measuring .85 inch, with the velocities coming in at 2658 fps, and an extreme spread of 12 fps. Perhaps my old barrel just liked the match bullet better, but you can see the consistency in velocities this ammunition possesses.
Extraction was no problem at all, with the lighter weight of the polymer case feeling almost like you were cycling the bolt empty. I did notice that if you didn't forcefully eject the cases from my bolt gun—as you would in any hunting situation—they didn't always reliably eject, flopping around on the top of the magazine follower. To put my mind at ease, I asked my dad to borrow his old Winchester Model 100 autoloader, a rifle he's used to put more venison in the freezer than I could begin to quantify. Grabbing some True Velocity ammo to see how fast I could get the rifle to cycle, I had zero issues with extraction or ejection; in fact that rifle tossed the spent cases roughly 10 feet. I repeated a three-shot string with my bolt gun, working the bolt as if I were taking a running deer—no problems at all and the cases were ejected positively. As a note, all the spent cases were remarkably cool to the touch when picked up immediately after firing.
What we've got here is accurate, reliable ammo, which is considerably lighter than that made with the traditional brass cases, and which I wouldn't hesitate to take on any hunt where I'd feel comfortable grabbing my .308 Winchester. Is the polymer case going to take over? I'm not sure that's going to happen anytime soon, though I do feel there is room in our market for the True Velocity ammunition. And, though the True Velocity products are clearly geared toward feeding the military rifles, I think that their 165-grain AccuBond load for the .308 Winchester might just represent one of the most well-balanced hunting loads for an all-around rifle. As of the time of this writing, only the .308 Winchester ammo is loaded with a dedicated softpoint hunting bullet.

Technical Specifications
• Cartridges Available: .308 Win
• Bullet Type(s)/Weight(s): Nosler AccuBond/165-gr.; Nosler Custom Competition/168-gr. HPBT
• Ballistic Coefficient: .475 (AccuBond); .462 (HPBT)
• Muzzle Velocity (adv.): 2650 fps (AccuBond); 2650 fps (HPBT)
• Muzzle Energy: 2,573 ft.-lbs. (AccuBond); 2,619 ft.-lbs. (HPBT)
• Uses: hogs, deer, black bear
• MSRP per box: $69.99; tvammo.com