by
posted on January 20, 2015
Support NRA American Hunter
DONATE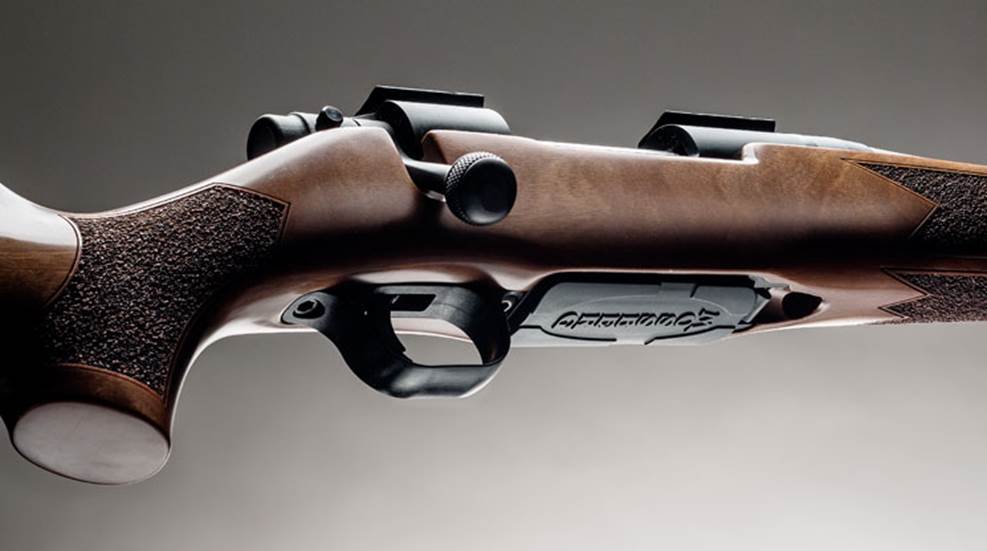 In 1886 Oscar Frederick Mossberg left Sweden for the United States. Thirty-three years later, he and his sons founded a company that to this day remains in the family. For 95 years Mossberg has supplied hardworking Americans with hardworking and affordable firearms, but only recently has the company become a serious player in the centerfire rifle market. This year at SHOT Show (in fact, maybe even as you read this) Mossberg will introduce what might be considered the pinnacle of its sporting rifle efforts, the Patriot.
A patriot, by 1776 definition, was essentially a rebel, a colonial American who sought freedom from oppression and was willing to make the ultimate sacrifice while pressing the point. Patriots represented all walks of life, and they needed guns they could trust. Given Oscar's immigration and realization of the American dream, the current geo-political assault on firearm freedoms and the recent anti-gun legislation in Mossberg's home state of Connecticut, the company could not have chosen a better name for a new rifle built to appeal to middle-class citizens.
The Patriot is a twin-lug, push-feed, bolt-action rifle with an action diameter of a bit more than 1.25 inches. It utilizes a spring-loaded plunger ejector like a Remington Model 700, and the extractor is centered within the face of the bolt's bottom locking lug. The bolt body is .685 inch in diameter and effortlessly slides back and forth within the action. Cocking force is 9 pounds, but it only takes about 2 pounds to open the bolt when unloading. The bolt handle is configured to somewhat resemble that of the Winchester Model 70, checkering and all.
The Patriot feeds from a detachable, polymer magazine that weighs 2 ounces. With standard cartridges it holds five rounds and easily locks in place when full, without having to retract the bolt. The magazine can be loaded through the ejection port, and single cartridges can even be tossed into the ejection port, on top of an empty magazine, and then chambered by closing the bolt.
My test rifle, a pre-production sample (shown here) had a No. 2 contour, 24-inch, button-rifled, fluted barrel measuring .62 inch at the muzzle. Production guns have a similar barrel shortened to 22 inches. Two hex-head screws, one forward of the trigger guard and one forward of the magazine well, hold the barreled action in place. These screws sandwich a polymer bedding block/magazine well between the action and stock. It's a simplistic but effective approach, similar to the design Mossberg uses to make its revolutionary MVP rifles work with AR magazines.
The walnut stock housing this combination of metal and polymer can best be described as classic in design. A deep recess in the stock accepts the thick, wide recoil lug, and epoxy reinforces the area behind each of the stock screws for added strength. Aside from the graceful lines, the most noticeable feature of the stock is the lack of checkering. In its place, the grip and fore-end have panels of rough stippling.
Mossberg's user-adjustable Lightning Bolt Action trigger, a thin but classy black rubber butt pad, and sling swivel studs round out the rifle. It also comes with Weaver-style scope bases, but no sights.
Generally, testing new rifles is limited to firing a couple hundred rounds on the range. That process was not abandoned here. In fact, I put about 200 rounds through the Patriot from the bench and about that many more from various field positions. It was important that I develop an intimate relationship with the Patriot because I was to be the first hunter to take it to the field. The rifle was with me every day, for 21 days, in South Africa.
The first animal to fall to the Patriot was an impala. Next I took a waterbuck and a sable at about 120 yards. My 14-year-old son used the rifle to take a warthog at 160 yards, a kudu at a shade over 300 and an impala at about 240. Linda Powell from Mossberg hunted with me for seven of those 21 days, and she used another Patriot to take a collection of plains game. Through all that, there was not a single negative issue with either rifle.
From a shooting standpoint, the highlight of the hunt came while trying to cull two rogue blesbok from a sheep and cattle farm. We crawled to what we thought was about 300 yards, and my first shot from the prone position went low. The two blesbok took off running left to right. I rolled into the seated position, adding 24 inches of holdover and about 6 feet of lead. A half second after squeezing the trigger, the lead ram dropped. His accomplice stopped, and another 165-grain Nosler Ballistic Tip put him down. A fourth shot finished off the first animal. This was at the edge of my shooting abilities, or maybe beyond, and something I couldn't have done with a substandard, ill-configured rifle.
Mossberg's mantra has long been to provide quality products at affordable prices. Throughout its history, the company has rebelled against the notion that good guns had to be expensive and that firearm ownership should be oppressed. Enter the Patriot. It's attractive; I like the stippling better than checkering. It's accurate, averaging less than 1.5 MOA for five loads. The box magazine is a flawlessly feeding work of art.
I can find only one thing I'd like to see Mossberg change. Doubling the force required to open a cocked bolt would help keep the bolt closed when a round is chambered. A three-position safety could serve the same purpose.
The Mossberg Patriot just might be the rifle for those with champagne tastes who are living on a beer budget. Actually, with several versions soon to be offered from $350 to $650, it might be the rifle for any budget. All red-blooded, freedom-loving American gun owners have a little rebel hiding in them somewhere. That's what being a patriot—and now, perhaps owning one—is all about.
Technical Specifications:
Type: bolt-action repeating centerfire rifle
Caliber: .308 Win. (tested), other short-action, long-action and magnum chamberings available
Barrel: 22"; 1:10-inch RH twist; spiral fluting
Magazine: detachable box; 5-rnd. capacity
Trigger: single-stage, user-adjustable Lightning Bolt Action; 3-lb. pull weight
Sights: none; Weaver-style bases included for mounting optics
Safety: two-position toggle
Stock: straight-comb walnut with stippled grip panels; LOP 13¾"
Metal Finish: matte blue
Overall Length: 42¾"
Weight: 7 lbs.
MSRP: $550