by
posted on May 30, 2012
Support NRA American Hunter
DONATE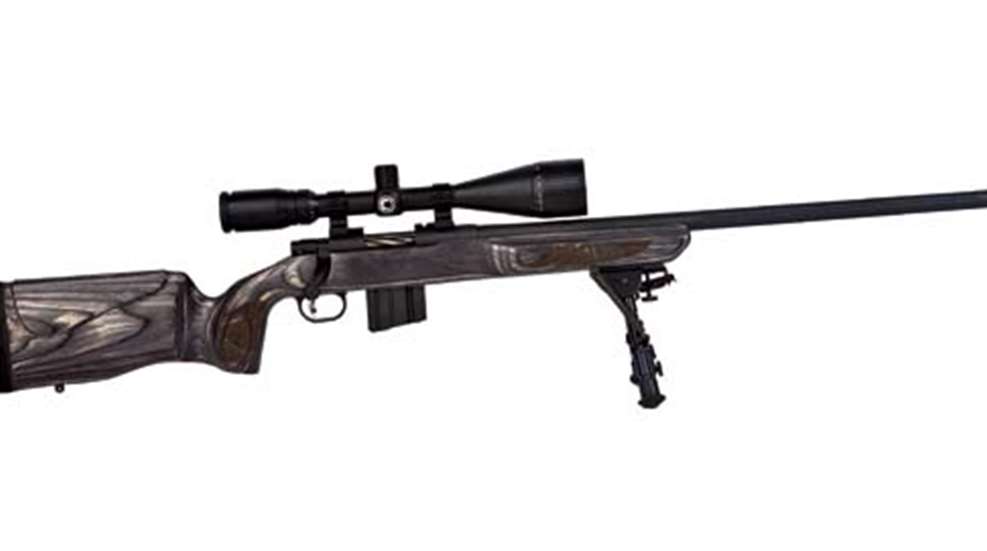 For years I've been harping for a bolt-action rifle that actually fits the .223 Remington cartridge. No one seemed to be listening, but then again, I never asked Mossberg. Mossberg's new MVP is a bolt-action rifle sized specifically for the .223.
American bolt-action rifle manufacturers have simply been blocking the magazines of their shortest rifle actions when offered in .223 Remington. This works but it's like wearing boots two sizes too big. Short-action rifle cartridges like the .243 Winchester are generally housed in rifles feeding from a magazine box measuring 2.8 inches long. The .223 Remington is loaded to a maximum length of about 2.26 inches, which means this cartridge is housed in a standard, short-action rifle a half-inch longer and several ounces heavier than it needs to be. The bolt-throw is longer than necessary, too.
Essentially Mossberg shrunk the action it uses on its 4x4 rifle to fit the .223; the ejection port opening measures a scant 2.16 inches. The spiral-fluted bolt body is lean, too, measuring only .60 inch in diameter. But that's not the only cool thing about the MVP. The fact that it feeds from AR-15 magazines is a first-time-ever feature for a bolt-action rifle.
This new, miniature action, which is CNC-machined from bar stock, is held in the stock with two screws that pass through steel pillars. Between the action and the stock is a polymer bedding block extending from behind the rear pillar past the front pillar. The action rests on this block and free-floats the heavy, 24-inch, fluted, button-rifled barrel. This block has an integral magazine well with a release at the front that works like a lever to hold the AR magazines in place. The recoil lug at the junction of the action and barrel fits inside a recess in the wood stock, just forward of the bedding block. It's a simple but smart design.
Still, there was a hurdle Mossberg had to jump to make all this work. The feed lips on AR-15 magazines are close together—so close that a standard, round bolt face would not dig deep enough to reliably push cartridges from the magazine. So, Mossberg re-engineered the bolt. The patent-pending design is called the Drop-Push bolt.
The Drop-Push bolt consists of a standard-looking bolt, but at the face there's a "flapper," or lever, hinged by a pin. This lever slips between the feed rails of the AR-15 magazine as the bolt is pushed forward and scoops the cartridge from the magazine. As the cartridge is pushed into the chamber the flapper engages the feed ramp, rounds out the bolt face and the bolt locks in place via two locking lugs.
This new and different action is housed in a laminated hardwood stock that is a radical design, too. It's a target-style stock with a wide and flat fore-end, a thick, nearly vertical grip and a beefy butt. There's a deep recess just to the rear of the wrist, or grip, where the meaty part of the shooter's hand can comfortably rest. Both the semi-pistol grip and the sides of the forearm are stippled. There's also a half-inch-thick, soft rubber recoil pad and front and rear sling swivel studs.
As intriguing as the entire rifle is, I was initially concerned about the durability of the Drop-Push bolt design—it seemed a bit fragile. So during a three-day varmint hunt in Oregon I abused it. I worked the MVP's bolt like I was shifting gears on a '72 International Scout. I discovered that when feeding the first two or three rounds from a full, 20-round magazine, cycling was a bit stiff due to the intense spring pressure of 20- and 30-round magazines. (It comes standard with a 10-rounder.) No matter what magazine I chose, I could not break anything or even induce a jam.
With the three factory loads tested the rifle shot well, at least as good as most ARs. There were more sub-inch groups than 2-inch-plus groups, but this is not the MOA precision Mossberg claims out of the box. Averages were close with two loads, and I'm confident that if I experimented with various loads it's something that would be achievable.
The trigger, which is Mossberg's LBA (Lightning Bolt Action) trigger, was exceptional. It broke at a consistent 21/4 pounds with no take-up or creep. It is user-adjustable for pull weight between 2 and 7 pounds; to adjust it, remove the action from the stock. This provides access to the adjustment screw, which can be turned with a standard screwdriver.
The Mossberg MVP should make an excellent prairie dog or ground squirrel rifle and with the shorter, five- or 10-round magazines it handles just fine from the bench. Weighing 7.5 pounds, it also has application as a calling rifle for predators. Slap in a 20-round magazine and you'll be hard pressed to ever run out of ammo regardless of poor marksmanship.
Complaints? It's hard to come up with any serious flaws. I do believe that a longer, aluminum bedding block encompassing the recoil lug might improve overall accuracy potential. The same could also be said for the 5.56 NATO chamber, which is cut with a longer throat. Ammo in .223 Remington typically shoots better with the shorter-throated, SAAMI-spec, .223 Remington chamber. A version with a sporter-style stock and a trimmer, 22-inch barrel would be sweet and practical; I expect we'll see that soon. And while an aluminum bedding block might be a better mouse trap, it would increase cost.
With many of us living on a bologna budget, the portion of a paycheck we have to forfeit for an MVP is indeed important. Retail prices should be less than $600. A package version of the MVP that includes a 4x-16x-50mm scope and a bipod will also be available for a shade less than $800. Either are a steal, particularly when you consider the MVP might be the most innovative bolt-action rifle introduced in the past 10 years.
Technical Specifications:
Type: bolt-action centerfire rifle
Caliber: .223 Rem.
Barrel: 24" medium-bull, fluted, button-rifled; 1:9" RH twist
Trigger: LBA; user-adjustable 2-7 lbs. pull
Magazine: detachable AR-15-style box
Sights: none
Safety: Remington-style thumb lever
Stock: benchrest-style; gray hardwood laminate; LOP 13.25";
Overall Length: 43"
Weight: 7.5 lbs.
Finish: matte blue
Accessories: Weaver-style scope bases, 10-rd. magazine
MSRP: $649