by
posted on December 23, 2017
Support NRA American Hunter
DONATE
Mossberg has a long history of making dependable, value-priced shotguns and .22 rifles, and over the past 10 years the company has gotten quite serious about making centerfire rifles, too. The introduction of the new Patriot bolt-action series in 2015 is the latest development, and it has been a big success.
At the outset there were about 10 Patriot model variations in 11 chamberings—basic synthetic-stocked deer rifles, youth models, tactical models, and the flagship, which sports a classic, high-grade walnut stock. Mossberg went on to add a couple new variants, including the Patriot Predator, a very practical and yet thoroughly up-to-date rifle that will appeal to shooters who favor the ruggedness inherent in today's tactical rifles, but at very affordable pricing.
Along with the familiar .243 Win. and .308 Win., the Predator brings a new chambering to the line, 6.5 Creedmoor, hands-down the most popular new cartridge of the 21st century. Both competitive riflemen and hunters have embraced this round because it shoots flat at long range, delivers very mild recoil and is proving to be exceptionally accurate with a wide cross-section of guns and loads. Its crossover appeal is so pervasive that user groups ranging from thousand-yard sharpshooters to first-time deer hunters—often women and children—are convinced the 6.5 Creedmoor was invented just for them.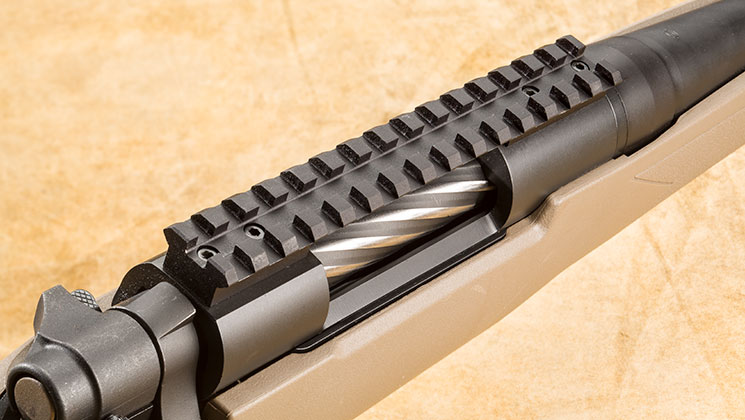 Mossberg has now leveraged Creedmoor performance—and the fact that it is a short-action cartridge—by designing this go-anywhere rifle for hunting and survival purposes. At just 6.5 pounds, the Patriot Predator is a rifle you can carry all day in rugged terrain, and yet it is not so compact that it undercuts ballistic performance. The hammer-forged, fluted barrel measures 22 inches, thus delivering some 2800 fps muzzle velocity (with popular hunting bullets). So figure little holdover out to 300 yards, plus sufficient energy transfer to drop elk-size game at that range. And despite its light weight, shooting my loaner was very enjoyable and productive; there was little kick to beat me up even during lengthy sessions at the bench.
The action design follows current trends in that it centers on a round-bodied, barrel-nut-style receiver. The push-feed bolt has twin, opposing locking lugs, very large lugs that give it great strength. What's uncommon about the Mossberg design is that the bolt is not a one-piece forging, but instead comes with the bolt head pinned to the body. That allows the lugs to shift slightly in order to achieve a tighter fit in the receiver's locking recesses. And if those recesses are cut square to the bore axis, the "floating" bolt head should optimize cartridge alignment, often a fix custom gunsmiths resort to when accurizing a rifle.
Another structural innovation is the bedding block formed by the rifle's polycarbonate magazine well. The receiver sits squarely on pad extensions at the rear and front. The action screws extend through these pads in order to secure the barreled action, and the result is a completely free-floating barrel. This polycarbonate material—also used to make the magazine—is very durable stuff, resistant to weather effects and cracking; plus, the feed lips of the magazine will never bend. All in all, this bottom unit, even though it's not metal, is a clever mass-production adaptation that contributes to value and performance.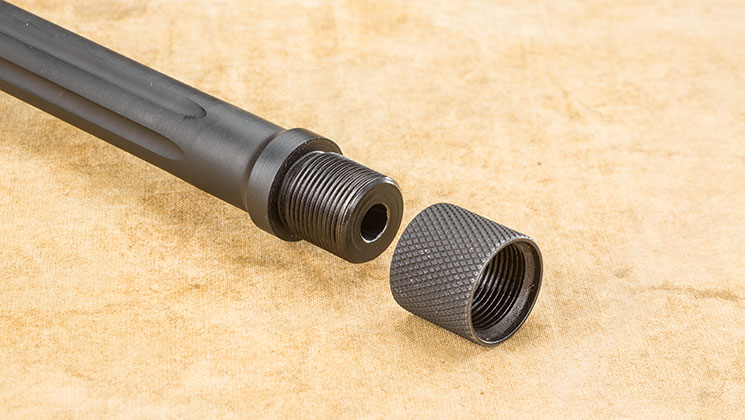 The Predator's controls are well-positioned and easy to use, with a two-position safety toggle on the right side and a spring-loaded bolt release on the left. The bolt's oversized handle makes mishandling very unlikely, but the best touch, in my opinion, is Mossberg's LBA trigger. It's a blade-in style—to my thinking, kind of a modern interpretation of a set trigger. What it does is allow the main trigger to ride safely without direct pressure, but after you press the blade, then the trigger is set and ready to trip the sear. This one does it with almost zero creep, no noticeable mushiness or grinding, and breaks at a pull weight of just about 2.5 pounds—exactly the way I like it in a hunting rifle.
The Patriot Predator comes with a sand-colored (officially, flat dark earth) molded stock. It is stippled in the grip areas, offers a useful cheekpiece and is fitted with a soft buttpad.
This Mossberg does not come with iron sights but is equipped with a 6-inch length of Picatinny rail. Another contemporary touch is the factory-cut muzzle threading. Remove the supplied thread protector, and you're all set to install a muzzle brake or a suppressor. Add a suppressor to this 6.5 Creedmoor model—or to its .243 or .308 counterparts—and you'll have a rifle that's very pleasant to shoot and one that will cause little disturbance to neighbors.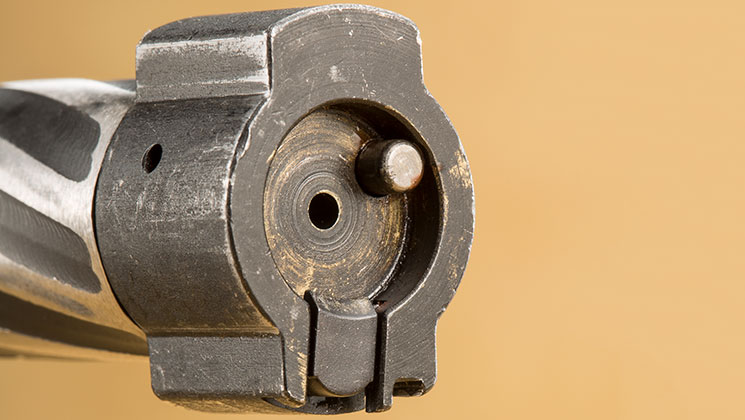 Indeed, I did enjoy shooting the rifle, and even better for me than the mild recoil and report were 100-yard five-shot bench groups that came in between 1 and 1.5 inches with three different loads. That suggests to me this barrel won't be finicky with whatever loads one might choose to put through it. In the field, I also like the rifle's balance and compactness, both for ease in carrying and for maneuverability in treestands and ground blinds.
I've used the word "mild" a couple times here to describe our test model's caliber and shooting characteristics. With the right loads it certainly will be a stellar choice for predator hunting—but it's also perfectly capable for deer, elk and other antlered game.
The rifle is built with rough treatment in mind. With its synthetic stock and polycarbonate bedding system, there's not much you can do to mess it up, either the looks or the performance. Priced at less than $450, Mossberg's Patriot Predator lives up to the company's former slogan of "More Gun for the Money."
Technical Specifications
Type: bolt-action centerfire rifle
Caliber: .243 Win., 6.5 Creedmoor (tested), .308 Win.
Barrel: 22"; sporter contour; 5R rifling, 1:8' RH twist; fluted; 5/8"-24 threaded muzzle
Magazine: detachable box; 4-rnd. capacity
Trigger: single-stage, user-adjustable LBA; 2.5-lb. pull weight
Safety: two-position toggle
Sights: non; one-piece Picatinny rail included for mounting optics
Stock: straight-comb, flat-dark-earth polymer w/cheekpiece, stippled grip panels; LOP 13.75"
Metal Finish: matte blue
Overall Length: 42.25"
Weight: 6.5 lbs.
MSRP: $441