by
posted on January 23, 2019
Support NRA American Hunter
DONATE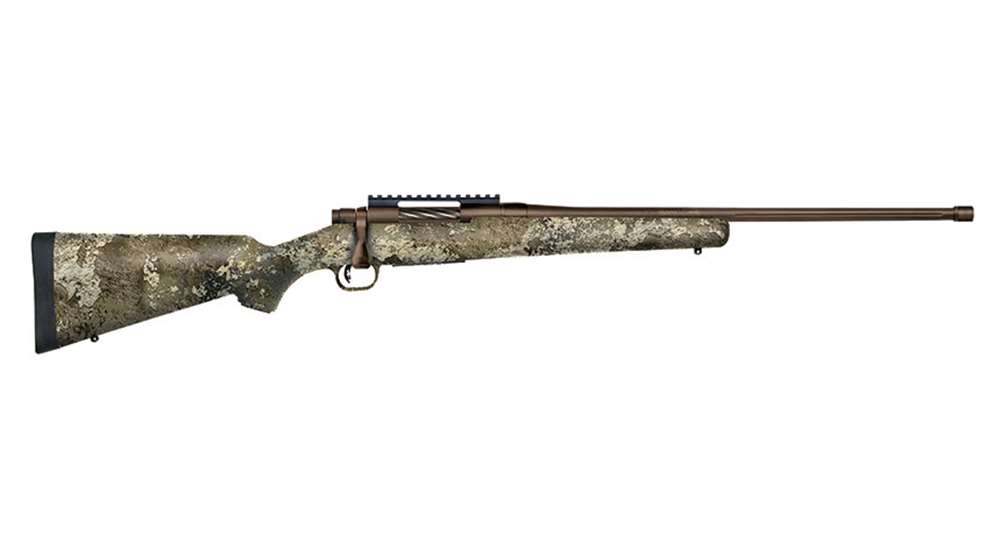 The new Mossberg Patriot Predator TrueTimber Strata is an affordable hunting rifle that's both reliable and good-looking. In 2015, Mossberg unveiled their newest line of bolt-action centerfire hunting rifles, the Patriot series. These rifles utilize a push-feed, dual-lug action with a spiral-fluted bolt and a detachable box magazine. This year, Mossberg is expanding the Patriot line by adding a new Predator model, the TrueTimber Strata.
The Predator TrueTimber Strata receives some upgrades over the standard Predator rifles, including a Cerakote finish in Patriot Brown that protects the barrel, receiver and bolt against corrosion and wear. The synthetic stock is covered in TrueTimber Strata camo, and the rifle is available in three calibers, .243 Winchester, 6.5 Creedmoor and .308 Winchester.
Additionally, all three chamberings come with fluted 22-inch barrels with threaded muzzles (protective cap is included) for adding muzzle devices down the road. The rifle also come equipped with a Picatinny top rail that is secure and makes mounting an optic fast and easy. Other key features include a 5-round detachable box magazine, two-position safety that allows the rifle to be loaded and unloaded with the safety on, and Mossberg's bladed, adjustable LBA trigger. The LBA design is safe, and easily adjusts from 2 to 7 pounds. The rifle weighs in at 6.5 pounds, which makes it a solid choice for the mobile predator or big-game hunter who needs to hike some distance to find game. The MSRP is $524, which means you'll likely find these rifles on shelves for under $500 which makes them a bargain—just what you'd expect from Mossberg.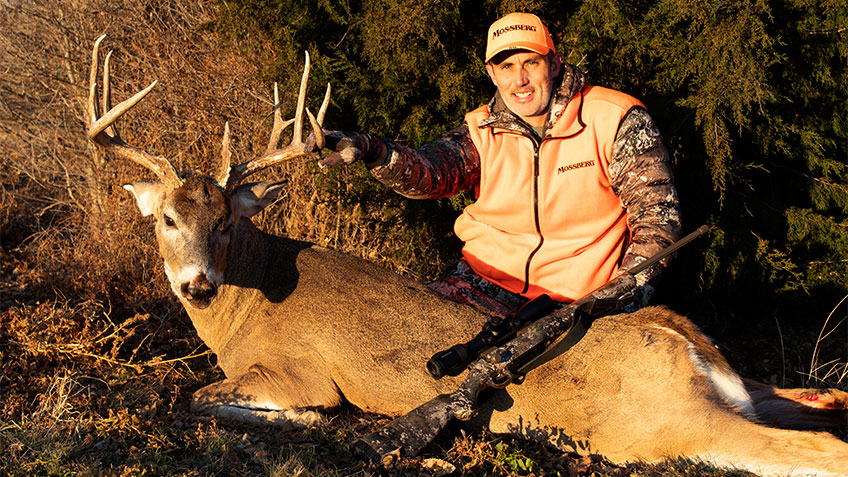 I had a chance to test the Patriot Predator TrueTimber Strata on a recent Kansas deer hunt, and the rifle performed quite well. The test gun was chambered in 6.5 Creedmoor, and using Browning's 129-grain BXR ammo, the rifle grouped around 1.2 inches at 100 yards. Despite its name, the Predator is truly an all-around rifle, suited for game like coyotes and varmints, as well as deer-sized game.
The straight-comb stock is comfortable, and the large recoil pad makes the rifle manageable to shoot, especially in the trio of cartridges for which it is chambered—all of which are relatively mild kickers. Another advantage of the Predator is the fact that its 22-inch barrel gives the gun and overall length of just 42.25 inches, making it highly-maneuverable in brush or a blind. There were no feeding issues with the polymer magazine, and when a 150-inch Kansas buck broke cover at 125 yards the, rifle performed perfectly.
This is arguably the best-looking of all Patriot rifles with the exception of the line-topping, wood-stocked Patriot Revere, and it is priced affordably. With so many features at such a low price-point the Patriot Predator TrueTimber Strata certainly contends for the leader spot in the "best buy" category at this year's SHOT Show. It's an American-made hunting rifle from a century-old brand that has become synonymous with reliability and affordability, and it's a great option for most hunting situations.
For more information, visit mossberg.com.