by
posted on June 18, 2021
Support NRA American Hunter
DONATE
Yes, laser rangefinding binoculars are expensive. But speed, convenience and performance make them one of the best investments in hunting tools, especially when the unit is as sharp, bright, high-contrast and fast as Meopta's new Optika LR 10x42.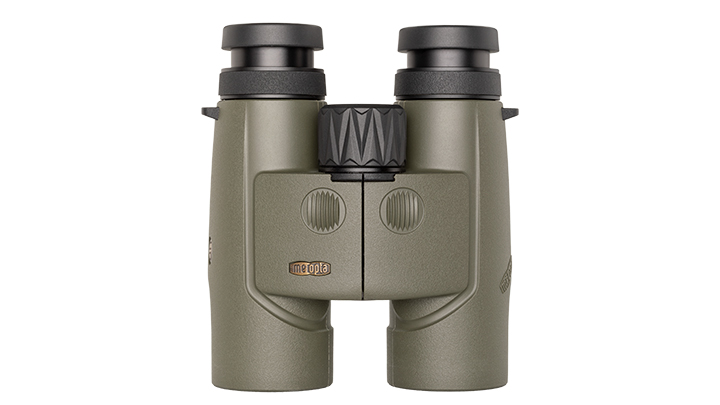 Meopta has been around since 1933, making scopes, binoculars and lenses for cameras and the film industry. Laser rangefinding binoculars have been around for only about two decades. Leica's Geovids broke the ice. Zeiss and Swarovski soon splashed in, and now Nikon, Bushnell, Vortex, GPO and many others are swimming in these refreshing waters. Meopta joins the growing field, so let's see how they measure up.
I want to cover optical quality first because, well, if that sucks you might as well just use a stand-alone rangefinder. I'm not willing to sacrifice critical optical performance for rangefinding convenience. Over the years my assessments of Meopta optical quality have been thumbs up. This Optika LR unit changes the angle of my thumb nary a bit. The view across the image field is laser sharp almost to the very edges. Contrast is high—actually a touch higher than some other, slightly older Euro-finest binoculars. I'll admit this is a subjective judgment and your eyes may not detect what mine do, so check for yourself. I don't think you'll be disappointed.
According to Meopta specifications, the light transmission rating of this LR is just 3 percent less than that of the non-laser Meopta 10x42 HD. That one rates 88 percent throughout, the LR 85 percent. This number, unlike the inflated numbers some optics brands like to put out, is a measure of the percentage of light exiting the instrument, not per lens. This brightness results from multi-layer anti-reflection coatings, of course, but also the finest BaK-4 glass prisms, phase-coated with dielectric mirrors. In short, all the best. They top this all off with a hydrophobic exterior lens coating they call MeoDrop.
Brightness is easily ballyhooed and misconstrued by most of us. Brightness without control gives you a blindingly bright binocular view without useful detail. Resolution and contrast provide the detail, and the Optika LR has brilliant doses of both. The HD fluoride glass practically eliminates color fringing, the fully multi-coated lenses minimize reflection loss. I give the Optika LR an "A" for optical quality.
Now, construction, durability and handling. I don't need an expensive unit that's going to fall apart. I don't need one that feels like a brick on the end of a stick. This instrument is built on a magnesium-alloy foundation. Armor coated. Stippled finish for textured grip. It balances comfortably over my thumbs, but is no lightweight. At 33 ounces, it's a half-ounce lighter than Meopta's MeoStar B1 10x42. It's surprisingly compact, too, standing just 6.1 inches tall, 5.4 inches wide and 2.7 inches deep from the bottom of the barrels to the top of the focus knob.
Field of view was about average for a 10X; 325 feet at 1,000 yards. Eye relief was a generous 17mm, and the unit focuses down to just under 12 feet. You can study butterflies with this thing.
How they stuffed a laser rangefinder in without increasing the weight must be magic. The focus wheel is rubberized, deeply knurled and silky smooth, if a bit too easy-rolling. Actually, the focus tension is nigh perfect with no hint of overrun or backlash, but I always worry that such perfect performance at the get-go could lead to sloppier motion as the unit wears. That could be me over-thinking this.
As expected, this unit is nitrogen purged and guaranteed waterproof. Internal focusing should help it remain internally dust free, too. Rubberized eyecups lock up into three distinct positions. Were this a binocular alone, I'd recommend it, but there's that laser thing ...
Just where they hide this laser beats me. Viewed carefully from both ends, the barrels look identical, clean, matted black, no wires, bulbs or LEDs showing. When I activate the laser I see the red OLED readout in the right eyepiece, but no flare, no red ghosts anywhere in the instrument from either end. (Of course I'm not looking into the objective lenses while activating the laser beam!) In fact, classic sun flare was beautifully controlled throughout this binocular.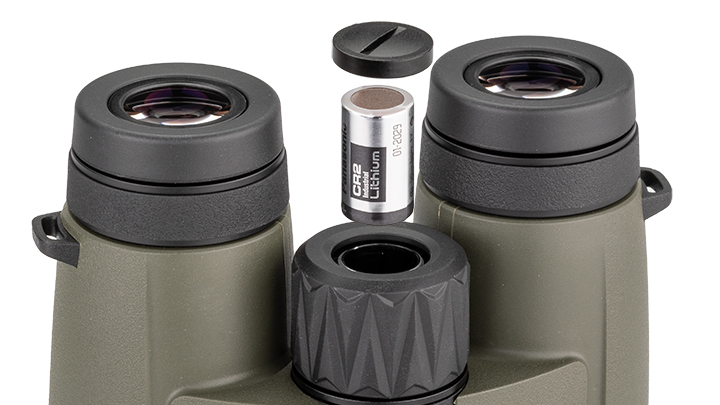 The activation buttons set atop the hinges are deeply cut rubber bumps that fall under my middle fingers just below the focus knob. Easy to find and activate. One click turns on the unit instantly, another yields a distance reading and incline reading in about one second. The button on the left changes settings like yards or meters, measurement (auto, scan, brush) and readout brightness. On auto I could press and hold the activation button, swing the binocular across the landscape and get a constant readout from 20 yards out to several hundred, but if I moved too quickly it would balk. Pause to give it time to catch up (I assume) and it would read the 600- to 800-yard target on which I'd paused. If I hit a 790-yard target, held down the button and panned down to close range, the red OLED spun down like a clock tallying the national debt in reverse and just as rapidly. Pretty impressive.
I worked the LR in a variety of light and weather conditions from well below freezing over snow fields to 70 degrees over dead grass and sage. In addition, I compared it against another well-known, top-quality Euro rangefinding binocular. They matched up well, rarely differing more than 2 yards, trading readout speeds depending on how steady I was holding each, I suspect. But the Meopta got the longest reading, a dark barn at 2,160 yards. Both units regularly and reliably read sagebrush hills out to 1,800 yards. Bright light, low light—anything inside 1,000 yards was a slam dunk for the Optika, although it did balk a couple of times on pure snowbanks beyond 600 yards. Angled readouts were just as quick and reliable.
My oddest encounter was a narrow line of deciduous trees protruding over a snowy ridge 1,918 yards away. This was a challenging, narrow target with poor reflectance, yet the Optika LR ranged it every time on my hikes out, but when I returned 10 minutes later, it would not. This happened three nights in a row. The competing binocular would not read it at all. I don't know if the beam got scattered by moisture droplets or what. Voodoo, perhaps. Or one of those newly discovered UFOs in the neighborhood.
As a hunting binocular, the LR includes one extremely useful feature not always found on laser rangefinding binoculars—a tripod mount screw hole at the front of the hinge.
In summation, I found the Optika LR to be just what I demand in a laser rangefinding binocular: a perfectly functional, high-quality binocular and an equally high-functioning laser rangefinder that hasn't added confusing bulk or weight. Best of both worlds. In one package.
Technical Specifications
• Type: roof-prism range-finding binocular
• Magnification: 10X
• Objective Lens Diameter: 42mm
• Focusing Range: 11.8'–infinity
• Max Reflective Object Reading: 2,600 yards
• Eye Relief: 17mm
• Exit Pupil: 4.2mm
• Field of View @ 1,000 Yards: 325 ft.
• Coatings: fully multi-coated; MeoLux, MeoDrop
• Construction: magnesium-alloy chassis; rubber armor; HD glass, BaK-4 glass prisms; nitrogen filled; waterproof; shockproof
• Dimensions: height 6.1", width 5.4", weight 32.6 ozs.
• Accessories: nylon carry case and carry strap, lens covers, battery, lens cloth
• MSRP: $1,499.99; meoptasportsoptics.com