by
posted on January 2, 2021
Support NRA American Hunter
DONATE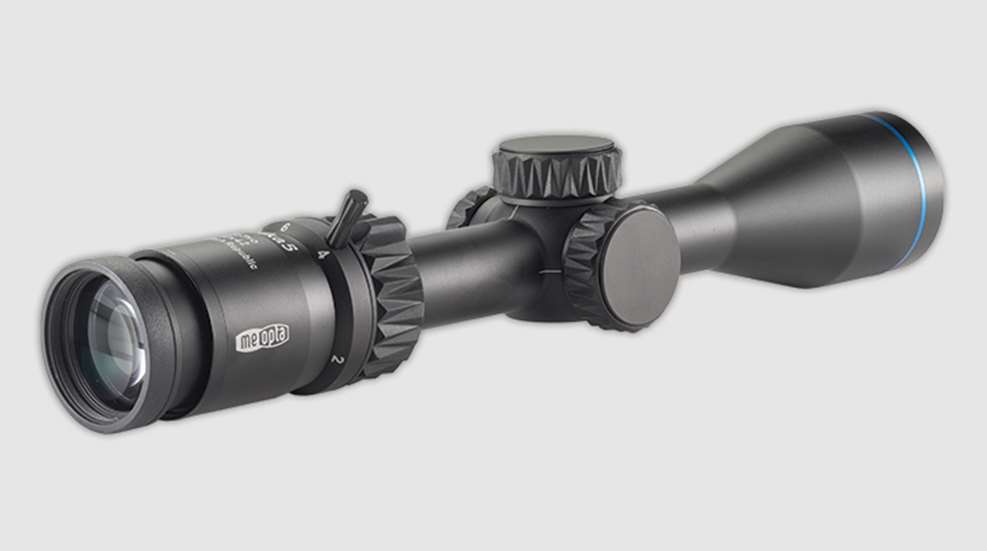 We're beginning to see a lot of interest in competitive precision rimfire shooting. This is a good thing because the competitive shooting sports have always led to better gear for hunters. A new Meopta riflescope, the MeoPro Optika5 2X-10X-42mm Rimfire, seems to be ideally adapted to this game, and it's likely to get the attention of rimfire hunters looking to take a high level of precision into the timber.


Unfortunately, Meopta, which has a full line of quality riflescopes, is sometimes overlooked by American hunters. Based in the Czech Republic and originally known as Optikotechna, Meopta has been delivering high-end optical products for almost 100 years. It began manufacturing lenses and expanded to include binoculars, cameras and projectors. During World War II, the company was seized by the Wehrmacht and forced to produce riflescopes. It then fell under Soviet occupation and continued the production of military optics. In the modern world, Meopta is globally recognized for its high-performance optical devices, and this new rimfire riflescope is a welcome addition.
If we're being honest, there has never really been a good selection of quality rimfire riflescopes. Hunters wanting a better than average rimfire scope most often installed a riflescope intended for a centerfire rifle. The difference may not seem important, but it is. The parallax-free setting for a true rimfire scope is at about 50 yards; most centerfire riflescopes are parallax-free somewhere between 100 and 150 yards. And, quality centerfire riflescopes with parallax adjustment can get darned expensive.
Why does this matter? Well, if you want to deliver bullets from your rimfire with extreme precision, a parallax setting that's off by 50 yards or more can equate to as much as a half-inch miss. If you're trying to shoot a squirrel in the head at 35 yards, with a riflescope that's parallax-free at 150 yards, your pot might go empty. Meopta solved this problem on the Optika5 by integrating a parallax adjustment on the left side of the riflescope's saddle; an almost full rotation of the smooth-turning dial takes you from 10 yards to infinity.
To accommodate both up-close and precision shooting at distance, the Optika5 has a magnification range from 2X to 10X, and the large 42mm objective keeps the exit pupil at a reasonable 4.2mm when set at maximum power. The riflescope also features the MeoBright coating, which is an ion-assisted multi-coating feature that delivers outstanding light transmission while suppressing reflection and glare. That, combined with a special hydrophobic coating to dispel water, grease and fingerprints, creates a stellar magnified optical sight.
The scope has a 1-inch tube and an overall length of 12 inches. It weighs 20.8 ounces. Lengthwise, it's not too long for mounting on a rimfire hunting rifle, but at well over a pound it's probably a bit heavy for anything other than an adult rifle. But this is a grownup's scope. In addition to the saddle-mounted parallax adjustment, large covered ¼-MOA elevation and windage adjustment dials that are zero-resettable are standard, and they offer 63 inches of adjustment at 100 yards. This should be plenty of adjustment range for zeroing, even if the rifle's barrel has been screwed on crooked. The adjustments were also very precise; box drills brought the reticle right back to the original zero.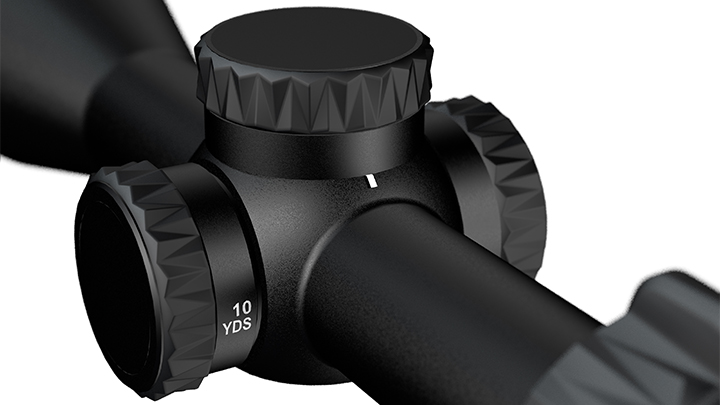 The riflescope was mounted on a Ruger 77/22 .22 Magnum and after zeroing was used on several squirrel hunts. It can be purchased with either a Z-Plex 1 reticle—similar to the common Duplex reticle—or the Z-Plus MOA reticle with a 1.5 MOA center dot and 5 MOA graduations, as on the test scope. With the external ballistics of the .22 Magnum, the additional aiming points were never needed. However, with a standard .22 LR they could prove useful on shots even inside 100 yards. What was really appreciated was the second-focal-plane reticle and the 1.5-MOA center dot. The combination provided an ideal aiming point when placed on the head of a fat fox squirrel, regardless of the magnification setting.
First-focal-plane (FFP) reticles are common with many riflescopes of the precision persuasion. The problem is that for hunting, where backgrounds and targets are not as clear and clean as on a square range, the minuteness of FFP reticles at low magnification can make them difficult to see, especially in low light. Rarely is maximum magnification needed with a rimfire hunting riflescope. If it is, and if the additional MOA aiming points are needed to compensate for wind or trajectory, time generally exists to dial up to maximum magnification. Meopta was wise to opt for the second-focal-plane reticle for this riflescope, and the optional throw lever makes magnification adjustment easy.
The scope's single failing was in the size of the ocular housing; it measured 1.81 inches in diameter. If measured around the rubber grip ring at the raised 4X indicator, the measurement was 1.96 inches. When adjusted to 10X, this places the raised portion at almost the exact spot the bolt handle occupies when open. Additionally, the very practical throw lever included with the riflescope mounts at this same point. The throw lever had to be removed and high rings were required to provide bolt handle clearance on the Ruger. This placed the scope a quarter-inch higher than optimal. Of course, with a semi-automatic rifle this would be less of an issue but is something to be mindful of with bolt guns.
Aside from this singular mounting issue, the riflescope had an abundance of mounting space between the ocular and objective bells, just a shade more than 5 inches to be exact. And, this space was moderately balanced on either side of the center saddle. Combining that with the seemingly consistent 3.6 inches of eye relief allowed the scope to be mounted far enough to the rear so that the full eye-box could be comfortably utilized while maintaining a comfortable cheek weld.
The Optika5 Rimfire is a well-made riflescope, and aside from the bolt handle obstruction issue, performed without flaw. Given its optical quality, it's also reasonably priced and should be ideal on a rimfire squirrel or small-game rifle. If mounted on a .17 HMR and taken to a prairie dog town it would be exquisite. 
Technical Specifications
• Type: variable-power riflescope
• Magnification: 2X-10X
• Objective Lens Diameter: 42mm
• Eye Relief: 3.6"
• Parallax: adjustable, 10 yds.-infinity
• Field of View @ 100 Yds: 55.7' (2X), 11.5' (10X)
• Reticle: Z-Plex 1 or Z-Plus, SFP
• Adjustments: 63" in .25-MOA increments
• Lens Coatings: fully multi-coated, MeoBright, MeoShield, MeoDrop
• Dimensions: tube diameter 1"; length 12.1"; weight 20.8 ozs.
• Construction: one-piece aircraft-grade aluminum alloy tube; HD glass; rubber-armored metal turret caps; zero-reset locking turrets; waterproof, fogproof, shockproof
• Accessories: power throw lever, lens cloth
• MSRP: $349; meoptasportoptics.com