by
posted on November 12, 2019
Support NRA American Hunter
DONATE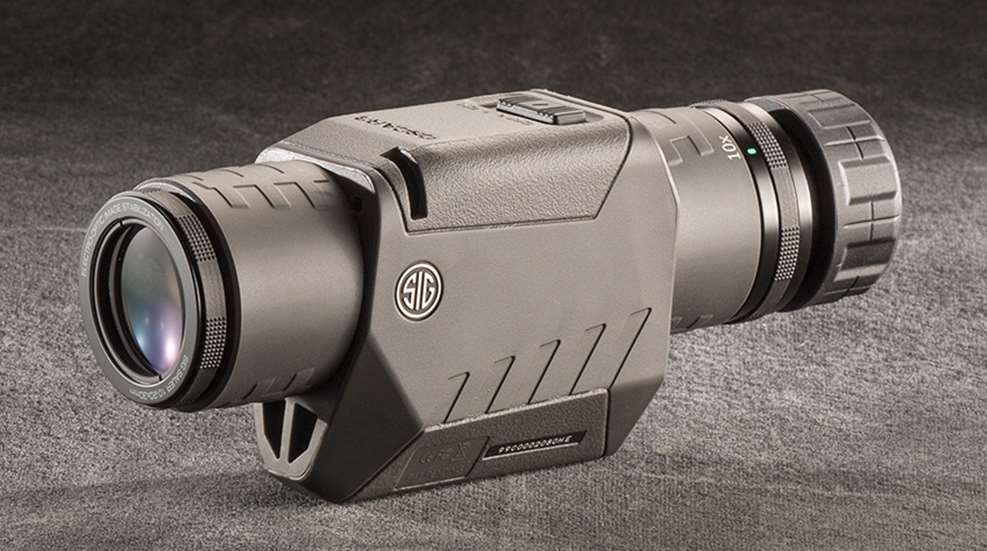 Hunters must find the game they're after in order to bring a successful completion to their hunt, and binoculars and spotting scopes have been aiding hunters in that regard for years. On a recent free-range kudu hunt in South Africa's Northern Cape, I decided to try a different approach: the SIG Sauer Oscar3 stabilized mini spotting scope. My thinking was that for general looking I'd use the 8x42 SIG Sauer Zulu5 bino, but for trophy judgment and extreme distances, I'd try the "electro-optic image stabilization" of this monocular. I figured its 10X to 20X magnification would suffice, and I was actually surprised with how well this cool tool performed in the field.
The Oscar3 measures 6.75 inches long and 8.5 inches around; it's about the size of a bottle of beer and at 16 ounces it weighs about the same. That's a substantially compact and light item to provide 20X magnification. In essence it's a handheld monocular featuring electronic image stabilization. The optical stabilization system allows for quick and easy target identification by stabilizing the image and virtually eliminating the shakes. It's built with fully multi-coated glass with a BAK4 prism that provides maximum color clarity and image brightness with fantastic resolution and contrast. It has a multi-position twist-up eyecup and is also water- and fog-proof.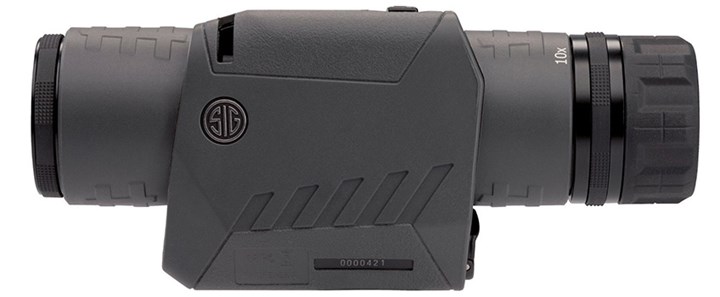 Focus is controlled by turning the knurled objective, and there's a sliding on/off switch located on top of the unit that powers stabilization. I was shocked to find that I could focus down to a distance as close as 10 feet, and with the stabilization on, it was steady enough to read a magazine article. Magnification adjustment is achieved by twisting a knurled dial just in front of the ocular lens.
This is an electronic optic powered by two lithium CR2 batteries. I used the Oscar3 almost every day during my month-long safari and never had to replace the batteries; and if the batteries do run out, the Oscar3 is still a usable spotter without stabilization.
With the stabilization activated I found I could easily achieve a near motionless image with one hand at 10X magnification, and was able to get good, steady observation at 20X if I used both hands. Where I really appreciated the Oscar3 was during long glassing sessions where I could gain some additional steadiness by resting it on the shooting sticks I carried with me. During one outing I used the unit for almost an hour and a half watching a kudu bull that had decided to lay-up under an acacia tree and try to wait us out. Though I would not rate the Oscar3 as comfortable as a binocular for long glassing sessions, I experienced no eye strain or discomfort during its use.
The Oscar3 is supplied with a small carry strap you can loop around your neck and is shipped with a black padded carrying case with an integral storage loop for extra batteries. The case also has a belt loop which I found to be ideal in the field.
I'd not suggest the Oscar3 as a substitute for a binocular or a 60X spotting scope for hunts that involve intense glassing sessions at a mile or more. However, for most spot and stalk hunting where you may need to frequently look out to around 1,000 yards—particularly to make trophy judgments—this is an ideal device that will not add a lot of weight to your kit.
One of the African professional hunters in camp was so enamored with the Oscar3, he insisted we make a deal on it before I left. That's about as solid of an endorsement as you can get for a piece of hunting gear.  It's also not as expensive as you might think; though it has a listed retail of around $480 on SIG's website, units can be found for even less. My only complaint was the lack of an integral receiver for a tripod mount. This would have added little weight and size, and would have made the Oscar3 a bit closer to perfect.
Technical Specifications
• Type: image-stabilizing spotting scope
• Magnification: 10X-20X
• Objective Lens Diameter: 30mm
• Focusing Range: 19.7ʹ-infinity
• Eye Relief: 23mm (10X), 15mm (20X)
• Exit Pupil: 3mm (10X), 1.5mm (20X)
• Field of View @ 1,000 Yds: 179ʹ (10X), 126ʹ (20X)
• Coatings: fully multi-coated; Spectra-Coat broadband AR coating
• Dimensions: length 6.7ʺ, width 1.8ʺ, weight 16 ozs.
• Construction: glass-filled nylon housing, rubber armor, low-dispersion glass; waterproof, fogproof
• Accessories: lanyard, soft carrying case
• MSRP: $479.99; sigsauer.com