by
posted on June 22, 2020
Support NRA American Hunter
DONATE
In the crowded, competitive world of riflescopes there is one thing everyone can agree on—it's confusing!
If a new reticle doesn't pop up this week, a new zoom range will the next. Or a new scope manufacturer will materialize out of the ether. It's crazy yet wonderful because we bewildered shooters have more options, better quality and lower prices thanks to all the competition. If you want to sell a riflescope in today's market, you'd better offer not just plenty of features, but quality to match, a bottom-line price and one heck of a warranty.
This is what Riton claims to do. Well, we'll just see about that. …
Riton (pronounced like right on, man) was hatched in Tucson, Ariz., in 2013 by law enforcement and military veteran Brady Speth and his wife, Carrie. This is no big, corporate mega-business so much as a mom-and-pop labor of love. According to Speth, he consults with his extensive network of police and military shooters as well as a few hunters to sharpen his focus on things like this new X3 Primal 3X-15X-44mm hunting scope. Once he has the designs and features in a working prototype with all the bugs worked out, he shops around for the best manufacturers to put it all together at the best prices.


The X3 Primal 3X-15X-44mm is a 30mm main-tube, 5X zoom range scope covering magnifications for hunting anything short of lions and buffalo leaping out of the brush at 10 yards or less. At 3X the 28-inch-tall whitetail shoulder mount over my desk fits in the view from eight steps away. That's closer than 99 percent of my big game encounters. This doesn't mean I'd mount this scope on a .416 Remington Magnum for buffalo hunting or a .45-70 Marlin Guide Gun for bear protection, but it would be quite appropriate on a multi-purpose rifle for long-range varmints and whitetails or any kind of easy-country, big-game hunting where its rather significant weight, 24.8 ounces, wouldn't be a drag.
As for that 15X top-end power, I find it more than sufficient for hunting. But I rarely engage game at more than 500 yards. At that distance, 10X magnification makes apparent target size equivalent to what the naked eye sees at 50 yards. Nevertheless, 15X can be handy for precisely pinpointing your aim at longer ranges, even just 300 yards, especially if you hunt coyotes, rock chucks, squirrels or 6-inch steel plates.
Now, anytime you're pushing scope magnification much higher than about 10X you can suffer from parallax. Not here. This X3 has a side parallax adjustment knob for precise focus from 10 yards out to infinity. With the scope mounted to a Mossberg MVP Precision rifle, I was able to tweak that focus knob to reduce parallax on a 50-yard grid target from MOA to the merest quiver at 15X.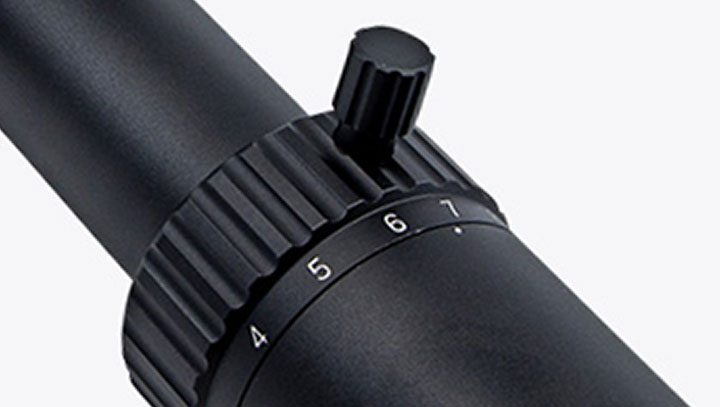 While I was on that grid target with the power at 15X, I tested adjustment precision by dialing the windage turret right for a 6 MOA movement, then down 6 MOA, left 6 MOA and finally up 6 MOA. The reticle returned to exactly its starting point. I repeated the test with 10 MOA moves. Spot on again. I repeated this at 7.5X, which doubled the moves, but each was perfect once again. Turning to any number of MOAs and back to zero put the reticle right back on its original aiming point.
This scope has capped turrets and a multi-stadia reticle, so it's not specifically designed for dialing for long-range, but could certainly be used that way. The quarter MOA adjustments were crisp and precise by feel with an audible click. Both turrets are clearly marked in MOA increments with quarter click lines between the numbers. The turret dial can be loosened after zeroing and reset to O, but there is no zero stop or even a complete revolution marker, so you have to pay attention.
This is a second focal plane reticle, so the PDTR (stands for predator, I believe) reticle's MOA hash marks are accurate only at full power. At half power (7.5X) they double, one MOA hash mark spanning 2 MOA. The reticle is a wide duplex style with 15 short MOA windage marks on each side of center, 25 MOA drop marks on the bottom line. Every fifth line is numbered, making it easier to select the correct MOA mark. There is one MOA line above the center. Above that the view is clear.
Image quality (sharpness or resolution) and brightness truly impressed me, especially for a scope in this price range. I found the view sharp and distortion free right to the edges with great color saturation and flare control. Chalk this up to the HD lenses and multiple layers of anti-reflection coatings on all air-to-glass surfaces. A caveat here: The industry has no standard definitions for HD glass, ED glass, multi-coatings and many other buzz words commonly used to promote products, so take such claims with a grain of salt. I contacted Riton and learned that HD glass in this scope means "high density" or high refractive index, but does not mean "extra-low dispersion" the way a fluoride lens does. In other words, no lens in this unit is engineered to minimize color fringing at high powers. But such fringing doesn't usually rear its image-softening head until about 20X anyway.
Optical quality, of course, is only part of a scope's performance. Reticle consistency and dialing precision as discussed above are equally critical. Build quality tells you a lot. This Riton looks and feels tight, clean and precise. Not only do the turrets click crisply, but the turret caps spin on and off precisely and easily, no hint of cross threading. The power ring and parallax dial are tight but perfectly smooth with no backlash. The eyepiece diopter ring is even stiffer, which I really appreciate, as this is one adjustment you rarely tweak.
The only question left is durability. Short of beating the scope against a log or firing a few hundred magnum rounds with it attached to a lightweight magnum, we're not going to determine that. Riton claims it's shockproof to 1,200 G's. Their warranty suggests they're pretty confident the products they sell are going to hold up:
"No proof of purchase or registration required for your Riton products. Lifetime warranty regardless of original purchaser. All warranty replacements will receive a brand-new product off the shelf. We will not ever replace the product with a repaired or refurbished product. Replacement product will be shipped within 48 hours of receiving and approving your return."
Technical Specifications
• Type: variable-power riflescope
• Magnification: 3X-15X
• Objective Lens Diameter: 44mm
• Eye Relief: 3.7"
• Exit Pupil: 14.7mm (3X), 2.9mm (15X)
• Field of View @ 100 Yds: 38.3' (3X), 7.6' (15X)
• Reticle: second focal plane, PDTR
• Adjustments: 85 MOA in 1/4 MOA increments
• Coatings: fully multi-coated, full wide band, low-light enhancement
• Dimensions: tube diameter 30mm; length 13.12"; 24.8 ozs.
• Construction: one-piece 6061-T6 aluminum tube; waterproof; fog-proof; shockproof
• Accessories: flip-up lens cover, lens cloth, Allen wrench
• MSRP: $499.99; ritonoptics.com