by
posted on August 1, 2015
Support NRA American Hunter
DONATE
In 2012 Italian manufacturer Franchi introduced the Affinity, an inertia-operated, semi-automatic lightweight shotgun chambered for 2¾- and 3-inch shells. With a look and feel akin to the semi-auto scatterguns produced by Franchi's parent company Benelli—hence the inertia action—the Affinity was warmly received by wingshooters. It even garnered an NRA Golden Bullseye Award from our sister publication, American Rifleman. The only thing the Affinity couldn't do was run the 12-gauge, 3½-inch super magnum loads used by waterfowlers and turkey hunters. And so, more recently, Franchi introduced what in many ways amounts to the Affinity's "big" brother: the 3½-inch Intensity. 
The two shotguns have a fair bit in common, beginning with the Inertia Driven system. And like the Affinity, the Intensity hides its recoil spring beneath the fore-end rather than in the buttstock as you'd find on a Benelli. Mounted on the magazine tube, the coil spring is held in place by an arm unit and operates through a series of notches and raceways. The relocation is a cost-cutting move that makes for fewer parts and in turn keeps the Intensity at a lower price point than, say, a Benelli Super Vinci.
Outwardly, too, there are few variations. The Intensity is fitted with the same fiber-optic front bead that appears on the Affinity and has a vent rib similar to the Benelli M2 Field. The primary exterior difference is the Intensity comes with a set of scope-mount grooves cut into its receiver, making it easy to attach an optic.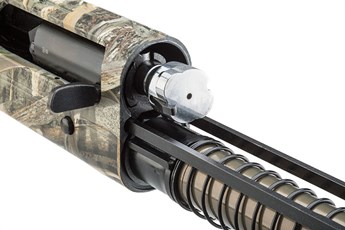 An aluminum alloy receiver houses the action and is adorned with the familiar controls. Like the Affinity and most Benelli designs, the shotgun has a shell-release button. Befitting the slim design, the Intensity's grip is thin and inviting, and the cross-bolt safety sits behind the trigger. I tested a model having the Realtree Max-5 finish, but the Intensity is also available in Mossy Oak Bottomland, Realtree Xtra Green and black synthetic—turkey hunters should be satisfied in just about any type of terrain.
Pay particular attention to the Intensity's weight for a couple of reasons. Depending upon your barrel length of choice, the Intensity checks in between 6.7 and 6.9 pounds, which is below average for a 3½-inch semi-auto in the modern market. You could find a lighter 3½, but you'd have to be on a mission. On one hand, less weight is a good thing. The shotgun feels like a feather in your hands and is incredibly easy to bring to bear, which is a positive trait when swinging on passing ducks or geese. I was pleased with how quickly and easily I was able to get on target as I rose from my layout blind in the fields of South Dakota, knowing I'd be able to loose a shell or two of 3½-inch Federal Premium Black Cloud No. 2's before the snow geese bailed. Hunters that have to be on the move or expect a long walk to their blind will enjoy having a little less weight to lug around.
The other side of the coin is that it's not always fun to shoot a 3½-inch super magnum from a six-and-a-half-pound shotgun. Yes, the Twin Shock Absorber (TSA) recoil pad does a sufficient job at lessening the jolt, but you can't completely fight physics. A recoil-sensitive shooter might not like the idea of beating on his shoulder like it stole something. If that sounds like you, or if you favor the real thumper loads, it wouldn't be a bad idea to look into adding one of the company's gel inserts (sold separately) or an aftermarket recoil pad.
Packed with the Intensity you'll find a set of three choke tubes (IC, M, F) and a corresponding wrench, along with a shim kit for adjusting drop and cast. Four additional shims are included in the kit along with the one installed by the factory. Additional accessories that are not included but available directly from Franchi or its distributors are various thicknesses of TSA recoil pads to customize length of pull and a line of extended choke tubes (C, IC, pass, M, IM, decoy, F and XFT). Aftermarket chokes aren't hard to come by, either, since the Intensity uses the popular Benelli Mobil system.
The Franchi Intensity, in many ways, delivers on its name. It capitalizes on some of the industry's most respected technologies to reliably harness the most powerful shotshell payloads, and it does so in a slim, attractive package that betrays its middle-of-the-road price point. Hard to argue with any scattergun that offers both versatility and value.
Technical Specifications:
Type: semi-automatic shotgun
Gauge/Chamber: 12/31/2"
Barrel: 26" (tested), 28", 30"; vent rib; threaded for Benelli Mobil choke tubes
Sights: red fiber-optic front
Trigger: 5.5-lb. pull weight
Safety: cross-bolt
Stock: synthetic; Realtree Max-5 (tested), Realtree Xtra Green, Mossy Oak Bottomland, black finish; LOP 143/8", drop at comb 11/2", drop at heel 2"-21/2"
Metal Finish: Realtree Max-5 (tested), Realtree Xtra Green, Mossy Oak Bottomland, matte black
Overall Length: 47.5"
Weight: 6.7 lbs.
Accessories: 3 choke tubes (IC, M, F), choke tube wrench, shim adjustment kit
MSRP: $1,199