by
posted on March 25, 2015
Support NRA American Hunter
DONATE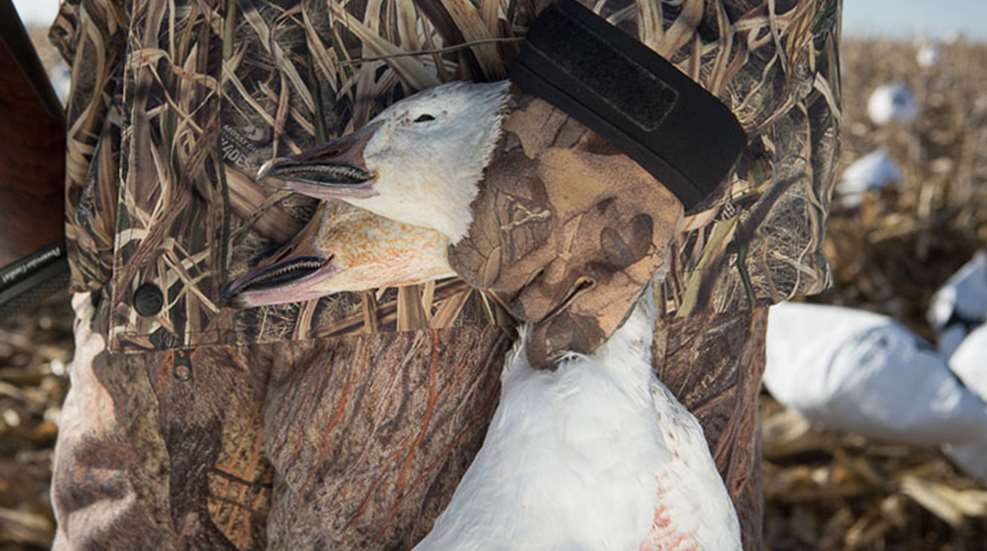 Late March isn't often considered a waterfowl time of the year—except for those determined few that choose to take advantage of the light goose conservation order. For a decade and a half, flyways throughout the nation have extended light goose seasons, loosened restrictions and all but begged hunters to help control the uncontrollable: the light goose (see, snow goose) population.
Hunting snow geese is no small task—the population is sky high for a reason, after all. Even some diehard wingshooters forgo it, out of sheer frustration. But if you've got the time, resources and honestly, stubbornness, to pursue the light goose, it can be an overwhelmingly rewarding experience. Assistant Editor Jon Draper and I are in South Dakota doing just that as I write this, and I felt it was an appropriate time to share five reasons you should go on a spring snow goose hunt before you die.
1. To Save the Tundra
Conservation seasons are born out of necessity, and light goose conservation orders are no different. There's a potentially dangerous overabundance of light geese (snows, blue geese and Ross') on the continent, and they're showing now signs of slowing down. Congress was told that over a third of the tundra—which is critical for all species of waterfowl—had been destroyed when conservation orders were first issued back in 1999. And the population is believed to have gone up since then. The tundra needs hunters.
2. It Extends Your Season
This one's simple: who wouldn't like to extend their season an extra month or two? Long after standard waterfowl seasons are closed, light goose hunters are knocking birds from the sky. As you might imagine, seasons in each state fluctuate depending on where in the migration they are. South Dakota's runs until May 3 this year, whereas Mississippi's closes on March 31. Waterfowl hunting in May? It's doable.
3. It's Affordable
In an era where hunters are often complaining of rising costs, hunting spring snow geese remains a very affordable venture. A number of states charge very little—or nothing at all—for resident conservation order licenses. You just have to register with Fish & Game. Non-resident licenses are often budget, too. Here in South Dakota, for example, a non-resident conservation order license is $45. No federal or state duck stamp is required, either—so you can join in on the fun even if hunting birds isn't typically your game. And, here at least, you get a varmint/predator tag with your purchase. So coyotes and small game could be factored into your trip, too.
4. Lax Restrictions
I'll preface this by saying that game laws exist for a reason, and are absolutely necessary. That said, it's hard to deny the allure of the relatively loose nature of light goose conservation hunting. You can take the plug out of your shotgun, and even slap an extension tube on the magazine. Bag limits are either high or non-existent—so you can check your math at the door. E-callers are in play (and necessary). Have you seen the gun Mossberg designed with snow geese in mind? There's a photo embedded below. Who doesn't want to take that hunting?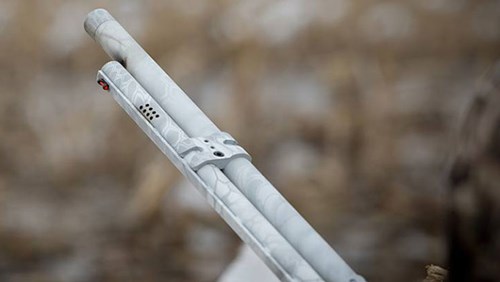 5. The Challenge
There's no two ways about it—light geese are difficult birds to harvest. By the time they reach adulthood, getting them to decoy is a trial. You can fool juveniles, so long as they're not running with a large flock, with thousands of prying eyes. Which they often are, naturally. For every day where a crew challenge triple digits in kills, there are two that end with a handful of geese on the ground and a lot of wind burnt, frigid hunters. This isn't a game for the weak willed.
Get out there, folks. The tundra needs you.