by
posted on April 17, 2023
Support NRA American Hunter
DONATE
Sometimes the best places for success are also the most inaccessible, and you'd have to be a fool to believe that is by accident. As hunting pressure increases, wildlife will literally head for the hills, leaving you with a laborious pursuit. A favorite spot in the Catskill mountains comes to mind as I type this. While a fit hunter can still score a win in this locale, it will require both lightweight and compact gear to make the journey. Over the years, I perfected my kit, stripping down to the bare essentials and finding clothing that was warm enough for the sit, yet breathable enough for the hike. Coupled with a lightweight climber and a tiny daypack, I had most of my gear worked out, except for the firearm. A rifle was required for the hunt, as 200-plus-yard shots were on the table, but one strapped to my back always found a way of clanking against the metal frame of my treestand, essentially turning the two into a warning bell. What I needed was a compact rifle that could be packed inside my bag, which in turn would also make it effortless to hoist into my stand. That solution finally came in the CZ 600 Trail.

The Trail is part of CZ's new 600 series of bolt-action rifles. Originally intended as a switch-barrel platform, CZ decided against it shortly after the first of the 600 series rifles left the loading dock. Instead, the company settled on two chamberings for the 600 Trail: .223 Rem. (tested) and 7.62x39mm. The two choices make excellent hunting cartridges and cover game that ranges from fox to whitetail deer. While both versions have their intricacies, the most defining feature of this model is its four-position collapsible stock. When retracted, the CZ 600 Trail presents a footprint that is scant longer than 27 inches, allowing it to be packed away into even a modest backpack. The secondary feature responsible for its compact nature is its 16.2-inch barrel. Sparing no expense, CZ crafts these with cold hammer-forged rifling at a rate of 1:7-inch (for .223 Rem.), which is ideal for even the heaviest bullets in this caliber. It is finished with a ½x28 thread pitch for the easy addition of a flash or sound suppressor or even a muzzle brake if noise isn't a concern. At its core is a weight-saving aluminum receiver that is home to a three-lug controlled-feed bolt that requires just 60 degrees of lift to cycle. This abbreviated stroke will hasten follow-up shots and help to keep your body movement down as you chamber that first round.
The furniture on the 600 Trail is built explicitly for an endurance hunt or one in the tight confines of a crowded blind; you take your pick. Extending it requires nothing more than the depression of the tang-mounted release button, and the user can stop it at two spots along the way or rip it all the way out to its fully extended position. If you've done that math right, you've already realized that this design allows the 600 Trail to fire with the stock completely closed. This is a handy feature when on the fly or if you need to stay as tight as possible to eliminate detection. The Trail is built with an AR-style pistol grip that nearly everybody is going to find cozy, particularly since the backstraps can be changed to accommodate various hand sizes. Lastly, a 10-inch aluminum free-float fore-end sleeves the barrel and is cut with 270 degrees of M-LOK slotting for the addition of game lights, bipods or sling hardware. At the 12 o'clock position sits a full-length Picatinny rail that is perfect for forward-mounted IR or thermal imaging devices. When used in conjunction with the receiver portion of the rail, it also makes for an adequate means of mounting iron sights. Of course, most folks are going to use said rail to clamp on an optic, and I can't say that there are any wrong choices. Red dots are a good pick because of their unlimited eye relief. This allows for a usable sight picture when shooting with the stock pushed in, as well as when it is fully outstretched. Low-power variable optics also have a bunch of utility because their typical magnification ranges complement cartridges like the .223 and 7.62x39mm. For my testing, I slapped on a Riton 3-15x Primal because I was more concerned with a repeatable sight picture than anything else.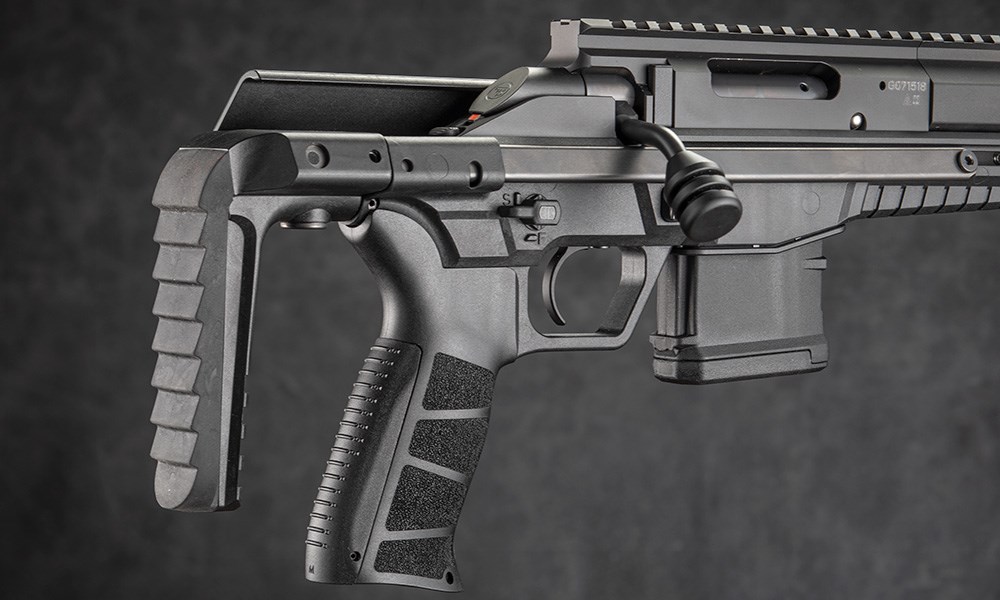 I selected a realistic array of loads for my evaluation, keeping solely to hunting-grade fodder. At the end of it all, I'm only interested in what a gun will do with ammunition for its intended purpose. I kicked things off by setting up a solid benchrest position and dialing in an initial zero. My .223 test sample fed from conventional AR-15 magazines, which allows for easy solutions if either state or wildlife management regulations cap your capacity. Also familiar was the AR-style safety selector, which is built for bilateral operation. Additionally, so is the ambidextrous magazine catch, which doubles your options for loading and unloading in a pinch. After touching off my first round, I deemed the stock system to provide adequate comfort, which is always a concern for minimalist designs like this one. I will note that the cheek pad is only designed for right-handed use, but firing off the left shoulder without injury isn't an issue. That's important because whatever shoulder you plan on shooting from, the deer will almost always come out on the other side.
Overall accuracy was excellent, well within minute of fox or coyote. Throughout the course, we printed several sub-MOA groups with the gun simply loving the inexpensive Federal Power-Shok ammunition. After cleaning up the zero, I took to some common field positions to exploit the lightweight nature of the Trail. Without question, it was a dream to shoot. Offhand shots were effortless as there wasn't much mass to balance, and dropping to the kneeling and prone positions allowed for clean impacts on our 100-yard test target. All the while, we experienced flawless feeding and cycling as well as authoritative ejections that kept the action clear no matter how gingerly the bolt was thrown.

The CZ 600 Trail proved to be a handy little rifle that can down game in hard-to-find places, all without alerting everything with fur that you have moved into the woods. Its lighter chamberings make it easy for recoil-shy shooters to field and makes it ideal for target work too. At the end of the day, this is an excellent gun for any hunter to own and will see plenty of range use in between seasons. If nothing else, it's easy to stow away, leaving room in the safe for that ever-growing collection.

Technical Specifications
• Type: bolt-action centerfire rifle
• Caliber: .223 Rem. (tested), 7.62x39mm
• Magazine: detachable AR-style, 10-rnd. capacity
• Barrel: 16.2"; carbon steel; semi-heavy contour; cold hammer-forged; 1:7" RH twist, 6 grooves; threaded ½"x28 w/cap
• Trigger: two-stage; adjustable pull weight 2 lbs., 1oz.,–3 lbs., 9 ozs.
• Sights: none; Picatinny rail for optics
• Safety: two-position, AR-style
• Stock: PDW-style; collapsible; 5.75"-13.75" LOP; free-floating, 10" aluminum fore-end w/M-LOK slots
• Metal Finish: blued
• Overall Length: 27.2"–35"
• Weight: 6.01 lbs.
• Accessories: none
• MSRP: $1,155; cz-usa.com