by
posted on January 20, 2018
Support NRA American Hunter
DONATE
I've taken game from squirrels and coyotes to hogs and whitetails with ARs over the course of more than a decade, and I have to admit I wasn't enamored of the platform when I first started hunting with it. I had no issue with the AR's history, semi-automatic action, accuracy, chamberings or color; it just seemed bulky and slow to shoulder when compared to a bolt-action or lever gun. Much like using a crescent wrench instead of a dedicated box-end, an AR would get the job done but in my experiences just wasn't the best tool for the task. After spending a couple months in the field with the Bushmaster Minimalist-SD, however, I can no longer stand by that assessment. Here is an AR that's just about ideal for hunting whitetails in tight woodlots, and it offers a couple notable advantages over what hunters may call traditional deer rifles.

Fitting of its name, the Minimalist is a svelte AR with just enough features to make it eminently practical in the woods. Weighing 6 pounds, it's lighter than almost any centerfire bolt-, lever- or pump-action rifle you'll see at deer camp. Same deal for the Minimalist's overall length; there aren't many traditional rifles shorter.
The Minimalist, which is manufactured at Bushmaster's new factory in Huntsville, Ala., keeps its dimensions, well, minimal partly because of its 16-inch barrel. Although some hunters will want to criticize the short barrel for its chambering and perhaps its relatively low velocity, I don't see either as a concern at the ranges whitetails are typically encountered, particularly in the East. My sample rifle is chambered for .300 AAC Blackout; with a good hunting bullet and proper shot placement, that cartridge fired in a 16-inch barrel will kill deer at the ranges the vast majority of deer are killed. The 110- to 135-grain bullets loaded in most .300 Blackout hunting ammo retain enough velocity and energy at 100 yards to ensure consistent expansion and adequate penetration in whitetails.
The short barrel makes even more sense when you consider the Minimalist comes equipped with an Advanced Armament Corporation (AAC) 51T Blackout flash suppressor that doubles as a quick-attach suppressor mount. A ring of teeth at the rear of the robust three-prong unit is compatible with AAC cans using the company's 51T Ratchet Mount System. One of those suppressors will add several more inches to the overall length of the gun, so keeping the barrel short results in a manageable package with a can on board.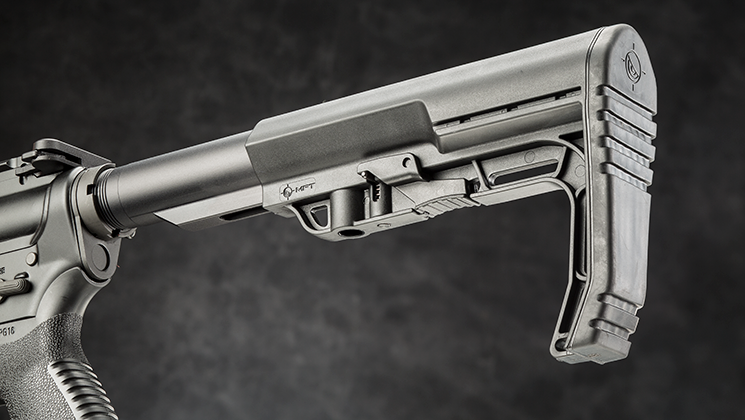 Also deserving of the Minimalist moniker is the rifle's L-shaped buttstock from Mission First Tactical. It provides a comb for the cheek, a buttpad for the shoulder and not much else. To be fair, that's not entirely true. While the 6-ounce Minimalist buttstock follows a pared-down design that eliminates the conventional triangle-like shape, it has other noteworthy features including six length-of-pull settings, two slots for sling attachment and a molded-in cup for a quick-detach sling swivel. During testing, I found the buttstock to be comfortable when shooting groups from the bench and functional when firing from field positions. The length-of-pull adjustment capability helps you fit the gun to your body, useful when shooting positions and numbers of clothing layers change.
Bushmaster outfits the Minimalist with two more Mission First Tactical components: the pistol grip and 30-round magazine. Both are polymer and take advantage of injection molding to improve handling. The pistol grip has molded-in finger grooves, stippling and serrations, while the magazine has generous panels of texturing on the bottom half of its body. Although the supplied magazine functioned well during testing, I prefer a shorter 10-round version for hunting to minimize the amount of body hanging below the magazine well.
The Minimalist in .300 Blackout has a pistol-length gas tube, but it's covered by a 13.5-inch AAC SquareDrop handguard that extends well beyond the gas block. While seven rows of KeyMod cutouts provide lots of room to hang accessories, hunters typically don't need or want extra stuff on their rifles. What they will appreciate is the practical benefit of having a long, free-floating handguard to hang on to or rest on a solid object. The handguard mounts to the barrel nut via a proprietary turnbuckle system that, with the included tool, allows quick removal for accessing the gas tube.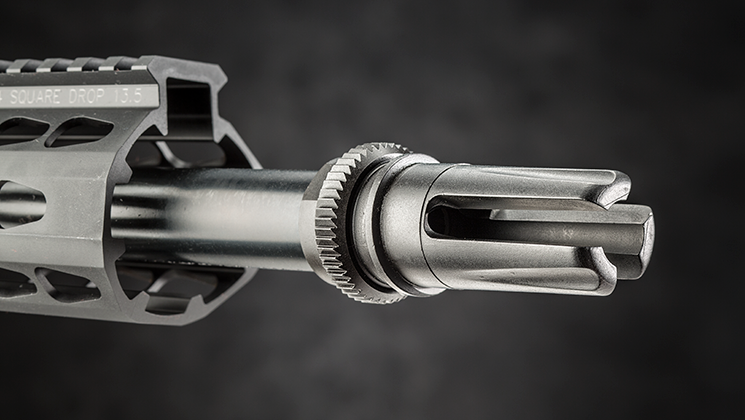 The Minimalist's firing controls are standard mil-spec, save the trigger. With nickel-boron and nickel-Teflon coatings on its components, the ALG Defense trigger is a nice upgrade. The trigger in the test rifle had some take-up, but it broke at a smooth and consistent 5.5 pounds of pull weight.
On the range, the Minimalist proved it was more than accurate enough for hunting whitetails, producing on overall three-shot group average of 1.45 inches at 100 yards with three different loads. But where it really excelled was in handling. With a Leupold VX-3i 2.5X-8X-36mm scope, the Minimalist remained nimble, well balanced and fast-pointing. It would be right at home in the confines of a blind, treestand or thick timber, where shots at whitetails come close and quick.
Technical Specifications
• Type: gas-operated semi-automatic rifle
• Caliber: .223 Rem., .300 AAC Blackout (tested)
• Barrel: 16″; 4150 chrome-moly steel; 1:7″ twist; AAC 51T Blackout flash suppressor
• Trigger: single-stage ALG Defense; 5.5-lb. pull weight
• Magazine: Mission First Tactical detachable box; 30-rnd. capacity
• Sights: none; Picatinny rail integral to receiver for mounting optics
• Safety: two-position rotating lever
• Stock: six-position Mission First Tactical; adj. LOP 10.75″-14″
• Handguard: free-floating AAC SquareDrop w/KeyMod mounting system
• Metal Finish: black anodized upper and lower receivers; FNC-treated barrel
• Overall Length: 33.25″-36.5″
• Weight: 6 lbs.
• MSRP: $1,169; bushmaster.com