by
posted on February 19, 2016
Support NRA American Hunter
DONATE
When it comes to woods rifles, few compare in handiness to a quality lever-action carbine in the venerable .30-30 Winchester. Though some might consider it underpowered, no one ever told that to the .30-30 and the millions of deer it has harvested. Well-balanced and quick pointing, it's the perfect short-to-medium range whitetail medicine. And you've been itching to own one for quite some time.
The only problem is, you've also been seriously considering purchasing a home-defense carbine, and the spousal unit has decreed that you can have one or the other, but not both.
So what shall it be: the quick-handling woods carbine, or a modern sporting rifle outfitted as a home defense gun?
Don't worry, you can still have both.
■■■
Anyone who has owned an AR-pattern rifle for more than five minutes recognizes the inherent versatility of the platform. With the near-limitless ability to modify and accessorize, it's like Barbie for men. Indeed, "quick-handling" and "well-balanced" are equally descriptive of a properly outfitted AR15 carbine as they are of the .30-30 lever action you had your eye on. Choose one in the right caliber and ammo, and you can have a home defense carbine that is equally well suited to still hunting in the woods. Also, in the stress of a defensive scenario, fine muscle control goes out the window. Using the same platform for both applications, using the muscle memory and shoot, don't shoot decisions you'd make at a flushing whitetail in heavy cover, will serve you well when your life is at stake.
First, you need to choose an adequate caliber. While, with precise shot placement and proper bullet selection, a 5.56 mm or .223 may suffice for feral hogs, it is really a marginal caliber for thin-skinned medium-sized game such as hogs and deer, plus you may run afoul of the minimum caliber restrictions in some states that preclude the use of .22 centerfires on big game.
However, a modern sporting rifle in .300 AAC Blackout, with the right load, can offer comparable ballistics to the .30-30, yet still perform admirably well as a home defense carbine. For this article, I had the unique opportunity to commission the build of a legitimate dual-purpose modern sporting rifle by gunsmith and 3-gun shooter Alex Wakal of Dreadnaught Firearms in Zephyr, Texas.
When I told Alex that I wanted a dual-purpose AR15, his suggestions echoed those of numerous other AR15 aficionados from whom I sought advice: a rifle chambered in .300 AAC Blackout, topped with a quality 3-gun magnifying optic, with backup iron sights and a weapon light. For home defense, we'd choose subsonic 200-grain ammo, and for hunting, 110-grain supersonic expanding hollow points. With the right loads, it should offer ballistics comparable to the .30-30 Winchester. It should be noted, however, that although the .300 Blackout still retains enough energy at 200 yards to down deer-sized game, velocity at that range might be too low to assure reliable bullet expansion. A sendero rifle, this is not.
However, creating a carbine suitable for hunting or home defense with no modifications required figuring out how to make the gun cycle equally reliably with both supersonic and subsonic ammo.
The answer to that was an adjustable gas block. Simply open the set screw in the gas block to get the rifle to cycle subsonic rounds consistently and eject spent brass 3-4 feet. Taming the comparatively over-pressured supersonic loads only required closing the port a couple of turns.
The rifle's specifications and features are as follows:
• Dreadnaught Industries LLC forged lower
• Magpul MOE stock kit, grip, and trigger guard
• DPMS lower parts kit
• Dreadnaught Industries trigger job
• JP service-weight trigger and hammer springs
• DPMS M16 bolt carrier group
• DPMS charging handle
• PRI adjustable gas block
• Pistol gas tube
• Forged upper, complete
• Hera Arms IRS handguard
• 16" 1/8 300 Blackout barrel
• YHM 300 Blackout dust cover
• DPMS A2 type flash hider
Fit and finish were excellent; the castle nut was staked as it should be, and the millwork necessary to make the Hera handguard accommodate the side-adjusting PRI gas block was unnoticeable.
For an optic, we chose the Burris 1-4x24 M-Tac, a popular choice among 3-gun competitors. The M-Tac was mounted on a Leupold cantilever mount, and we added a set of 45-degree offset XS Sight Systems XTI Threat Interdiction Sights. For home-defense use, the M-Tac's 1x setting and the Ballistic QC illuminated reticle allowed for rapid target acquisition, while the 4x magnification proved entirely adequate for medium-range hunting.
I'd like a little better light-gathering capability for shooting at those prime dawn and dusk hunting hours, but the illuminated reticle at least assures you won't be squinting at black crosshairs superimposed on a black body when the ambient lighting is dim.
But enough about the rifle and its features. How did it shoot?
Quite well, actually. The rifle was set to be a fundraising prize for Kilted to Kick Cancer's 2015 campaign, and I had the opportunity to wring it out at a gun blogger weekend in southeastern Colorado, shooting a variety of ammo provided by the good folks at Lucky Gunner. Conditions were a bit challenging; shooting from an improvised bench in swirling 25 mph winds. The bench at the 100-yard range was more flexible than a Romanian gymnast, so I was forced to resort to sandbags on the tailgate of my truck.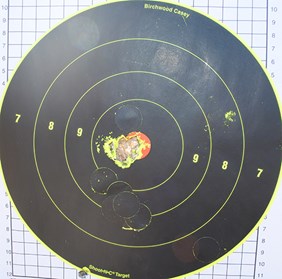 The trigger gauged at 6.6 pounds, with surprisingly little takeup and creep for an entry-level trigger group. I'm not the most discerning evaluator of trigger quality, but this one felt much better than any other AR15 (all entry level, sadly) in my safe. The Allen wrench for adjusting the gas block was stored in the Magpul MOE grip.
The rifle was zeroed at 100 yards with Barnes Vor-TX ammo featuring 110-grain TTSX boat tail hollow points. I managed an average of 2.25-inch groups with the Barnes Vor-TX ammo. Remington Hog Hammer 130 grain TSX hollow points grouped a little looser at an average of 2.75 inches. Since the rifle grouped 1.5 inches in function tests with PNW 147 grain ammo before it was shipped, I can only blame my sloppy groups on the loose nut behind the trigger and the coarseness of the Burris QC reticle. It's excellent at rapid target acquisition—a fact demonstrated by thwacking a couple of running prairie dogs at 75 yards—but it is not a sighting system designed for shooting itty-bitty groups. I was perfectly happy with the groups I was getting, given the rifle's intended applications: home defense, and hunting at ranges under 200 yards. While you can wring sub-MOA accuracy out of an AR15, the tradeoff is usually extra weight, thus sacrificing the balance and handling characteristics necessary in a woods rifle.
The original idea was to zero the rifle with one type of ammo, and then write down the "scope dope" for the other application; "so many clicks up for supersonic ammo at 100 yards," and so on, but I found it easier to simply leave the rifle zeroed for 100 yards even when shooting subsonic ammo. The difference between POA and POI was still "minute of bad guy," less than two inches at 45 feet or less. At 100 yards, subsonic ammo impacted roughly 4 inches low. Both of the two types of ammo I tested—PNW Team Never Quit 220 grain BTHP at 1060 fps, and Hornady Custom 208 grain AMAX at 1020 fps—functioned flawlessly, but groups opened up a bit at 100 yards in the swirling winds of southeastern Colorado.
My only beef with the setup was that the XS Sight Systems XTI Sights required a much tighter cheek weld than I was comfortable with. Get a solid cheek weld to see through the M-Tac, and then shift to the XS sights, and you had to adjust your head position on the stock significantly. If they were half an inch higher, they'd work perfectly.  
For home defense, you'll also need a weapon light. Pick a quality tactical flashlight of 200 lumens or better and mount it in an offset mount on the Picatinny rail forend. Add a pigtail pressure switch (optional on most tactical lights), and you're set. If you'd like to try hog hunting at night—legal in many of the states that have feral pigs—invest in a green lens filter for your weapon light. Green does not spook game, and diffuses much less than red; my green filter on a 200-lumen light allowed me to pick out targets just fine in the dark at 100 yards.
Invest in 10-round magazines for hunting and 20 or 30-round magazines for home defense.
For an MSRP of $872.68 ($1492.68 including the Burris M-Tac, Leupold mount and XS Sights), the Dreadnaught Arms dual-purpose carbine represents a quality, yet inexpensive solution to your dilemma. It's really two rifles in one; just swap magazines and ammo.