by
posted on August 13, 2019
Support NRA American Hunter
DONATE
What was considered "long range" 50 years ago compared to what today's shooters see as a long shot has changed drastically because of developments in rifle manufacturing, optics and bullet design. Now, shots out to 1,000 yards or more are not only possible, they occur nearly every day from shooters with a wide range of experience levels. One rifle purpose-built for long-range work is Browning's X-Bolt Max Long Range.

Browning included nearly every feature necessary to accurately punch holes through paper and ring steel at extended ranges. The Max Long Range package will allow you to punch holes in vitals with just as much precision.
The rifle's customizable Max composite stock is of Browning's own design and is where the rifle draws its name. The comb is adjustable for height, a must for proper sight alignment, and is engraved with a ruled system to help set it consistently. It's adjusted simply via a thumb-screw on the right side. Loosen the screw, slide the comb to the desired height to properly align your eye with your optic and tighten down the dial. Length of pull (LOP) is adjustable, too, via .25- and .5-inch spacers Browning includes with the rifle. My gripe with incremental spacer-adjustment systems is their inability to fine-tune adjustment, as you can with the comb height on the X-Bolt Max stock. That's not to say the system doesn't have its merits. The main drawback with a dial-type screw is the potential for it to come loose. With a spacer system, movement is impossible. Browning included three sling-swivel studs on the Max stock to allow bipod attachment without impeding a sling.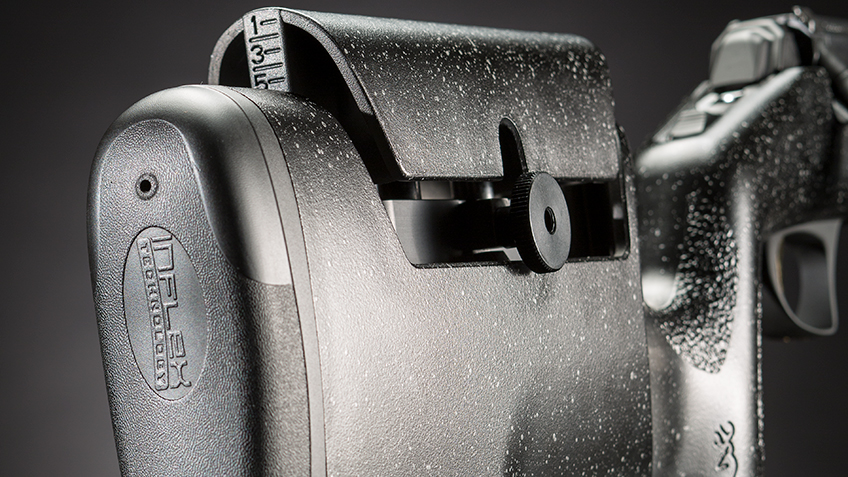 The Max stock incorporates a target-style palm swell and a flat-bottomed fore-end. This design offers a more stable shooting platform for target shooters and hunters alike as it sits as steady on the rail of a treestand or over a hunting pack as it does on range bags.
The rifle includes an extended bolt handle with a fat knob. This is great when you need to work the bolt for a fast follow-up shot. It also adds leverage to open the bolt after firing, especially if there was ever a problem with tight extraction. The bolt itself is a proven three-lug X-Bolt design, complete with a 60-degree throw for faster cycling while also ensuring scope clearance.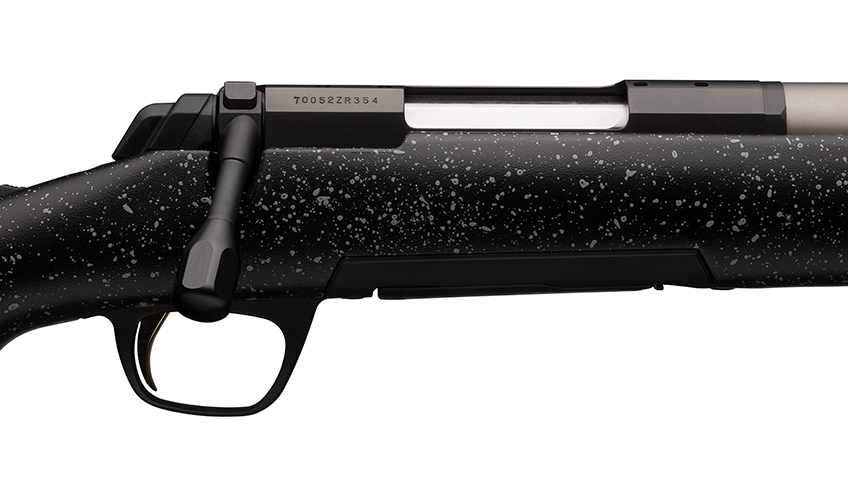 The barrel is key to a long-range rig. One of the most important yet overlooked aspects of a barrel is its twist rate.
Most modern long-range rifles still use standard twist rates, and those barrels will stabilize most common hunting bullets. However, when firing the latest bullets designed for long range, those with higher ballistic coefficients (BC), standard twist rates only meet the bare minimum thresholds for stabilization. They are outdated.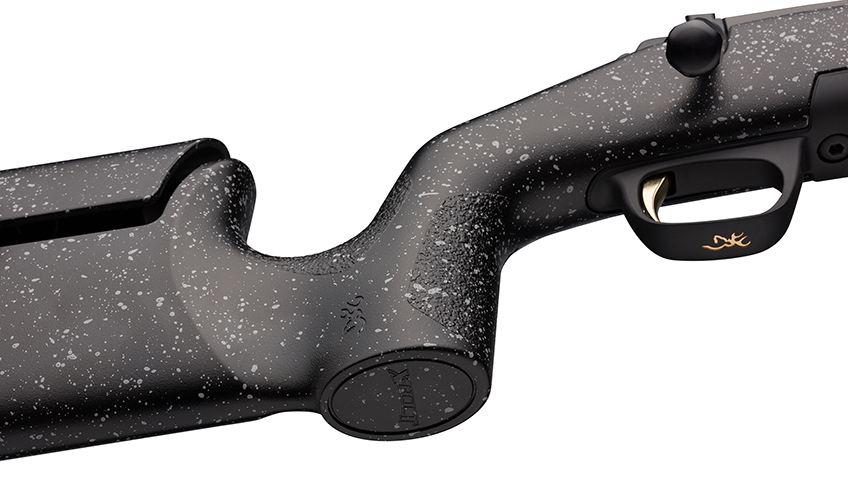 Astute shooters take note: X-Bolt Max Long Range rifles have tighter twist rates for the guns' various chamberings when compared to nearly every other long-range rifle on the market.
Browning explains on its website, "In 2018 faster twist rates were added to select calibers and the twist rate is indicated on the barrel next to the caliber."
My test rifle, chambered in 6.5 Creedmoor, uses a 1:7-inch twist rate rather than the typical 1:8-inch found on most rifles. Not only are the Max Long Range's various twist rates optimized for shooting, heavier, high-BC bullets, but the rifle's barrel length and profile are, too. All barrels measure 26 inches, and have a heavy-sporter contour with fluting to minimize muzzle whip and dissipate heat while shaving weight. Barrels are also free-floated to ensure the bullets leave the barrel at the node with every round fired. The muzzles are threaded and topped with a target crown to ensure the bullet exits the barrel with minimal deviation, and Browning includes both a muzzle brake and a thread protector with every rifle.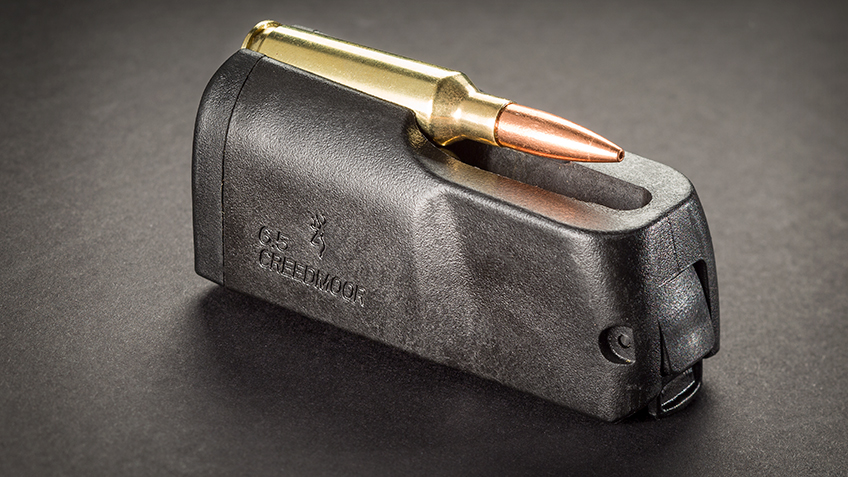 Now the big question: Does this finely tuned machine crank out accuracy like one would think it should?
I was able to get sub-inch groups with two different loads: Hornady Precision Hunter and Browning XBR.
With a rifle that's built so much like a benchrest gun, it's got to come with the benchrest rifle weight and cost, too, right? Wrong. In its heaviest long-action configuration, the rifle still weighs less than 8.5 pounds, and short-action variants weigh less than 8.25 pounds. What's more, the rifle's price ranges from $1,269.99 to $1,329.99 depending on chambering. Be you a hunter looking to go the distance or a novice looking to make some noise at the range, the Browning X-Bolt Max Long Range is a rifle that can get you there.

Technical Specifications
• Type: bolt-action centerfire rifle
• Caliber: 6mm Creedmoor, 6.5 Creedmoor (tested), 6.5 PRC, .308 Win. .300 WSM, 28 Nosler, 30 Nosler, 7mm Rem. Mag., .300 Win. Mag., .300 RUM
• Barrel: 26″; stainless steel; button-rifled; 6 grooves; 1:7″ RH twist; heavy-sporter contour, fluted; ⅝X24 threaded muzzle
• Magazine: detachable rotary box magazine; 4-rnd. capacity
• Trigger: single-stage, adjustable; 4.3 lbs.
• Sights: none; drilled and tapped for mounting optics
• Safety: two-position tang
• Stock: Max composite target-style, adjustable comb and LOP, Inflex 2 recoil pad
• Metal Finish: satin-gray barrel, matte black receiver
• Overall Length: 46.125″
• Weight: 8.25 lbs.
• Accessories: thread protector, muzzle brake
• MSRP: $1,269.99; browning.com