by
posted on September 10, 2021
Support NRA American Hunter
DONATE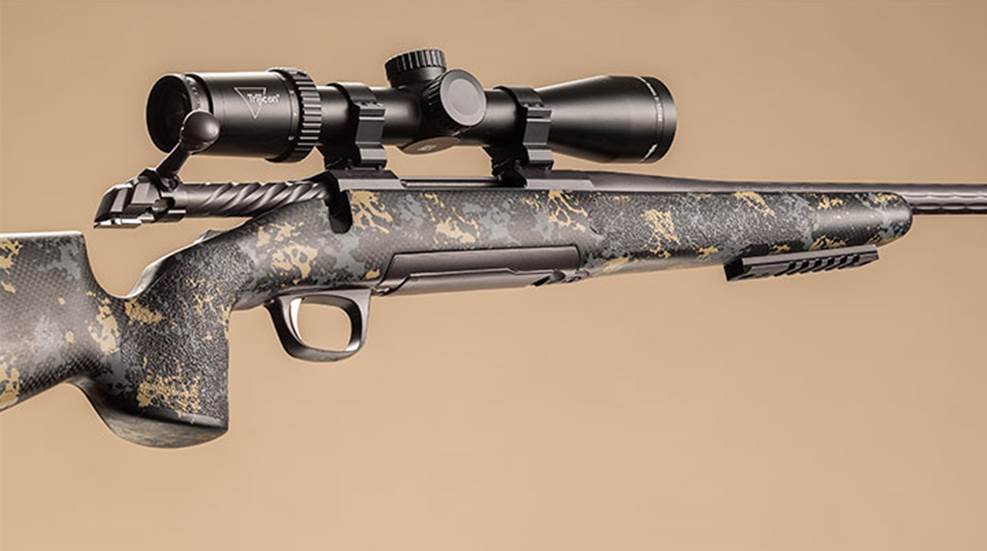 I'll admit it—I'm a rifle snob. I like accurate rifles, and vintage rifles and light mountain hunting rifles. Being said snob, I was excited to meet Browning's new X-bolt Pro McMillan chambered in my favorite Western hunting cartridge; the .280 Ackley Improved. On paper, it's a rifle built right; Browning's legendary X-Bolt action, McMillan's highly regarded carbon fiber "Game Scout" stock and an accurate Browning barrel. However, in horses and rifles a good paper pedigree doesn't always guarantee perfection. I looked forward to wringing out the rifle at the range.


Browning's X-Bolt action (so named for its excellent four-screw "X-Lock" scope mounting design) is smooth, accurate and elegant. The bolt features a 60-degree lift and a bolt unlock button that enables the shooter to clear his chamber without disengaging the safety. Browning's tang safety is one of my all-time favorite designs; it's perfectly located under the shooter's thumb, locks the action shut when engaged, is very crisp and tactile, and   intuitive to use. Attached to the bottom of the action is Browning's Feather Trigger system, which the company states is adjustable from 3 to 5 pounds. A polymer caliber-specific detachable rotary magazine tucked crisply into a composite floorplate completes the package. Capacity in the .280 Ackley magazine is four.
The 24-inch barrel features a sporter contour and is rifled at one turn in 8 inches, an excellent rate that will enable shooters to get the most out of today's popular aerodynamic, heavy-for-caliber bullets. The barrel features an eye-catching "skip fluting" on the exterior, reducing weight and adding panache. An included Recoil Hawg muzzle brake and a thread protector give you the option to effectively reduce recoil for a target or competition event, or spin off the brake and replace it with the thread cap. Both the action and the barrel are steel rather than stainless. A Carbon Gray Cerakote finish protects them from the elements.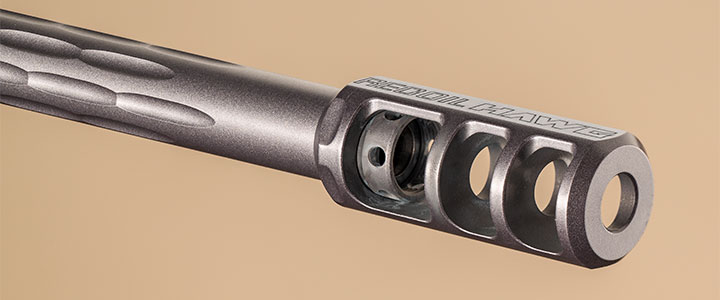 McMillan stocks are some of the finest carbon-fiber rifle stocks made and are legendary for quality, consistency and stability. Their Game Scout model features an ambidextrous classic Remington design modified with the popular A-3 vertical pistol grip. It's a lightweight, versatile, nicely balanced stock well suited for all-around hunting. Our X-Bolt barreled action is pillar bedded into the stock, which is finished with Sonoran Carbon Ambush camouflage. A Picatinny rail is mounted to the stock's forearm, enabling rapid attachment of accessories like an Atlas bipod for long-range shooting. A flush-mount QD sling swivel cup is incorporated into the rail, complemented by a second cup mortised into the heel of the stock. The complete rifle weighs in right at 6 pounds, 10 ounces—slightly heavy for true mountain hunting, but just right for all-around use.
Inspecting the rifle inside and out, overall, I was pleased by what I saw. Fit and finish are excellent, the rifle feels very solid in the hands, and balance is good. The only thing that caused me to raise an eyebrow was the bedding job. To the fore of the recoil lug the bedding was adequate, but only just. A little more love would've produced a much better result. I know Browning well enough that I'm confident this problem has already been addressed, but in the interest of honest reporting I had to note it.

While the action was out of the stock I adjusted the trigger. This was a simple matter. Personally, I like a trigger in the 2½-pound range. I was delighted to find the Feather Trigger broke crisply at exactly that, when adjusted to its lightest setting.
Before beginning my accuracy testing I performed a thorough barrel break-in procedure; deep-cleaning after each of the first three shots, then after each of three groups of three, then the same with three strings of 10 shots each. Accuracy was promising, and I immediately noticed a remarkable thing about this rifle: Every shot, regardless whether it came from a clean bore, dirty bore, cold bore or hot bore, landed in the same spot. Every. Single. Shot.
I commenced my accuracy testing.
Unfortunately, due to this whole COVID-19 mess, ammunition and reloading components have become almost impossible to acquire. Fortunately, I did have a small variety of .280 Ackley Improved ammo left over from previous adventures, and was able to test several different loads in the X-Bolt. But I didn't have any component bullets, so I was unable to test handloads. In the case of this rifle, that's a significant thing. I'll explain in a moment.
As I tested the factory loads, I was comfortable with, but not overly impressed, by the accuracy. Two of the loads averaged sub-MOA accuracy, which is acceptable by any hunting standard. But I wanted more out of a rifle with this pedigree. I investigated.


During a phone call with Aaron Cummins, lead product design specialist at Browning, he said: "When we prepared to chamber the X-Bolt in .280 Ackley Improved we asked ourselves this question: What kind of shooter will buy this rifle in this caliber? And the consensus we arrived at was that they would be riflemen. Almost certainly they would wish to handload their own ammunition and to use heavy, long-for-caliber, super aerodynamic bullets that excel at long range. Since our actions (the X-Bolt) can accommodate those bullets seated out well beyond the standard O.A.L. [overall length] for the .280 Ack. Imp. cartridge, we chose to chamber our .280 Ack. Imp. rifles with extra free-bore (the space between the chambered bullet and the barrel rifling). Experience with recent highly accurate cartridges such as the 6.5 Creedmoor, the PRC family and the 6.8 Western has demonstrated that seating bullets out long often gives better accuracy."
The cost to this strategy (in my opinion) is that factory loads—at standard O.A.L—may not be as accurate. However, as Aaron stated and as my testing confirmed, with the right ammo the rifles will shoot inside 1 MOA. The beauty of this strategy is that you can handload long, aerodynamic bullets at very cheerful velocities, thanks to the superior case capacity that seating bullets "out" can provide. And, loaded to kiss the rifling, those bullets will almost certainly produce superb accuracy.
The Browning X-Bolt Pro McMillan is a beautiful rifle, perfectly suited to all-around Western hunting. My test model was incredibly consistent and stable. I wouldn't hesitate to use it in long-range competition. I would confidently carry it into the field anywhere in America, from the moose swamps of Alaska to the Coues-deer deserts of Arizona. 

Technical Specifications
• Type: bolt-action centerfire rifle
• Caliber: 6.5 Creedmoor, 6.5 PRC, 6.8 Western, .300 WSM, .280 Ack. Imp. (tested), .30-06 Sprg., 7mm Rem. Mag., 28 Nosler, .300 Win. Mag., .300 PRC, .300 RUM
• Magazine: detachable rotary; 4-rnd. capacity (.280 Ack. Imp.)
• Barrel: 24"; sporter contour; 1:8" RH twist; threaded muzzle, skip fluting
• Trigger: Browning Feather Trigger; adjustable pull weight 3-5 lbs.
• Sights: none, drilled and tapped for Browning X-Lock bases
• Safety: two-position, tang mounted
• Stock: McMillan Game Scout; straight comb; carbon fiber; Sonoran Carbon Ambush camo; 13⅝" length of pull
• Metal Finish: Carbon Gray Cerakote
• Overall Length: 44"
• Weight: 6 lbs., 10 ozs.
• Accessories: 20 MOA Picatinny optics rail with integrated bubble level; Recoil Hawg muzzle brake; thread protector
• MSRP: $2,599.99; browning.com