by
posted on April 7, 2020
Support NRA American Hunter
DONATE
Until recently, for turkey hunters to increase their effective range and lethality on birds, it meant using big-bore 12-gauges, heavy-hitting, hard-plated magnum loads with special wads and buffers, and super-tight chokes. Hunters would often try numerous combinations of these variables in an effort to achieve tight patterns at increasing distances that still provide the killing power to drop a bird. For a long time, the mighty 12-gauge stoked with nickel-plated lead shot ruled the roost. However, the advent of high-density tungsten-based shot—specifically the application of tungsten super shot (TSS) to large-scale commercial shotshell manufacturers—has changed the game.
Browning has seen the writing on the wall and has thrust itself head-first into the TSS turkey game with the introduction of its new TSS Tungsten Turkey loads. Packed with pure TSS, in shot sizes determined to optimize spread and knockdown power, these new super-dense loads are Browning's answer to the increasingly trendy premium shell market, and they allow hunters to push their turkey-taking to limits that, to date, only TSS can reach.
Advertised as being around 18 grams per cubic centimeter (60 percent denser than lead), TSS allows Browning to scale down its shot size and, in doing so, increase the shell's load capacity, all while maintaining or even improving downrange energy and performance.
To break down the figures and understand what all this means for those of us planning to carry a gun in the woods this spring, Steve Meyer, manager of shotshell new product development for Browning, compares the shot sizes Browning loads (No. 7 and No. 9 TSS) in its new TSS Tungsten Turkey to the typical No. 5 lead loads that have been the standard for ages.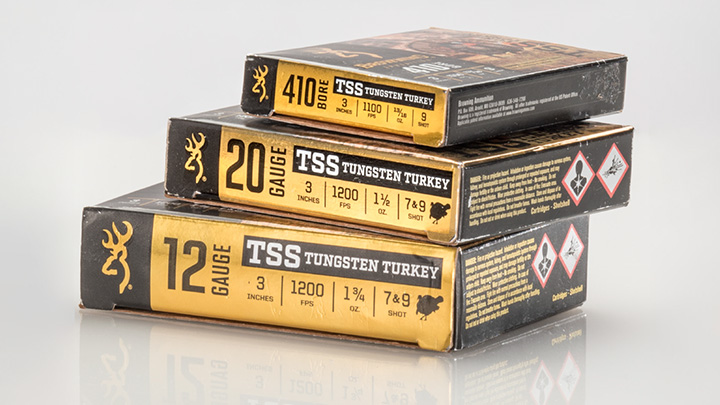 "Number 9 TSS penetration depths are similar to standard lead No. 5's, but the pellet count [in a 3-inch shell] is substantially higher with the No. 9 TSS. For a given payload, pellet counts of No. 7 TSS are similar to standard lead No. 5 loads, but penetration is much deeper with No. 7 TSS."
Due to this extreme density, TSS shot sizes can be dramatically decreased, which allows shells to hold more pellets, resulting in a denser pattern and increased lethality. Being super hard, dense and small, TSS pellets maintain their round shape in the shot column, producing a tighter, more consistent pattern with the energy to penetrate deeper at extended ranges. What's more, TSS isn't toxic, so it can be used nationwide. For hunters, Browning TSS Tungsten Turkey loads provide the ability to almost double the now-antiquated standard, 40-yard maximum distances of lead-based 12-gauge turkey loads (Browning claims 70 yards). They also make sub-gauge shotguns—we're talking .410-bores—a deadly option in the turkey woods.
Browning currently offers seven different loads in its TSS Tungsten Turkey line in 12, 20 and .410-bore. Of the four 12-gauge loads, two 3½-inch offerings are packed with 2¼ ounces of either No. 7 TSS or a blended "duplex" load of No. 7 TSS and No. 9 TSS. As for pellet count, the 3½-inch No. 7 TSS load contains more than 400 pellets and the duplex load packs a whopping average of 600 pellets. (According to Meyer, the calculated mixes of 7's and 9's in a given gauge create the optimum combination to extend a turkey hunter's range and hit probability while ensuring lethal penetration.) The two 3-inch 12-gauge loads each pack 1¾ ounces of either No. 7 TSS with a pellet count of around 300, or the same duplex mix of No. 7 TSS and No. 9 TSS filled with more than 450 pellets. Two 20-gauge options, each 3-inch with 1½-ounce payloads, pack either 250 pellets of No. 7 TSS or a 400-pellet duplex mix of No. 7 and No. 9 TSS. Lest we forget the now-lethal 3-inch .410 load, it's filled with 13/16 ounce of No. 9 TSS—that's roughly 275 pellets of turkey-killing medicine.
To protect shotgun barrels from super-hard TSS shot and further increase pattern density, Browning's TSS Tungsten Turkey load utilizes a wad consisting of thick petals along with a Grex buffering. As for how to choke such a dense load? Both Steve Meyer and Scott Carlson of Carlson's Choke Tubes suggest choke diameters of .660 for 12-gauge shotguns shooting this size TSS. That's pretty close to most standard full and extra-full turkey chokes on the market, but if you want optimum performance, Carlson's offers a number of TSS-specific choke tubes to consumers that have been designed and tested to produce the best patterns at all distances.
Though the turkey I killed with Tungsten Turkey last year was only at 30 yards, my 40-yard pattern testing showed an average of more than 300 hits inside a 10-inch circle. Hits in the head and neck of the turkey image on my target were nearly half that spread. 
For all its merits, there is one caveat to Browning's TSS Tungsten Turkey loads: the cost. For a box of five, hunters can expect to shell out $23 to $55. However, considering most turkey hunters aren't likely to take more than a shot or two on even a great morning of hunting, a single box—or two or three for pattern testing—should last multiple seasons. Through those seasons, hunting with the confidence that you can ethically shoot turkeys with devastatingly dense patterns at distances never before possible may be worth every penny.
Technical Specifications
• Gauges/Length (inches): 12/3½", 12/3"; 20/3"; .410-bore/3"
• Shot Sizes: No. 7, 7/9 (12-ga.) No. 7, 7/9 (20-ga.); No. 9 (.410-bore)
• Payload (ounces): 2¼ (3.5", 12-ga.); 1¾ (3", 12-ga.); 1½ (20-ga.); 13/16 (.410)
• Shot Material: TSS (Tungsten Super Shot)
• Muzzle Velocity (advertised fps): 1200 (12-ga., 20-ga.); 1100 (.410-bore)
• MSRP: $23-$55 per 5-rnd. box; browningammo.com