by
posted on March 4, 2017
Support NRA American Hunter
DONATE
Browning's ammunition line hasn't been around long, and is still quietly expanding—but what we've seen so far has been quality stuff. The company's latest addition to its centerfire family is BXV, a load developed specifically with varmints and predators in mind. I got a first-hand look on it during a recent trip to Texas, and it certainly seems to be exactly what hunters going after critters like prairie dogs, coyotes and even pigs will want from their ammo. Here are four things you need to know.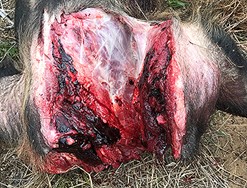 1. There are four cartridge options available.
For now, the BXV line offers four cartridge options: .22 Hornet, .22-250, .223 Rem. and .243. Win. Bullet weights range from a 35-grain bullet in the .22 Hornet load up to a 65-grain bullet in the .243 Win. load. The .223 Rem. and .22-250 offerings both feature a 50-grain bullet.
2. It uses a polymer tip.
The bullet utilizes a polymer tip to increase BC, allowing for flatter trajectories and minimal velocity loss across the spectrum. The .22-250 load, for example, hits nearly 3800 fps at the muzzle. When zeroed at 200 yards, the bullet drops slightly more than a foot at 400 yards—where it's going well over 2000 fps and carrying almost 550 pounds of energy. That's more than enough to put the hurt on predators and varmints.
3. It drives deep.
Though the BXV's bullet is a fragmenting round (I'll get to that in a second), it offers considerable penetration for what it is. While some varmint bullets explode on impact, the BXV-loaded bullet pieces that remain after connecting with the target still have enough mass and velocity to reach a critter's vitals. That will certainly make for a bad day for anything it hits, even at a distance.
4. The results are explosive.
I had the chance to test the BXV line while on a hunt with Browning in Texas, and put the .22-250 to use on my first javelina and my first feral pig. Both dropped in their tracks. A 200-pound boar proved to be the most impressive animal I brought down with BXV. After a broadside shot just in front of the gristle plate at a little more than 125 yards, he fell over where he stood. After opening him up, there wasn't a portion of vitals that wasn't impacted by the fragmentation—meaning that it didn't just punch a small, clean hole through and through, but rather wreaked havoc spanning the entire chest cavity. To be honest, I was hesitant, at first, to shoot a boar that size with a 50-grain varmint bullet. But after seeing the end result, I'm a believer.