by
posted on April 8, 2022
Support NRA American Hunter
DONATE
Last summer I was able to test Bergara's first-ever dangerous game rifle before spending several weeks hunting dangerous game and plains game deep in the wilds of the Dark Continent. I was impressed the first time I held the rifle; it felt more like a well-balanced backcountry rifle than a rifle chambered in .375 H&H—a caliber adequate for any dangerous game, anywhere on Earth—and indeed it is lightweight, at just 6½ pounds without an optic.

The barrel is stainless steel in a tapered No. 4 contour, and features beautifully crisp full-length fluting. It's threaded ⅝-24-inch, and comes complete with an Omni muzzle brake and alternate thread protector. Bergara makes their own barrels in Spain, and they are well known for excellent accuracy. The barrel and action are finished in Sniper Grey Cerakote.
The Bergara Premier action is push feed; a two-lug design with a separate floating bolt head. This type of bolt head has a reputation for superior accuracy because it enables more consistent contact with lug abutments. The bolt nose is cone-shaped to aid in smooth cartridge feeding. The extractor is a spring-loaded sliding plate system that's located in front of the lower locking lug. The main body of the bolt is stainless steel, while the bolt head, non-rotating gas shield and bolt shroud are Nitride finished. Scope mounts will be of Remington 700 type, using 8-40 screws. The Canyon is available chambered in seven popular cartridges, ranging from the 6.5 Creedmoor up to the .375 H&H. All rifles—other than the .375 H&H—come standard with an M5 footprint and AICS-style detachable magazines, though a classically styled hinged floorplate is available as an optional accessory. The .375 H&H comes standard with the hinged floorplate.

The TriggerTech trigger on my rifle breaks at a perfectly crisp 2 pounds, 6 ounces. The two-position safety is incorporated into the trigger assembly. This safety does not lock the bolt closed when engaged, which is a blessing or a curse, depending upon your personal preference.
The AG Composites stock is 100 percent carbon fiber, and the contours are classic, clean and well designed. It's finished with a Swamper Rogue camo, which sports a mottled grey/green/black sponged-on look, with a bit of the carbon-fiber weave showing through. Simple sling swivel studs are mounted fore and aft. The barrel is free-floated in the stock, and fit and finish are very precise. A Decelerator recoil pad rounds out the package.
It being the age of COVID, I expected ammunition for testing to be difficult to obtain. Luck was with me, however, and I soon had a decent assortment of soft (expanding) loads as well as a couple solid (non-expanding) loads to test in preparation for Africa. I needed to find two loads that shot on or near the same point of impact: a soft to use for general hunting, and a solid in case I needed to follow up a wounded buffalo.
Unfortunately I had very little time, so I had to rush through pre-hunt accuracy testing. After trying a half-dozen loads I settled on Federal's 300-grain Swift A-Frame as my soft load, and Federal's 300-grain Trophy Bonded Sledgehammer as my solid. Both loads printed almost exactly the same point of impact at 100 yards, and both seemed to average about 1.5 MOA accuracy—pretty good in a dangerous game rifle. I would load my magazine with the Swift A-Frame for everything except following up a wounded buffalo or standing-off irate elephants. In that eventuality, I would switch to the Sledgehammer solid.
I regret that I have no formal accuracy records for those two loads, and I can't obtain them now because I donated my leftover ammo to the outfitter before I departed on my homeward journey. However, I do have data on several other loads that I tested formally after my return.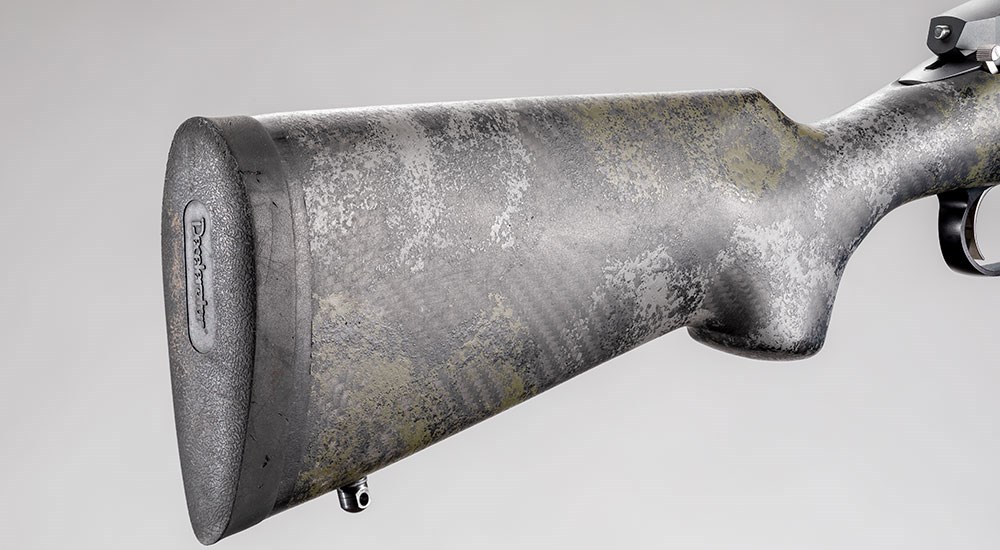 Interestingly, Bergara's new Canyon rifle chambered in .375 H&H Mag. was picky at first. Like a classic sports car, it sometimes liked to perform and at other times did not. I wondered if barrel break-in was having an effect, so I cleaned regularly and fastidiously. Indeed, barrel break-in proved to be the issue. After sending about 50 rounds downrange, groups began to tighten and consistency improved.
After completing my accuracy testing and zeroing the Canyon, it was time to work the rifle out in real-world scenarios. I first shot at 6-inch and 15-inch AR-500 steel plates, firing from the standing position at a variety of distances with full-length cross-sticks for support. The rifle proved comfortable to shoot and accurate from the standing position.
Next, with the assistance of my boys, I threw together a charging buffalo simulator by stretching 50 feet of cable between two trees and installing a pulley, complete with hanging half-gallon tin can (about the size of a buffalo's head) and a long break-away string to pull the target with. My boys would attach the string to our quad, hop aboard and gun the motor. That tin can comes at you surprisingly fast, bouncing and swinging just like a charging buffalo's head. Much to my surprise, I was able to smack a bullet through the can on every charge. With practice, I was hitting it once, slamming another cartridge home and hitting it a second time about 6 feet off the end of the barrel. This is indeed a fast rifle for dangerous game.
The new Bergara Canyon rifle is beautifully lightweight and comfortable to carry. It balances like a Latin dancer and shoots as well as its heritage suggests. While hunting in Africa I shot four animals. Every shot was spot on target, a testament to the versatility and in-field accuracy of the rifle. Retail price should come in around $2,150.

Technical Specifications
• Type: bolt-action, centerfire rifle
• Caliber: 6.5 Creedmoor, 6.5 PRC, .308 Win., .300 Win. Mag., 300 PRC, 28 Nosler, .375 H&H Mag. (tested)
• Magazine: detachable box (standard), hinged floorplate (.375 H&H); 3-rnd. capacity
• Barrel: 22"; stainless steel; No. 4 contour; button rifled; 1:12" RH twist; fluted; ⅝-24" threaded muzzle w/Omni muzzle brake
• Trigger: TriggerTech, single-stage; adjustable pull weight 1.5-4 lbs.
• Sights: none, drilled and tapped for Rem. 700-type bases
• Safety: two-position toggle
• Stock: AG Composites; straight comb; carbon-fiber; Swamper Rogue camo; LOP 13.75"
• Metal Finish: Sniper Grey Cerakote
• Overall Length: 44"
• Weight: 6.5 lbs.
• Accessories: thread protector
• MSRP: $2,379-$2,429; bergarausa.com