Support NRA American Hunter
DONATE
Rarely do we discover a tool that feels completely natural in-hand without modifications, but upon testing the Axe AX405 crossbow, that's exactly how it performed. Here's the 411 on the 405.
Axe Crossbows may not have the longstanding track record of some brands (they've only been in business for a fraction of the time) however, as a subsidiary of FeraDyne Outdoors, Axe Crossbows has a large, knowledgeable team of engineers on hand, and their out-of-the-box solutions to problem solving are evident in the product produced. The AX405 is built on an ingenious design that's durable, reliable and accurate. Crafted compact and stout, I equate this model to the Abrams tank of crossbows—it's built like a bull and hits like one, too.
While it's slightly heavier than some competitors (9.7 pounds without a scope), this bow is well balanced thanks to its compact, shoot-through stock and riser design. The balance point of the 405 is centered around the trigger and hand grip, unlike other crossbows with a balance point pushed way out front, which ultimately amplifies movement. Steadying the 405 for the shot is much easier. Axe says that same design helps create a system that's quieter, too.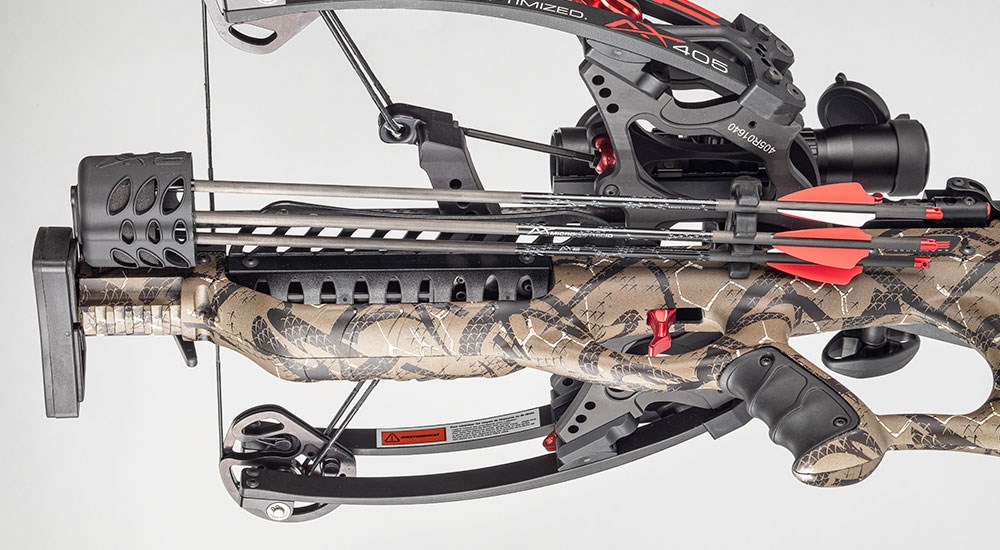 With its short, 27.75-inch total length and uncocked width of 14.5 inches axle-to-axle (less than 10 inches wide when cocked), the AX405 is very maneuverable. It provides plenty of room for movement in a treestand or from inside a ground blind. The 405 even carries comfortably when a sling is attached, a surprisingly uncommon feature for a lot of crossbows.
Another great bonus is the 405's integrated crank-cocking device. Not every hunter needs a crank-style cocker, but beyond being a benefit for those without the physical strength to pull a traditional rope cocker, hunters looking for the utmost in safety and shot consistency might choose a crossbow with a crank-style cocker. Inherent in their operation, a crank-system helps easily ensure proper and uniform string alignment each time the bow is cocked. And most crank systems—including the AX405's system—allow you to de-cock the crossbow without firing a bolt. That's a huge plus.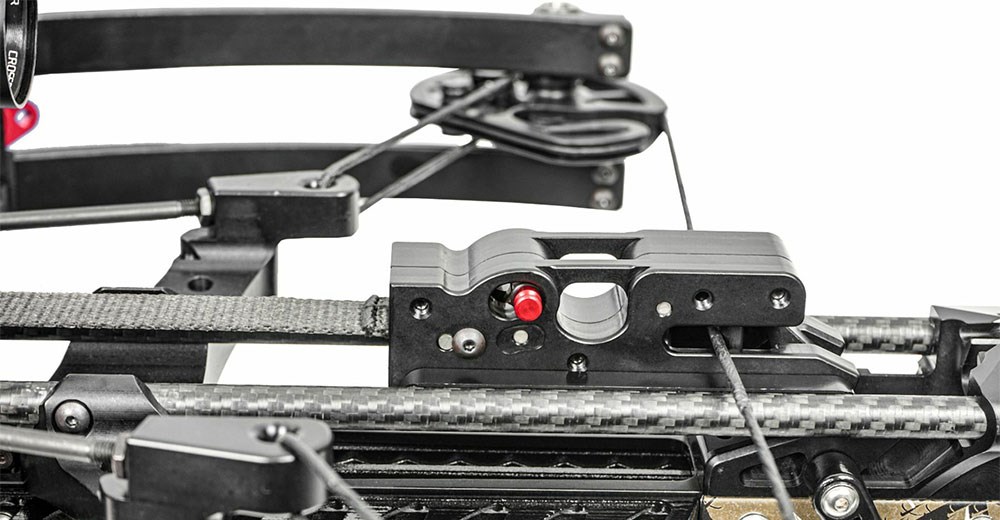 Axe says this model has other safety mechanisms built in, too. To prevent string slip resulting in a dry-fire while cocking, the cocking system delivers two audible "clicks" upon proper engagement of the sled and string. If you don't hear those two clicks, you're not locked in correctly. If you're unsure, try to operate the crank. Without proper and locked engagement, the system will not crank. The system also allows the user to start and stop the cocking process at any point during the drawback cycle utilizing a built-in clutch to stop the crank arm at any point of travel.
An additional safety feature that helps to prevent dry-firing and improper arrow launch can be found in the design of the arrow funnel itself. When knocking an arrow, the system produces another audible "click" to let the user know the arrow knock and string are properly engaged.
As for shooting, the AX405's two-stage trigger assembly features a clean, crisp trigger pull. Set at 3.7 pounds with zero creep, it's near perfect for most crossbow hunters, and given that it resets after each shot, it's also one of the safest.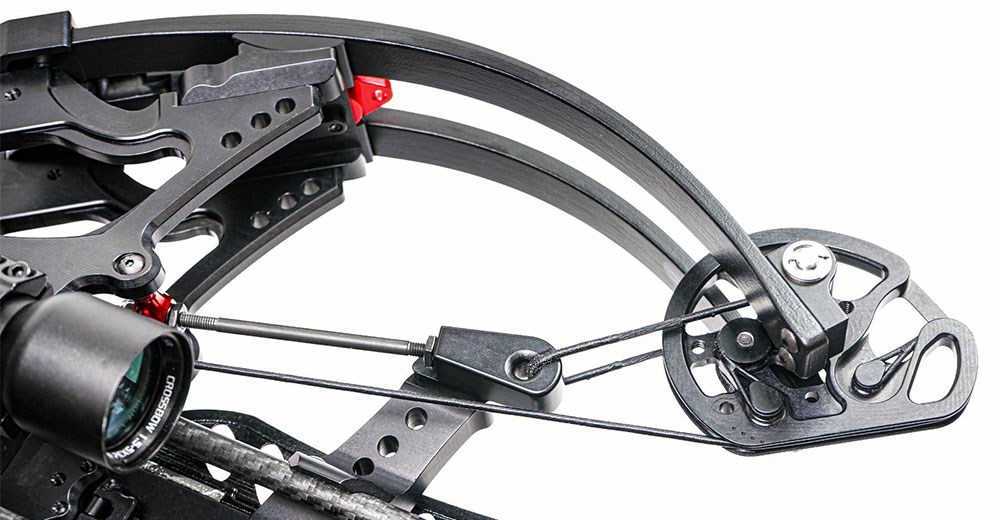 Built on a strong foundation, the AX405 delivers velocities beyond 400 fps from only a 13-inch power stroke thanks to reverse, 210-pound split limbs and 85 percent cam efficiency. While some crossbows' cables run from the top of one cam to the bottom of the other, this proprietary cam system is linked by cables that parallel each other. This configuration eliminates cam lean and torque, and an exclusive cable brace engages the riser to limit flexing. All these features combine to help ensure the string travels along the same plane from start to finish, and it results in incredibly fast and accurate bolts downrange.
In contrasts to conventional crossbow designs, instead of using a one-piece aluminum-rail arrow guide, Axe combines dual carbon guide rods, a shoot-through riser and a full-capture roller rest on the end, to create a free-floating system that minimizes arrow friction and torque while increasing accuracy, efficiency and speed. It even improves bolt longevity.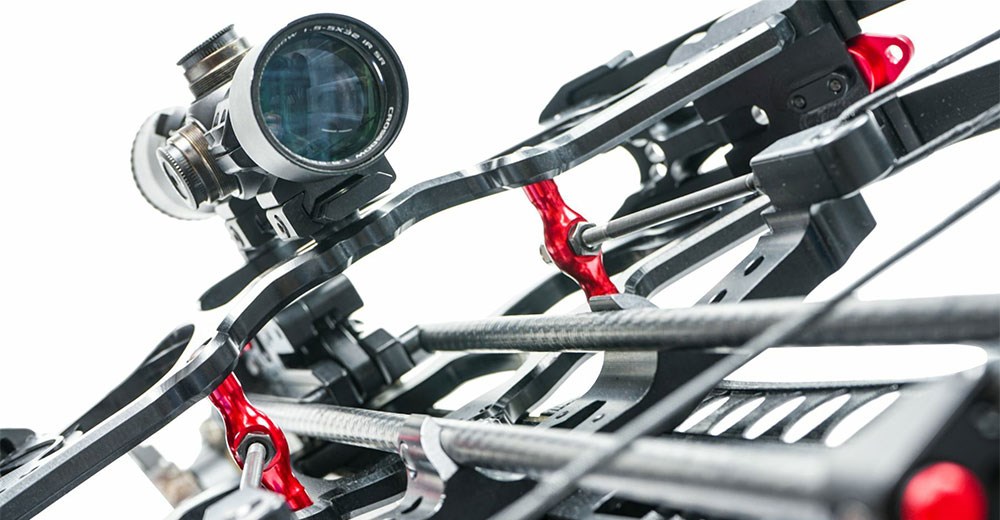 Designed to offer a tailored fit, the AX405 sports an adjustable butt stock and cheek comb. And beyond its ergonomic chassis, the 405 comes with an adjustable foot peg, mounted three-arrow quiver and three, 17.5-inch, 383-grain Axe micro-diameter bolts with 100-grain practice tips. The bow also comes with an illuminated-reticle scope with range markings from 20 yards to 100. It offers both red and green illumination for different lighting conditions and preferences.
Aside from being super compact, well-crafted, safe, quiet and accurate, hunters should consider the increased longevity that a bow like the Axe AX405 provides. This advanced system reduces the frequency of string and bolt replacement, eliminates the need for rail lube and, overall, has resulted in a top-end hunting bow offered at a price much lower than some of its competitors.
Technical Specifications
• Type: reverse-limb compound crossbow
• Draw Weight: 210 lbs.
• Velocity: 405 fps w/383-gr. bolt
• Barrel: none; dual carbon guide rods w/roller rest
• Riser: machined aluminum; shoot-through design
• Stock: shoot-through design; adjustable comb; adjustable LOP 14¼"-15¾"
• Trigger: two-stage; 3.5-lb. pull weight
• Safety: two-position toggle, automatic, ambidextrous
• Dimensions: length 27.75" (foot peg collapsed); axle-to-axle width 14.5" uncocked, 10" cocked; power stroke 13"
• Weight: 9.7 lbs.
• Accessories: integrated crank-cocking system w/cocking sled; multi-range reticle scope w/rings; three Axe Micro Diameter bolts with 100-grain field points; integrally mounted quiver; stock spacers
• MSRP: $1,699.99; feradyne.com