by
posted on August 27, 2021
Support NRA American Hunter
DONATE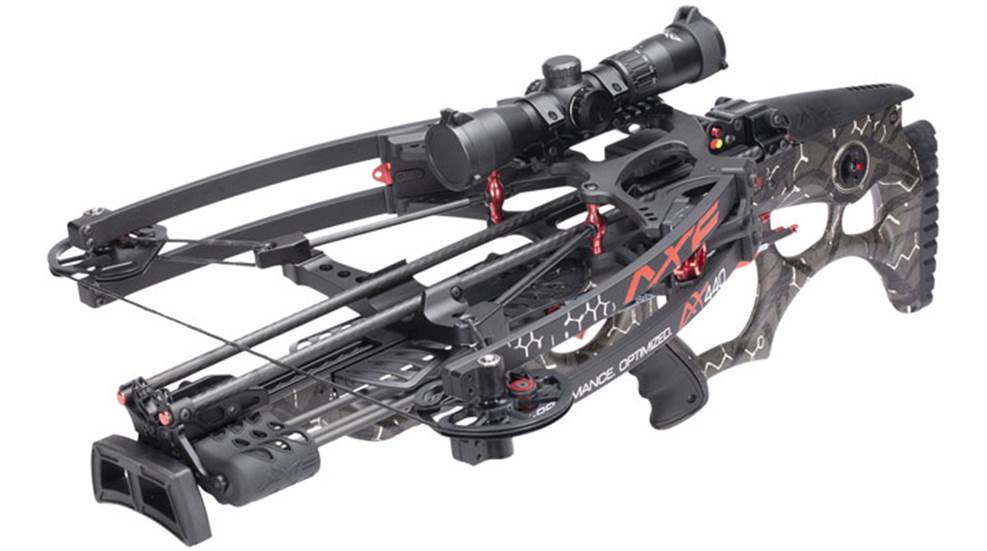 Axe Crossbows
has debuted the AX440, a crossbow that departs massively from traditional design elements to improve both maneuverability and stability in the field
. Sitting at 
30.5-inches long and less than 12-inches axle-to-axle (cocked), the weight of the 440 is centered over the shooter's hand by way of a balanced shoot-through stock-and-riser design and reverse-limb system. This configuration empowers the most efficient part of the split-limb system from just 15 inches of power stroke to launch bolts at 440 feet-per-second.

The proprietary Axe cam system is linked by cables that run parallel to each other, rather than from the top of one cam to the bottom of the other. This configuration is designed to eliminate cam-lean, limb torque and is enhanced by a cable brace that engages the riser to aid in the limitation of flex away from the center of the crossbow. When combined, these features center the string to move along the same plane throughout the entire power stroke. Unlike the one-piece aluminum rail concepts of conventional crossbow designs, the stock of the AX440 also eliminates the rail and utilizes dual-carbon guide rods along the entire length of the stock. When combined with the shoot-through riser and a tunable roller-rest on the bow's front end, these features create a free-floating arrow system that minimizes contact, friction and torque along the arrow's entire path. The AX440 also puts to work the proven small diameter 19.5-inch (.166 I.D.) bolt system. The interaction between the bolt's aluminum capture nock system and the bow's string create an audible sound to note full connection and preparation to interface with the trigger system.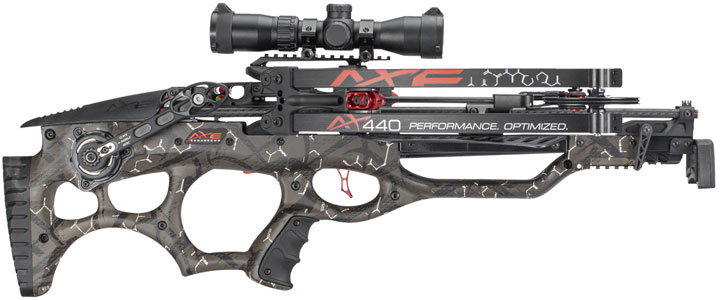 When it comes to safety, the Axe system is driven by a proprietary, silent, integrated crank system, and fail-safe trigger assembly with Dry-Fire Inhibiting technology. Prior to cocking, the trigger housing travels along the carbon guide rods engaging a series of safety features along its path before meeting with the backwall. The bow cannot be over cocked and features a hard stop upon achievement of full draw. The crank system can be stopped or continued from any position along the guide rail, and de-cocked in this same capacity. Beyond safety, the AX440 two-stage sliding trigger assembly is crisp, clean and factory-set to 3.5-pounds with less than .020 of trigger creep.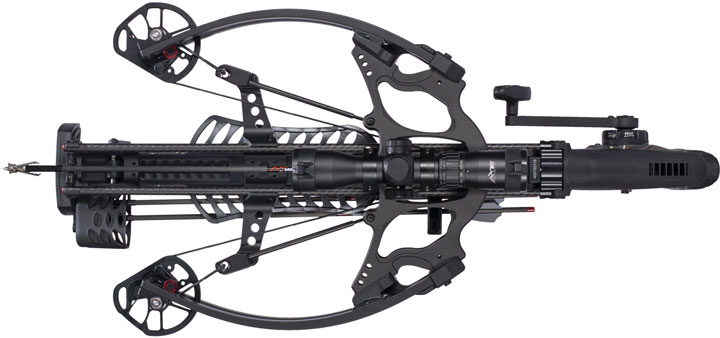 Finally, the crossbow can be customized to each individual user. An adjustable cheek rest boasts 1.25-inches of height adjustment, stock stand offs adjust length of pull, and an adjustable stirrup nests into the bow's front end. The Axe 440 crossbow kit includes the new Axe scope system, with a reticle optimized for the crossbow's trajectory, a compact, side-mount quiver, and three proprietary .166 Axe micro-diameter bolts.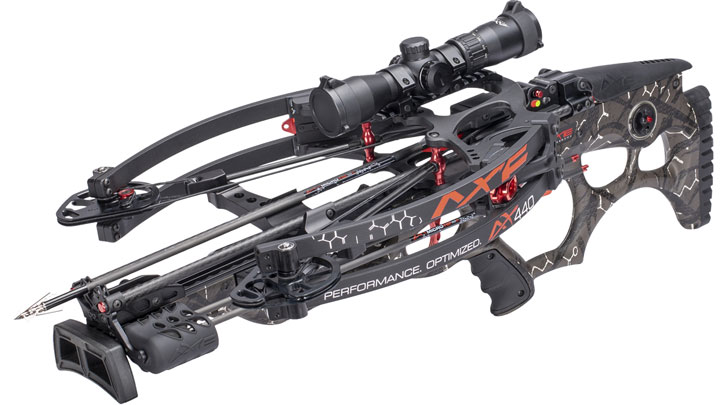 For more information, please visit feradyne.com/axecrossbows. MSRP: $2,099.99