Thanks to a growing list of states that have opened regular archery seasons to them, crossbows have evolved more in the last 10 years than perhaps the last thousand. Increased demand by American hunters has driven crossbow improvement, and as you would expect, much of the new technology is contained within the premium models.
Since the early 2000s, TenPoint Crossbow Technologies of Ohio has virtually owned the high-end market with its made-in-USA, hand-assembled crossbows that come out of the case ready to shoot. For years if someone said, "I want the best," I'd steer them toward TenPoint. But recently Ravin Crossbows introduced its Helicoil technology that significantly reduces the width of its crossbows, making them easier to carry in the woods. Then archery giant Mathews upped its game by introducing an ultra-premium crossbow. Both these companies and others no doubt have cut into TenPoint's dominance.
Under the direction of Rick Bednar and his son Phil, TenPoint has responded. This year it introduces several models that up the technology bar once again. One is called the Shadow NXT. It is as narrow as any bow on the market and has all the qualities that make it a TenPoint, yet it's also very competitively priced.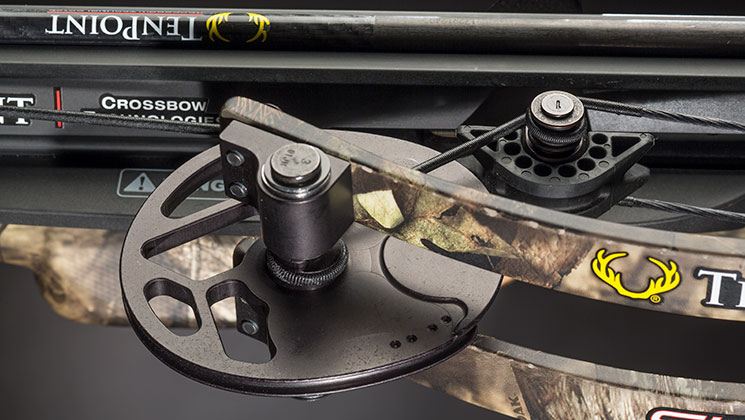 The Shadow NXT is a 7-pound crossbow that measures 32 inches in length (without its foot stirrup) and a mere 6.5 inches wide axle-to-axle when cocked. My No. 1 complaint about crossbows in general is their unwieldiness in the woods. But 6.5 inches (or more realistically, about 8.5 inches from cam edge to cam edge) is less than half the width of most crossbows on the market. This does wonders for the bow's maneuverability whether carrying it through the woods or shooting it from treestands and ground blinds.
TenPoint accomplishes this via new eccentric orientation that it calls Narrow Crossbow Technology (NXT). Although it's certainly similar in looks to Ravin's Helicoil system, it's different enough to warrant its own patent. Rather than slaving the cams to each other, the NXT's four "Vector Quad" cables come off the large cams where they are routed around two frame-mounted turnbuckles that turn them about 120 degrees toward extremely beefy, metal limb pockets. There the yokes are anchored on both sides of the riser.
This is an improvement over older designs in several ways. First, it eliminates the need for the cables to pass through the frame, which greatly increases cable life by reducing friction. It also virtually eliminates downward torque induced on the cables that would result in cam lean. No cam lean means greater accuracy potential. Third, the design allows the limbs to be arranged in a way-past-parallel, narrow configuration that greatly decreases the crossbow's width.
All the while, the power stroke—a key element of arrow speed—remains adequate at 12.2 inches, thanks in part to the Shadow NXT's bullpup design. As such, it delivers 370-grain arrows at 380 fps from a compact, inherently accurate package. While TenPoint also produces a similar, flagship bow called the Stealth NXT that pushes arrows to 410 fps, for me the Shadow's speed is ample.
Provided speed is sufficient, accuracy is paramount. This is where TenPoint shines. Quality is hard to quantify when many crossbows are made of similar components, but it becomes clear the moment you pull the Shadow NXT from its box. Likely it's due to careful assembly that's checked by a TenPoint employee—an Ohioan, and I'm betting a hunter—before it's shipped. TenPoint crossbows have that quality, solid feel, and the Shadow is no exception. It is quiet; there are no loose bolts to vibrate. It is accurate; I shot .85-inch groups at 30 yards. And, if it's like all the other TenPoint crossbows I've tested, it'll last for years.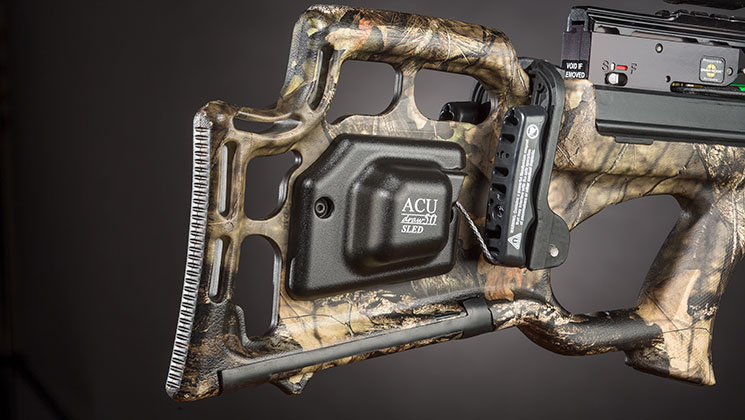 Unique to TenPoint is the Shadow's polymer stock that the company says is more than just plastic. It's infused with fiberglass and touted to be more rigid than plain polymer, yet it's still soft and "warm" to the touch. At first glance I thought the barrel—a key component of a crossbow's accuracy—was metal, but it features another TenPoint patent: polymer reinforced with carbon-fiber. A company engineer assured me the carbon-fiber pattern on the barrel is not a top finish, but is actual carbon fiber woven throughout the polymer by placing several sheets of it in the mold. Although crossbow companies have hyped machined aluminum barrels for years now, after shooting the Shadow and noting its accuracy, I'm inclined to conclude that what the barrel is made of matters less than how it's made. Straight and rigid is what counts.
To keep the Shadow NXT's cost down, TenPoint omitted a few of the bells and whistles seen on its flagships, and that's fine by me. For example it doesn't have an adjustable cheekpiece. Big whoop. It doesn't have dual string suppressors, so it's not as quiet as some of the other TenPoint models I've tested, but that omission also makes it lighter.
The Shadow NXT does come with all of TenPoint's safety features. Of course it has an anti-dry-fire function, but more notable is a lever that allows the user to manually release the string from the anti-dry-fire system if necessary. This solves a real problem of many crossbows. The Shadow's trigger is consistent at 4 pounds of pull weight and is what I consider a good crossbow trigger, although it is a bit mushy and could have less creep. The fire-control system has a simple, yet effective, brush-style arrow retention device.
The unit I tested was equipped with the optional ACUdraw 50 sled-style cocking device. While it takes a little more muscle than a conventional rope cocker, I recommend it for most hunters for its ease of use. It's affixed to the stock via a spring-loaded retention system, so you'll never lose it; magnets keep the T-handles secure. When you need it, simply yank the sled out of its cradle, attach it to the string over the barrel, and then pull. You'll never fumble to find or untangle a rope-cocker again.
Like all TenPoint crossbows, the Shadow NXT comes almost ready to be plucked from the box, zeroed and taken hunting. Just install the quiver, the stirrup and broadheads. It comes with the scope and draw system of choice, three bolts, and a quiver that can be mounted horizontally or parallel. For around $1,000 you get one of the nicest, narrowest, most accurate bows on the market for the money. The Shadow NXT proves not only that TenPoint never ceded the premium market it created, but also in 2018 the company is hungrier than ever.
Technical Specifications
• Type: compound crossbow
• Draw Weight: 200 lbs.
• Velocity: 380 fps w/370-gr. arrow
• Barrel: polymer reinforced w/carbon fiber
• Riser: machined aluminum
• Stock: raised comb; polymer reinforced w/fiberglass; Mossy Oak Break-Up Country camo finish; LOP 13″
• Trigger: single-stage w/dry-fire inhibitor; 4-lb. pull weight
• Safety: two-position toggle, automatic, ambidextrous
• Dimensions: length 32.2″ (without stirrup); axle-to-axle width 11.3″ uncocked, 6.5″ cocked; power stroke 12.2″
• Weight: 7 lbs.
• Accessories: ACUdraw, ACUdraw 50 sled or rope sled cocking device; 3X-32mm illuminated Pro-View scope w/rings; three TenPoint Pro Elite arrows w/100-gr. field points; quiver
• MSRP: $1,149.99-$1,349.99; tenpointcrossbows.com