Support NRA American Hunter
DONATE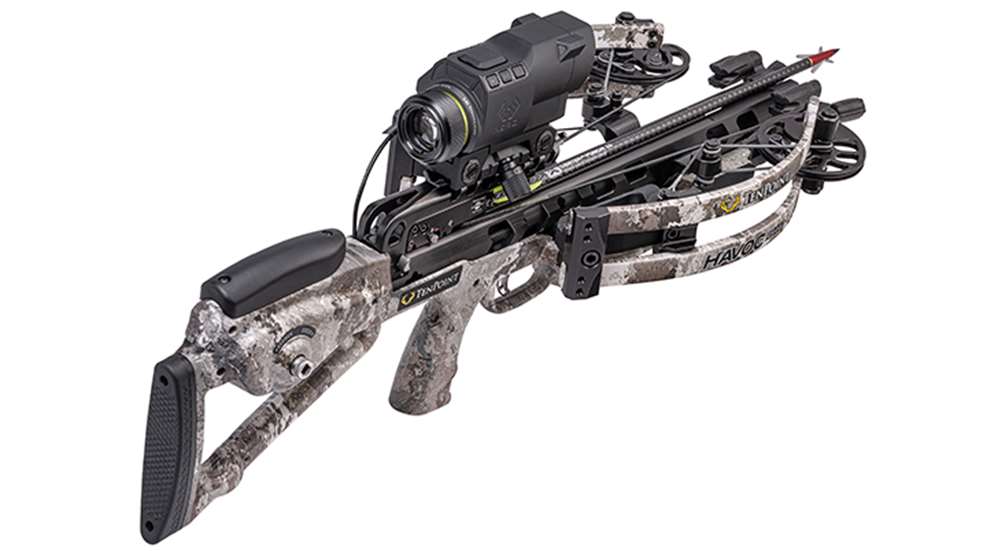 Just before dawn—moments before I could see to shoot—three bucks and seven slicks ambled by my stand. A few moments later the western Oklahoma wind swirled, filling the lead doe's sniffer full of danger. Now with 20 eyeballs searching and 40 legs ready to spring, I couldn't move, much less raise a rangefinder to my face, lower it, stand, draw a bow and shoot. So, rather, with my Havoc crossbow pre-rested, I simply found a suitable doe in the Xero scope (I was meat hunting that day) squeezed the pistol grip, then pasted the now-glowing holographic dot behind the doe's shoulder and pulled the trigger. The doe died a few seconds later. Was it challenging? Not compared to a vertical bow. Was it effective? Unequivocally.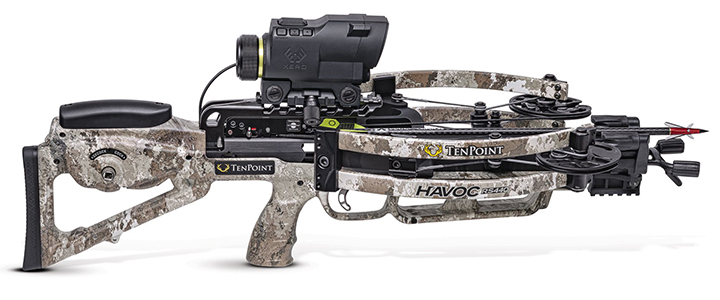 TenPoint's Havoc RS440 Xero expands on all the reasons I love the Mogadore, Ohio, company's upper-end crossbows. It's fast for flat trajectory and bone-crunching penetration, yet not so fast that its accuracy suffers. It's even more compact than prior models. It's darn-near MOA-accurate. And it's available with the most advanced optic ever produced so that range estimation and compensation is an afterthought: the Garmin Xero X1i. It's downside? At $3,500, it costs as much as a rifle and European-scope combo.
The Xbow
The Havoc 440's engine is its eccentrics. It utilizes reverse-draw technology wherein the riser and limbs are oriented backward on the bow. This allows for a longer, 13.5-inch powerstroke—equaling more power and accuracy—in a more compact package because the limb orientation doesn't waste space. I believe it to be a better mousetrap, with its only downside being that the tech was patented by another company, so I suspect TenPoint pays to license it, a cost that is passed on to consumers.
Attached to each limb's axle is the company's RX7-Cam system. The cam is touted to rotate 360 degrees to maximize its power, although by my calculations it's actually closer to 335. Each limb is harnessed by a patented Vector-Quad system in which two block-and-tackle-type cables (four total) run through a riser-mounted pulley before attaching to each cam on the bottom and top, thereby applying equal force and reducing cam lean. The entire system is fast, quiet and incredibly efficient. All told, the Havoc is touted to send its 400-grain, 16-inch arrows at a blazing 440 fps, but my chronograph reported an average of 446! That's serious speed (and kinetic energy) from such a little bow; even more incredible, it's quieter than other crossbows in this speed class. I attribute this most-important trait to vibration mitigation devices such as the Havoc's string stops, its total mass weight (the bow, Xero optic, cocking handle, stirrup and arrow) of more than 10 pounds; and, mainly, its overall build quality that's a TenPoint hallmark. (To be clear, the crossbow alone weighs under 8 pounds.)


Another hallmark is its first-class fire-control system wherein its ACUslide cocking/decocking mechanism is safe, speedy and effective. To cock the bow, simply push the ambidextrous slide release lever to move the sled to the end of the barrel where it will engage the string. Then pull the cocking handle from the stock and extend it for maximum leverage before inserting it into the crank to draw back the string until fully cocked. A clutch crank system eliminates the noisy, boat-winch style clicks, yet if the hand is removed from the crank handle, the string and crank stay in place so your knuckles aren't cracked. The Havoc can be easily and safely decocked without shooting. Firing is accomplished via a creepless 3-pound trigger that I believe to be the lightest I've ever tested.
Accuracy-wise, the Havoc is sick. At 30 yards on a calm day I averaged .5-inch groups with field points and .75-inch groups with fixed-blade broadheads. At 60 yards, I averaged 1.1 inches and 1.6 inches, respectively. At 100 yards (though I'd never advocate shooting game at this range with a crossbow), I recorded several 3-inch groups—with broadheads!
The Havoc's injection-molded stock incorporates an adjustable cheekpiece to ensure consistent eye/scope alignment. It was purpose-built to accommodate the Xero's remote ranging button in the pistol grip as well as channels to route the remote's cord.
The Optic
While the Garmin Xero X1i alone is worthy of a separate article, as it can be used on any crossbow or firearm with a Picatinny rail (although its integrated ballistic solution only works with bows), here's what's important: The Xero X1i is a 3.5-magnification, compact telescope featuring an integrated laser rangefinder that ranges targets then automatically displays the appropriate hold-over dot for a given range. While Garmin says it has a max range of 500 yards on reflective targets and 250 for animals, I recorded max ranges of 605 and 310, respectively. Its automatic ballistic solution will work with most crossbows to around 80 yards. Farther than that, the shooter is required to manually set up aiming points. In real-world terms, once the X1i is zeroed and calibrated for your setup, you simply range a target, put the illuminated dot on the bullseye and pull the trigger. Its auto-adjusting reticle display is intuitive and visible in any light.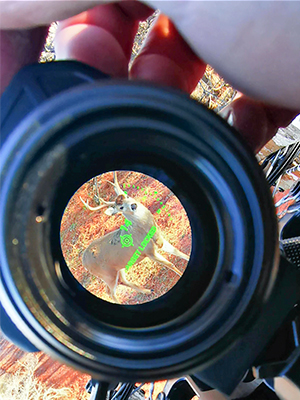 Like most Garmin electronics, this computer-controlled optic owns more features than I can list. Perhaps most notable, set-up and sight-in is made easier than you might think, thanks to three buttons and an onboard wizard that walks you through the initial process. If you know your crossbow's actual speed, it only takes a few minutes and a couple shots for verification; if you do not know your crossbow's speed, plan on a half-hour or better. (Note: The Xero is not a traditional click-adjustment scope; its smartphone-like menus must be navigated for initial setup.) Additional features include: a digital compass, angle compensation, digital level, multiple arrow profiles for toggling between various arrow setups, a steady shot indicator and a string life odometer/shot counter.
The aluminum-framed, waterproof unit is robustly built to house high-quality, coated glass, an oversized master/ranging button and a remote ranging button routed to the shooter's preference. While this rangefinding/integrated-ballistics technology is not new, the Garmin Xero X1i is the most refined.
Its downsides? First, it requires two AAA lithium batteries or it cannot be used, and be warned that battery life is much less than the year Garmin touts, especially in cold weather. Secondly, it's heavy at 1.9 pounds. And then there's its price of $1,400.
Havoc RS440 Xero Afield
From a hunting efficiency standpoint (power, noise, accuracy and user-friendliness) the Havoc Xero is the deadliest string-powered crossbow system ever conceived.
With a good rest, good fundamentals and little to no wind, I hit pie-plate targets on each and every shot from 10 to 80 yards. The X1i is dead nuts every time, so much that only two questions about it remain: 1. Does the Xero technology fall within your spectrum of hunting ethics? Yes, it makes hunting easier, but it also makes wounding tougher. (Note: the Havoc can be purchased without the Xero.) And 2: Is it worth its cost?
By double-dutying the Xero sight on a carbine or turkey-hunting shotgun, it makes more sense. You can also save more cash by omitting a stand-alone rangefinder. For some, such a toy may never be worth its cost. What I do know for sure is that two great American companies, working together, have not only raised the bar in terms of archery technology, but they helped me bag a deer before the deer ran off, and for that alone I give due credit.
*To learn more about the Havoc RS440 Xero and to see it in real hunting action, click here. 
Technical Specifications
• Accuracy: .50" @ 30 yards
• Arrow Speed: 446 fps
• Arrow Length, Weight: 16", 400 gr.
• Kinetic Energy: 176.6 ft.-lbs.
• Length: 27" w/o stirrup
• Width Axle-to-Axle: 7.2" (cocked)
• Power Stroke: 13.5"
• Weight w/o Accessories: 8 lbs.
• Finish: Veil Alpine
• Accessories: Garmin Xero X1i rangefinding scope, 6 EVO-X CenterPunch16 premium carbon arrows, 6-arrow Tech quiver
• MSRP: $3,599; tenpointcrossbows.com