by
posted on December 18, 2017
Support NRA American Hunter
DONATE
Editor's Note: Editor Shawn Skipper recently had the chance to put the following gear to use on a pheasant hunt in South Dakota. You can catch up in that story here.
Winchester SX4
Winchester's SX4 autoloading shotgun is designed to be lighter, slimmer and simply more ergonomic than its predecessor—and it succeeds on all counts. Its balance point has been moved slightly forward to create a more fluid swing and allow for better target tracking and a smoother follow-through, which made the SX4 Field model an ideal companion in South Dakota cornfields. Winchester's latest edition of the Influx Technology recoil pad further reduces felt recoil, too, which is always a nice bonus. Better yet, the SX4 line ships with an MSRP that's actually lower than the old SX3. It's hard to argue with that.

Browning A5 Sweet Sixteen
Back in 2012, Browning returned to the Humpback design with its new "A5." Though the name paid obvious tribute to the original Auto-5's, the A5 line was something entirely new. Among other things, it featured an inertia-driven action that Browning calls a "Kinematic drive." The new A5's were well received, so in 2016 Browning decided to take a chance on reviving another old favorite—and the A5 Sweet Sixteen was born. It captures every bit of the famous design, but in a gauge that has brought back more than a few sweet memories for hunters across the country. The 2¾-inch-chambered 16-gauge receiver is constructed of strong, lightweight aluminum alloy with a black anodized bi-tone finish. The stock and forearm are gloss-finish walnut with a close-radius pistol grip and sharp 18-lines-per-inch checkering. The stock is also shim adjustable for length of pull, cast and drop, and includes ¼-inch and ½-inch stock spacers for length of pull adjustments. Barrels come in 26- or 28-inch lengths, and three Invector-DS chokes are supplied. Like much of the A5 line, the Sweet 16 ships with an MSRP just shy of $1,700. Though that price point may hit you hard, trust me when I say this scattergun is worth every penny. We only had a couple of them, shared among the party, in South Dakota—and each morning it wound up being a race to the gun rack, hoping that sweet ol' 16-gauge hadn't been taken yet.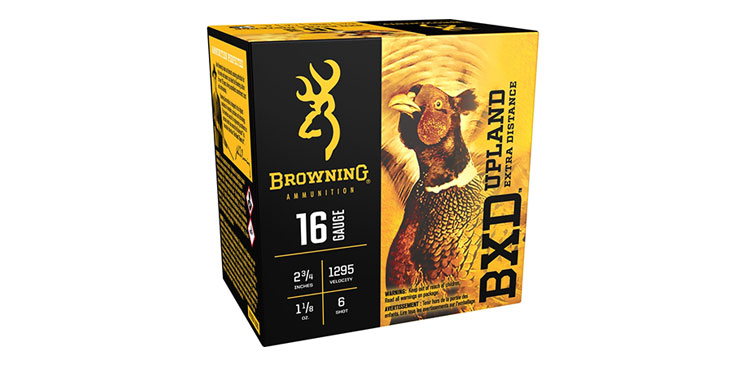 Browning BXD Upland Ammo
Browning's BXD Upland load pairs its nickel-plated shot with what it calls an "aerodynamically stabilized wad" to help keep patterns tight and uniform at extended ranges. This is a load that should really shine when applied to late-season birds and the accompanying weather conditions. The BXD Upland Extra Distance line includes a 12-gauge, 3-inch load with 1⅝ ounces of No. 5 shot at 1350 fps, and two 2¾-inch loads with 1⅜ ounces of either No. 5 or 6 shot.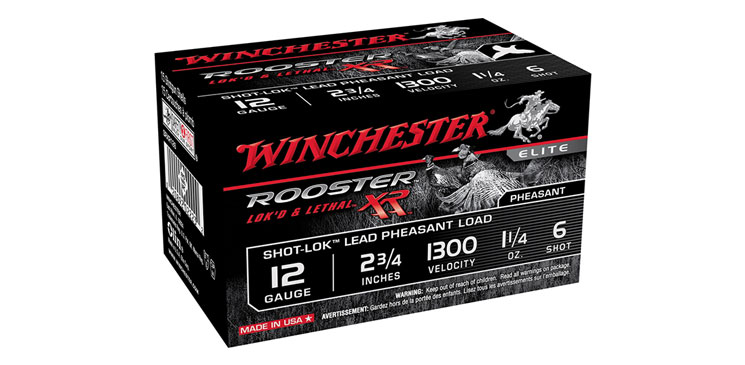 Winchester Rooster XR Ammo
Winchester's Rooster XR was also along for the ride, and produced devastating results on birds at all ranges. Where it shines, though, is on long-range shots—more than once, jaws dropped at the clean, hammer-like hits it dropped on pheasants beyond 50 yards. Its fierce payload is due in large part to Winchester's Shot-Lok technology, which the company uses to eliminate air space between lead pellets, preserving integrity, minimizing fliers and ensuring a tighter spread at extended ranges.