by
posted on December 16, 2017
Support NRA American Hunter
DONATE
It's not easy for the mind to wander when you're carefully easing through a cornfield, shotgun at the ready, ears carefully waiting for the beating wings of a flushing game bird. Such a truth is good for a multitude of reasons—your own safety and that of those hunting alongside you, for starters. But, as I'd learn on a brisk October weekend, it's good for other stuff, too—like keeping your thoughts well away from the ups and downs that life likes to throw our way. There's actually a lot to be learned when you're stalking the heartland, scattergun in tow, pheasants underfoot. This, I'd soon learn.
I'd arrived in South Dakota with a black cloud firmly settled in above my head. Though home was some 1,500 miles back east, it was in turmoil. Just a few short days before my plane touched down in Aberdeen, I'd experienced a bit of emotional upheaval. The exact details… well, quite honestly, they're none of your business. But it's not an unfamiliar tale, and it ended with me moving out of a shared apartment in the wee hours and into the home of a sympathetic co-worker.
Aside from the clothes on my back and the gear in my duffel, 95 percent or so of my belongings was still in cheap black trash bags that had been hastily dumped into a spare bedroom in a townhouse in Virginia. There was no time to get out of my trip without creating trouble for other parties—the last thing I wanted to do. So, I found myself standing in front of the man-sized pheasant statue outside Aberdeen's airport, awaiting my ride to camp. This was going to be an interesting few days.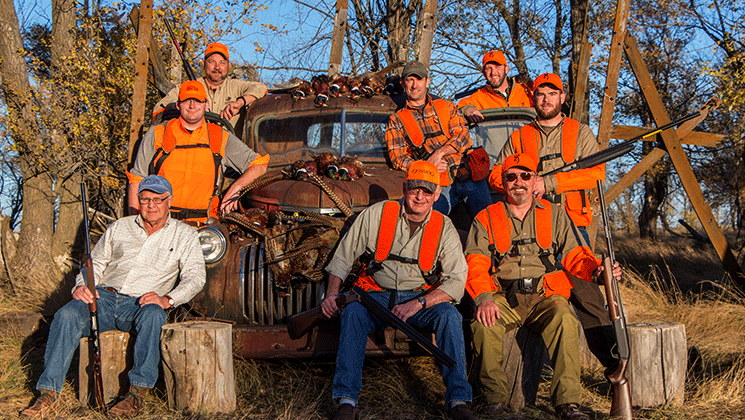 Welcome to South Dakota
Though we were really hunting a bit southwest of Aberdeen, in Seneca, S.D., the entire region is known for its plentiful roosters—enough so that many consider it to be the pheasant hunting capital of the world. Makes sense; the ring-necked pheasant is South Dakota's official state bird. Though the ring-necked species was first released in Oregon in the late 1800s, it would go on to thrive on the Great Plains, where wingshooters have long journeyed early each fall in a sort of pilgrimage. If you haven't hunted pheasant in South Dakota—which hosts more than 100,000 upland hunters each year—then you haven't hunted pheasant. Prior to October 2016, I was firmly among the latter group. I'd hunted waterfowl across the continent and killed my share of big game. And sure, I'd sat on an overturned bucket and waited for doves. But I'd never donned brown and blaze orange and flushed pheasant. An oversight on my part, for sure, and one I'd been looking forward to correcting.
A bit of luck and the good fortune of doing what I do for a living allowed me to open my upland career in pheasant Mecca. According to South Dakota Game, Fish and Parks, roughly 142,000 individuals hunted pheasant in the state in 2016. About 57 percent of those hunters were nonresidents. Those 142,000 or so hunters killed more than 1.1 million birds, raising the state more than $200 million in the process. Though some rough winters and habitat loss haven't done the pheasant population any favors, hunting roosters remains an enormous part of the state's culture. Some families, as I'd find, have been in the business of killing pheasants for a long time.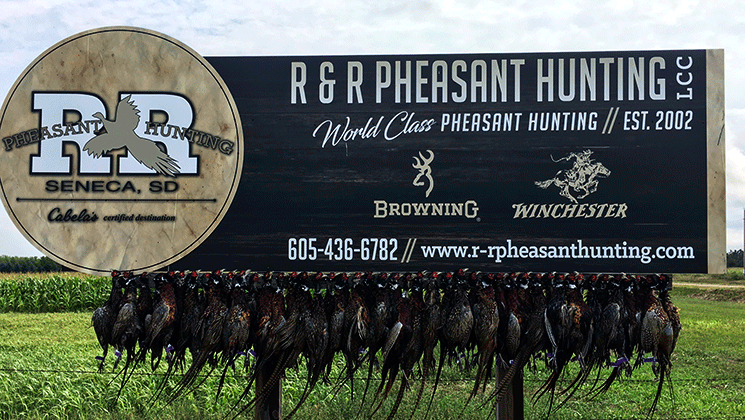 Meet the Roselands
Our gracious hosts were the Roseland family, which operates R&R Pheasant Hunting, out of Seneca. Sal Roseland is the owner and fifth-generation operator of Roseland Ranch, where the action occurs.
As I've noted, pheasants have been an important part of South Dakota's economy for more than a century—and after graduating college in 2002, Sal decided it was time for his family to join the party. It took a few years to flesh out the idea and get his father and grandfather on board. By 2005, the operation's first hunting lodge had been constructed. Two years later, sheer demand forced the family to build a second lodge. Now, R&R is one of the more well-recognized pheasant hunting outfits in the industry—and it plays host to more than 500 hunters from around the world each season. Odds are, if you've consumed any other outdoor media, you've seen a day's limit worth of pheasants resting on the family's battered old '47 Chevy. It's a tradition, and the Roselands are big on tradition. Heck, they've owned the ranch since homesteading it in 1881.
With Sal, his wife, Kelly, and R&R's staff on hand, we were ready to bring a few roosters crashing back to Earth.
Lessons Learned
As we clambered out of Sal's modified school bus—which offered bench seats with their backs to the windows along each side, a custom gun rack and plenty of room for shells (it's a yellow nightmare wagon for the local bird population)—the weight resting on my shoulders lightened considerably. On a gorgeous October day, with a brand spanking new 12-gauge in my hands and the kind of camaraderie only a hunting camp can offer, it was time to go to work.
Laughter that had been forced up until that point became real soon enough, when the East Coast waterfowl hunter let his first flushing pheasant get to a safe height—but probably not an ideal distance—before instinctively peppering it with a 3-inch Winchester Rooster XR dynamite stick. It looked like I'd shot a feather pillow. The bird was probably only 8 or 10 yards in front of me. After a brief pause, Sal chuckled and said, "Well, that'll be one for the stew pot," prompting me to finally crack a true smile, then look around apologetically before laughing aloud.
And so our days went, constantly being told to "slow down a little" our marches through strips of corn—which, overcome by excitement, we consistently failed to do. We cheered excellent shots, and, of course, jeered poor ones. What I thought had been a great 40-yard shot of mine with Browning's beautiful little A5 Sweet Sixteen was shown up just minutes later, when a fella named Jimmy Wilson smoked a rooster at what we guessed was nearly 70 yards with the Winchester SX4 and Rooster XR. We talked, told tall tales, awed over the whitetails we'd occasionally flush and watched Sal's dogs do their jobs. We nearly fell over laughing watching another hunter in the party—who shall remain nameless—swing and miss at a rooster three times, all within 20 yards. He emptied his gun; the rooster lived to see another day. We busted clays at R&R's facility in the evening, and talked about days gone by at family-style dinners. In short, we had fun. I had fun.
I didn't necessarily rid myself of my baggage—figuratively or literally, given the status of my property back home in Virginia. But I was able to forget about it for a while, to process—to remind myself that life would go on, and that mine was a pretty good life, indeed. I just needed a little heartland therapy to get me out of my slump. Give me friends old and new, a trusted shotgun and a couple of hardworking birddogs and it'll cure most ills.
Good weather is always nice, too, but it's best not to be greedy.