Support NRA American Hunter
DONATE
Editor's Note: Editorial Director John Zent put the following gear to use on a recent Alaska brown bear hunt. You can catch up on that story here.
True to form, Glacier Guides supplied a detailed equipment list that didn't stint on citing specific products, while also making clear they want clients to bring enough gun (See the full list below). Given the demanding the conditions, I did my best to stick to the guidelines.

Rugged Ruger
The latest Model 77 purpose-built for harsh climes and heavy game is the Guide Gun, a Hawkeye variant whose laminated stock blends the feel of wood with the stability of synthetic. The stock's cushy rubber buttpad tempers the kick from chamberings ranging from .30-06 to .416 Ruger, and half-inch spacers (three included) can be user-inserted to grow length of pull from 12.75 to 14.25 inches.
The Guide Gun's coated, stainless-steel metalwork features a 20-inch magnum-contour barrel that ships with Ruger's proprietary Radial Port Muzzle Brake installed. However the brake is easily swapped for a matched weight or thread protector, both supplied as accessories. A barrel-mounted V-blade express sight pairs with an interchangeable white bead at the muzzle. The biggest plus of the M77 Hawkeye generation is its LC6 trigger, and ours broke at a consistent 3.5 pounds with negligible creep. For a hunting rifle, especially one intended for dangerous game, it strikes a smart balance between responsiveness and having the spine needed for high-stress action. It enhanced our efforts at the range, where our .375 Ruger test rifle averaged 1.3-inch groups with Hornady Superformance 270-grain SP-RP.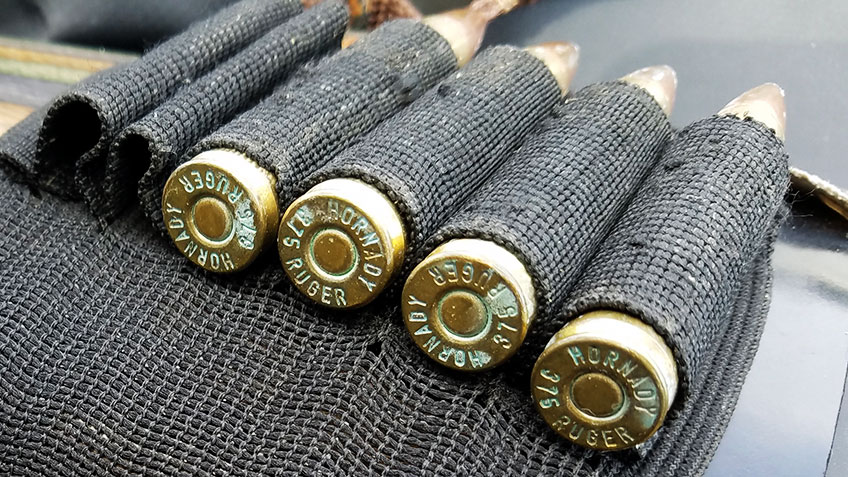 Scoped and fully loaded, the Guide Gun weighed nearly 9¾ pounds, and so it was just as well the hunting was confined to grassy shorelines where bears feed in early spring. The rifle not only balanced and shouldered smoothly, but thanks to the bulk, it settled in fast and the recoil was not so bad. 

On coastal bear hunts, exposure to salt water can cause overnight corrosion. But despite hard knocks and sporadic soakings, only the sling-attachment studs showed any rust, and the stock came home with just minor dings. Like Ruger's Mark II All-Weather Stainless of the 1990s, the Guide Gun is right at home in Alaska, and may prove the most durable and shootable extreme-conditions specialist from a half-century of Ruger 77s. MSRP: $1,279; ruger.com.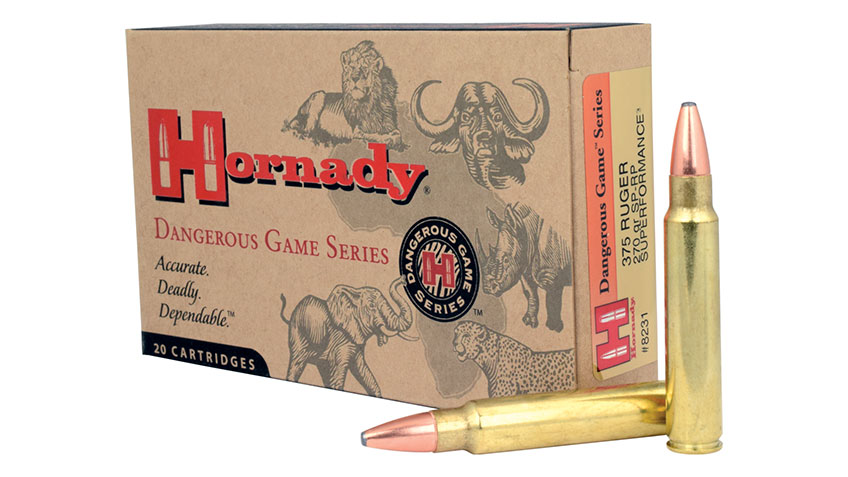 Heavy-Hitter from Hornady
For a standard-action alter ego of the world's favorite dangerous-game caliber, look no further than the .375 Ruger. Hornady and Ruger collaborated to develop the .30-06-length round that exceeds ballistics of the famed H&H. From Hornady's Dangerous Game Series topped with 270-grain SP-RPs, my .375 Ruger load clocks 2840 fps at the muzzle and generates 4930 ft.-lbs. muzzle energy compared to corresponding 2700 fps/4370 ft.-lbs. from the British classic. The SP-RP bullet is the company's long-running soft-point Interlock with an extended jacket that prevents nose deformation under recoil. Unlike most short-action magnums, the .375 Ruger isn't primarily geared to lightweight rifles, but that can mean—as with the Ruger Guide Gun—extra weight goes into the barrel where it can be advantageous to the shooter. MSRP: $64.99 per 20-rnd. box; hornady.com.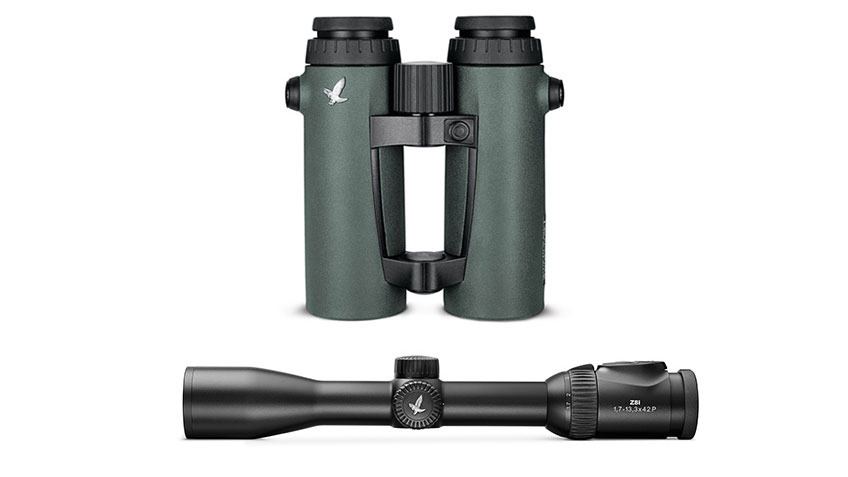 Swarovski Optics
I wasn't alone using Swarovski glass; between guides and fellow hunters, a majority of us relied on Austria's famed export brand. Mounted on my Ruger was a Z8i 1.7-13.3X-42mm, while an EL Range binocular rode along within immediate reach. Their unsurpassed imaging is delivered by fluoride-containing lenses and mirror-finished roof prisms from Germany's famed Schott Glaswerke, components that aren't exclusive to Swarovski, though the critically important internal construction and glass coatings are.
The scope epitomizes versatility. It has the magnification to go long, but can be dialed down so that the field of view is extremely wide (76 feet at 100 yards) for dangerous game at close quarters. The Z8i's illuminated dot reticle is highly adaptable, too, with 64 different brightness settings. EL glasses dominate the market simply because their unmatched clarity and super ergonomics make it easier to find game. Packed into this model is an onboard rangefinder that rarely fails to yield one-touch readings, plus ballistic-reference and inclinometer functions. The price one pays in weight (31.6 ozs.) is more than offset by combining two instruments in one. The literal prices of Swarovskis can be daunting, but not if you amortize their worth over several years. MSRP: $3,477 Z8i 1.7-13.3X42mm; $3,632-$3,666 EL Range binocular; swarovskioptik.com/hunting.
■ ■ ■
Glacier Guides, Inc. Suggested Hunting Equipment
• Stockingfoot Hip-Length Waders or Simms G3 Guide Pant Stockingfoot Waist Waders
• Rubber-sole wading boots - Simms
• Helly Hanson Impertech Guide Coat or Swazi Wapiti Coat (knee-length to cover well over boot tops), or the Simms G4 Pro Jacket in conjunction with the Simms waders
• Hunting pants (preferably wool or polar fleece - absolutely NO COTTON)
• Hunting shirts (preferably wool or polar fleece - long sleeved, absolutely NO COTTON)
• Sweater/jacket/vest (not nylon - quiet material only)
• Silk or polypropylene underwear (light or medium weight)
• Wool socks with lightweight waders
• Hunting cap/hat (dark or camo colored)
• Gloves (wool and rubber or neoprene)
• Facemask and lightweight shooting gloves (for concealment during stalking)
• Insect repellent and fine mesh head net or Thermacell
• Rifle/scope - .375 minimum caliber, Swarovski 2-10, 30mm tube with heavy or illuminated reticle - Swarovski Z6i 2.5-15x56mm
• Binocular - Swarovski 10x42 (no spotting scope necessary)
• Waterproof gun bag (for open skiff travel - available for purchase on board with advance notice)
•  Gun oil, rag and rod
•  Dry bag (for personal items aboard small skiffs)
*This list has been slightly edited from its original form. Brands listed are recommended by Glacier Guides, Inc.