Support NRA American Hunter
DONATE
The view from the Alaskan Grandeur's main salon had to rival the vistas from any other hunting camp on earth, and it sure beat what we see from meeting rooms at NRA Headquarters. Surrounding our sunny anchorage off southeast Alaska were expanses of the famed Inside Passage framed by steeply forested coastline, all of it pristine, straight from the hands of God. And so it seemed a bit odd that, after crossing the continent for the hunt of a lifetime, in effect escaping a routine where meetings occur all too often, our first camp activity was to settle down for a meeting.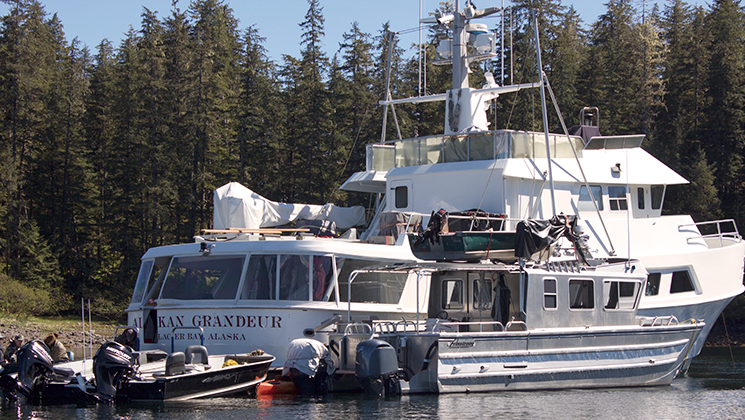 Actually it was a briefing about what we would be doing and how we were going to go about it, conducted by outfitter and chief guide Mutts. She ran that meeting as sure-handed as any veteran CEO, and it ranged from how to avoid falling into the cold Pacific waters to how to use the hot water in our cabins' showers. More than anything, we talked about where to shoot the bears, and to make sure the four hunters present were perfectly clear on that, she used a scale model with a removable piece that exposed chest anatomy showing the exact arrangement of heart, lungs and other vital organs. A large pin extending through the vitals helped us visualize the aiming point regardless of the angle. It was far more comprehensive than any briefing I've seen in 30 years of outfitted hunts.
Like everything to follow over the next eight days, the lessons on shot placement, bear behavior, hunting practices and more were delivered with a precision rare in any endeavor, let alone one so random as big-game hunting.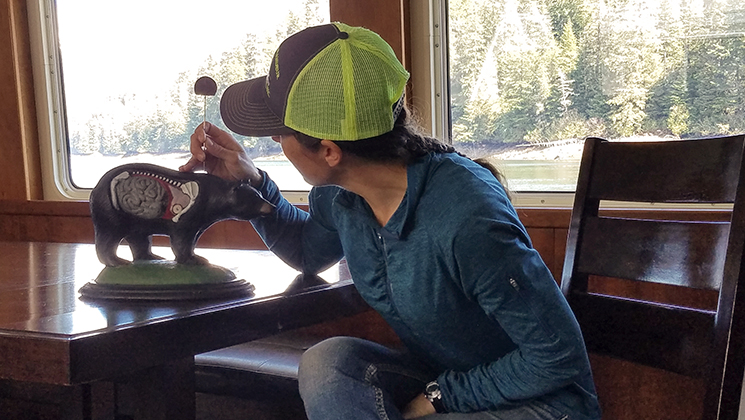 Mutts concluded the briefing by stressing how important it would be to hit the bears right with our first shots. Otherwise they would almost certainly bolt for the nearby rainforest where a close encounter was likely and potentially dangerous. After a recent incident, she said that Glacier Guides had decided to change its policy on allowing hunters to help follow up on wounded bears.
The Hunts
Had the four of us gone for the first big brown bears we encountered, the hunt might have been short-lived. A couple days in, all hands had been within shooting or stalking or considering range of at least one impressive specimen. But we fixated on taking only the biggest, oldest boars, and while Gus, Mike, Brandon and I couldn't have identified a run-of-the-mill giant from a truly monumental one, Mutts sure knew the difference. She grew up with bears the way most of us grow up with neighbors. To her they are not just examples of their kind, but rather individuals to be sized up for physical and behavioral traits.
Her driver's-license name is Alisha Rosenbruch-Decker. I don't know about other vital stats, but can report that though kind of baby-faced, she comes across as mature and wise, and cycles through her day's myriad chores with natural grace, especially the hunting part, from handling boats to wading in seawater to covering ground with long, silent strides. That includes running the 78-foot Grandeur along with her husband, Zach Decker, while raising two young sons, Gunner and Reilly. In a very real sense we were guests in their family home.
The Rosenbruch part comes from Mutts's father Jimmie, founder of Glacier Guides and a pioneer of southeast Alaska's yacht-based hunting. As we were doing now, the elder Rosenbruch would lead clients on voyages that combined great mobility, spectacular scenery, and comfortable, if not luxurious, accommodation and meals. It also proved a hugely successful way to hunt some of the biggest brown bears and black bears on earth, and in recognition, Rosenbruch was named Safari Club International's Professional Hunter of the Year. Mutts didn't fall far from the tree. By her mid-teens she was working as a full-fledged guide; she and Zach took over the business when her papa retired; and before too many years passed she also claimed the prestigious SCI guides' award. Many articles have been written about Glacier Guides and about hunting with Mutts, including a previous one for this magazine, and so I thought I knew what lay ahead when folks at Ruger invited me to fill in on a hunt originally slated for company executives.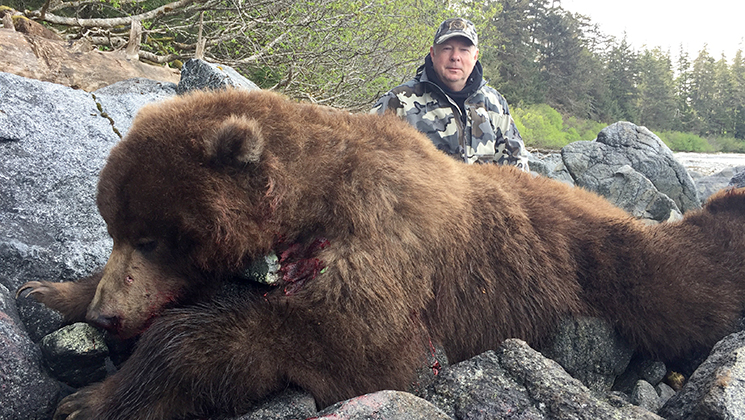 Before reaching the mid-point of our journey, Mutts guided both Gus and Mike to ginormous bears. Both men shot straight and made neat jobs of downing their quarry, and despite experiences worldwide, they returned ecstatic with the outcomes and their brown bear trophies. Their stories were so spirited that I felt lucky to be partnered with such gents. Because the pace of a boat expedition allows ample down time—hours afield span late afternoon until dark—there's plenty of bonding, and thanks to the Grandeur's homey vibe, it soon seemed as if we'd been buddies forever.
Early on I was paired with guide Todd Boughner, a Michigan man who seasonally "commutes" to Alaska to work in hunting camps. It was not his first stint with Glacier Guides, and it seemed apparent, as Mutts rotated from one hunter to the next, that the two of them were accustomed to working together.     
Every time out, we saw bears I thought might have been shooter-class, but there was no hurrying the pros. One occasion, after a lengthy spot-and-stalk, I planted my crosshairs on the vitals of a dark-coated fellow for what would have been a 50-yard broadside, but we passed. Regardless, I couldn't have been more enthused. Interestingly that bear must have been equally intrigued, because it paralleled our track as we hiked back toward the skiff. Over the next hour we caught multiple glimpses of it skulking along on our flank. By the final glimpse, the sky had grown so dark I'm not sure even my lighted-reticle scope would have given me a shot. Whether the bear stayed or left us, we were in no hurry and continued to glass as dusk clamped down.
It seemed then that regardless of how long and hectic her day had been, Mutts was so in the moment when hunting that she just couldn't bear to call it quits.
The Kill
Late one afternoon, after briefly sighting an apparent giant feeding at a point between two channels, Mutts, Todd and I chugged into a nearby cove with a house overlooking the shoreline. Padding along at the water's end were two bears, but we soon saw they were not so big. While I couldn't find any sign that the house was occupied, there also was a sizable cabin cruiser anchored in the middle of the cove, and we could see a man moving about, glassing us as we glassed him. Patiently, we bided our time for more than an hour, perhaps two, but no more bears showed themselves.
Bidding adieu to the guy in the cruiser, we weighed anchor and motored across the channel for second look at the meadow where the big brown had been grazing. He was back, busily feeding halfway between the shoreline and the forest edge. Rather than approaching directly, Mutts swung the skiff wide, then cut the engine and glided in behind a wall of boulders. Trust me when I say it's tricky to slip silently over an aluminum gunwhale into choppy water with a slick bottom, but hopefully I was doing okay, and indeed when Mutts and I got to where we could peer through the rocks, the bear was still feeding calmly.
With Mutts to my left, I crawled atop a boulder, settled my rifle—a Ruger Guide Gun in .375 Ruger—on my pack and prepared to shoot. She told me that the range was 130 yards, but to wait, presumably for a final look to verify the bear's size. As it turned and started walking away, she gave the go-ahead. Though the animal's gait was unhurried, my only target was the root of the tail. We had talked about taking that shot if it was the only one available, but with each step his butt pivoted a foot or more. I was sure the beast would angle, but it kept going straightaway, heading toward the treeline, and after a few more beats Mutts said, "Better shoot." It appeared the bear was exiting the open ground, and only after a few more strides did it turn enough to give me a quartering shot.
I fired, and the bear lurched, but didn't go down. Instead he turned and loped toward the shoreline, and I fired a follow-up and Mutts shot her .416. As I fired again, the bear was entering the water. Mutts said, "No, no, don't go out there," then asked where I was shooting.
What followed was both astounding and terrible. A couple times it appeared the bear was done, but then would rally, and again I shot. Finally, the beast rose a bit and Mutts said it must be standing on a rock. I aimed for a patch of chest between its neck and the surface, fired, hit, and fired again before it collapsed.
■ ■ ■
The volley had gone on so long that we were beyond being stunned at the finish. The diehard bear was now submerged a few yards off shore, resting in a wide, blood-tinged pool. We traded congratulations, then began assessing how best to get the mammoth carcass up onto the rocky strand. The sky had begun to darken as night closed in. 
I felt relief, but not the elation so unique to hunting success; thankfulness, but not closure; shame vying with disbelief. Yet there was no denying the opposite of a quick, clean kill. It had been prolonged and messy. How? Why? Other than the obvious—that my shooting hadn't been good enough—no answer was forthcoming.
And it was moot just then as Todd gently piloted the skiff to nudge the bear as close to dry land as possible. Then the guides and I waded in and strained to roll the beast over a couple times until it was completely free of the water. Sopping wet it must have weighed well over a half ton. On a rock pile, we propped up a head as broad as a kettle drum and heavier than a bucket full of nails.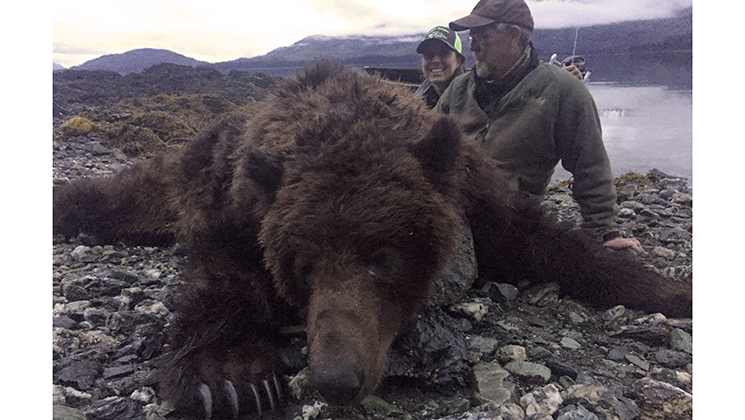 Long ago, hunters divined that prey animals must be regarded and treated respectfully. Some cultures saw them as sacrifices or gifts deliberately meant to sustain human life, or, to the same end, even counted them as brothers knowingly surrendering themselves. Our modern-day approach to the age-old moral contract emphasizes killing as humanely as possible. It's what we pledge in return for the privilege to hunt, and I'm proud to say that over my lifetime, nearly all of the hundreds of folks with whom I've hunted have abided by this principle. I've always tried to do so, too, but this time, unintentionally, I didn't. 
Out came the cameras, Mutts', Todd's and mine, rotating as we snapped a few photos in the diminishing light. With the skiff and the channel and distant skyline in the background helping to tell the story, I knelt behind the bear, belittled by its girth, its weaponized paws and a coat that was both armor and luxury. With due respect I would have changed how it happened if I could, but wasn't sorry about killing the bear.
We prayed our thanks and paid tribute to the creature, and then Mutts said we would come back in the morning to resume the picture-taking before skinning it out. By the time we gathered enough brush and driftwood to cover the fallen behemoth, the deep northern twilight had settled in.
The Recovery
We needed a bigger boat to retrieve the bear. Not that the skiff couldn't have hauled it back, but more people were going on the return trip. On board for the recovery was the entire Decker family, plus Todd and the boys' sitter. And so we filed onto the yacht's tender, the Seclusion, and with Zach at the helm, skipped along the channel at a fast clip.
In mottled sunshine we found our cache undisturbed, and the beachfront soon bustled with our talk and the kids exploring. We didn't dawdle, but took the opportunity to appreciate a fine spring morning. Zach joked, while Mutts, who has been part of such work parties more times than one can grasp, chatted easily, yet managed to attend to the bear and keep tabs on her high-energy sons.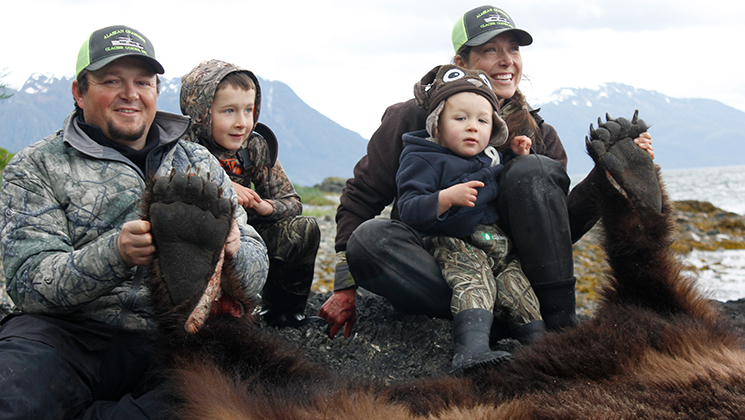 In daylight the bear was grand; nose-to-tail, it stretched perhaps nine feet and was bulky as a blue-ribbon bull. Massive as the body was, the head was oversized, it's long snout loaded with chunky white teeth. The beast's thick, bowed legs were muddy brown compared to its russet and tan back and sides, and each mitt was studded with five black spikes. No other land-based predator is built to rule its territory the way these guys are.
While there was no forgetting the previous evening's turmoil—in fact Zach asked how I would write that part of the story—the work at hand helped to balance the scales. With the hide removed, some of the questions that had kept me up were answered. There were eight or nine bullet holes in the chest, including two through the heart. While we would never know the sequential order of those hits, two things were sure: my first shot did not sufficiently incapacitate the bear, and that being the case, the animal's will and ability to deny death were astonishing and unfathomable. Now I too know the wonder that inspired tales about the toughness and tenacity of various game animals. Witnessing that brown bear's unconquerable life force is a hunting memory as powerful as any I will ever possess.