by
posted on July 15, 2010
Support NRA American Hunter
DONATE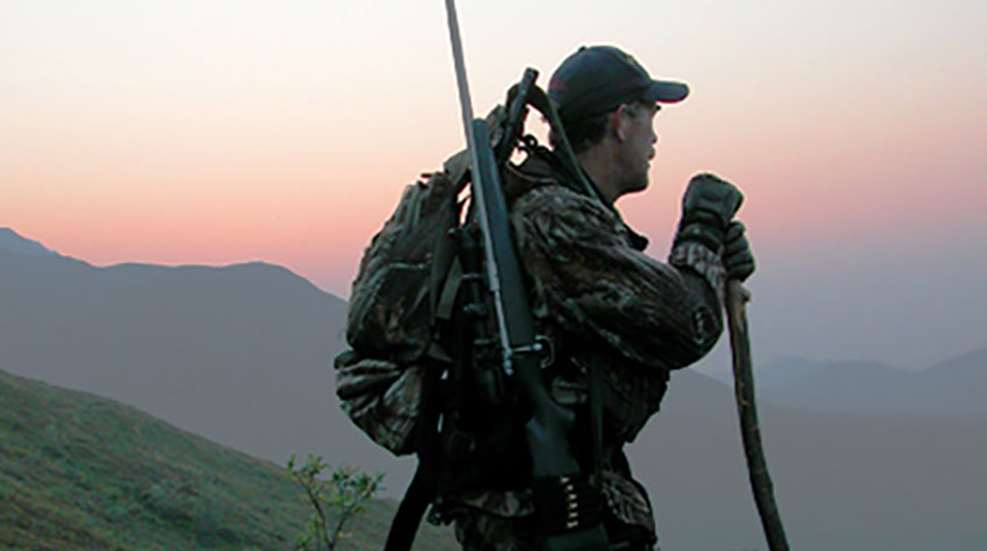 Atop North America's biggest mountains live many of our most prized game animals, but big trophies alone aren't what make hunting at lofty elevations a lofty achievement. The difficulty of climbing into exceptionally scenic places where few humans ever tread has long been honored in our hunting culture. As is the case in almost any worthwhile endeavor, the reward is commensurate with the struggle.
Good hunting gear is always beneficial, but it takes on even greater importance when pursuing game above the timberline. While going ill-equipped is a big mistake, every step drives home the truth--the less gear the better. Logically mountain hunters prefer lightweight equipment and those who go repeatedly take pains to find the lightest available. Nonetheless, the first priority—as always—is that it's got to perform.
I asked ATK Federal's Drew Goodlin to help me sort out the best bets. Last year Drew and I partnered on a Stone sheep hunt in British Columbia, and between us we have done more than 25 hunts for wild sheep, goats, mountain caribou and high-country elk, deer, bears and moose. The following suggestions reflect our current thinking, and obviously our preferences aren't the same in every case, nor are we saying there aren't other worthy alternatives.
Rifles
Drew—"Number one, it must be rugged and able to withstand punishment from foul weather, horses, boats, climbing and falling. Light weight is important, but fragile won't do. So you've got to balance weight and performance. And part of that is you've got to shoot it well. My choices: Remington 700 with composite stock in .300 Wby. Mag. for bigger stuff; and custom Bansner Ultimate One in .270 Win. for sheep and lighter game."
John—"Drew hit it when he said to balance weight and performance. A few points in that regard: 1) The animals are fairly big, so you don't need a half-inch shooter and besides, at long range above timber likely you will be able to take your time from a prone position. Frankly, these aren't hunting's toughest targets. 2) Except for elk, moose and bears you don't need big calibers—a .270, .280 or one of today's hot 6.5 mms will do just fine. 3) You might as well pick an ugly gun to begin with because if you hunt enough it will get beat to hell. My choices: Kimber 8400 Montana in .300 WSM (yes, I could go with a lighter caliber, but this rifle shoots great; and Remington 700 XCR in .300 RUM (overkill 80 percent of the time, but when you want to shoot long…!).
Ammo
Drew—High-country ranges can be extreme, but that's not always the case. So look for a load with a high ballistic coefficient and great terminal performance at all ranges. You might have to shoot 400 yards, but just as likely it'll be 40 yards. I find that guys who both put in time on the range and who study ballistics are more likely to have the confidence to make clean kills. For my sheep hunt I picked Federal Premium with the Trophy Bonded Tip bullet because I was confident—it's really accurate, punches out a large wound channel and penetrates like crazy. The shot on my goat was straight up, while the shot on my ram was straight down. Nonetheless, I was confident.
John—Today's crop of super bullets provide us better ammo than was ever previously available. The Barnes X-Bullet, Trophy Bonded Tip, Swift Scirocco, Nosler Accubond, Hornday GMX and Winchester E-Tip penetrate deeper than we could have imagined, even in standard calibers, while creating knockout wound channels. My favorite is the light-for-caliber Barnes Tipped Triple-Shock, which gives me a 130-gr. screamer for my .300 WSM. The Federal Premium factory load I use has a muzzle velocity of 3550 fps, and shoots 30 percent flatter than my previous 180-gr. load.
Optics
Drew—Same as the gun, your optics must be rugged and reliable. What could be harder on a scope than having a horse jamming it into trees or a hunter repeatedly falling on it? And on the hunt of a lifetime, failure couldn't come at a worse time. In my case, the Weaver Super Slam rifle scope with the EBX reticle allows precision shooting at all distances and gives me flexibility. Because of the intensity of the scouting, binoculars must be big enough to deliver crisp images with enough power to count points on elk antlers or annual rings on sheep horns. I don't like ultra-light binos, and your optics are definitely not the place to skimp in high-country hunting, so I use the Weaver Super Slam 10.5x45 mm—tough, reliable, quality.
John—I want to go light with my optics. A low-profile 3x9 scope that weighs no more than 15 ozs. is ideal so long as it can take a licking. Since you rarely shoot in low light on this kind of hunt, no need for a huge light-gathering objective. The Leupold VX-3 2.5-8x36 and Weaver Grand Slam 3-10x40 are two slim-line scopes that proved rugged and ready for me. Binoculars should run around 25 ozs. or less, so long as they have really great glass for sharp resolution. Among my favorites are the Zeiss Victory FL10x32 and Weaver Super Slam 8.5x45. Keep in mind, the tell-tale glassing in this venue is done with a spotting scope, and the ones I've successfully used include the Nikon EDG FieldScope and the Zeiss DiaScope. On guided trips, the client won't have to carry a bulky spotter unless he opts to do so.
Boots
Drew—Meindl Boots from Cabela's are finely crafted boots with a very stiff ankle and tough rubber toe rand that stands up to terrain that can destroy leather footwear. Thanks to a cork footbed that molds to the wearer's feet, the Meindls fit me exceptionally well and they are designed not only for going up and down, but for the very nasty job of sidehilling. Although expensive, your Meindls will last longer than other boots and so are good value. And if you want to step up even more, consider a custom-made boot from Russell.
John—Though I'm obsessed with lightweight gear, I found out the hard way what happens when you go too light in the boot department--feet that look like hamburger and ache like a sore throat. Nowadays I rely on Kenetrek Mountain Boots which both comfortable and durable. Mine are virtually no worse for wear after numerous skyline hunts and countless miles on hiking trails. Alternately, I'm a big fan of the Meindl Boots (mine are the low Hiker models) and for years have dreamed of getting a pair of Russell Mountain Boots crafted to really fit my feet.
Clothing
Drew—I'm torn between lightweight wool and high-tech synthetic, especially the recent stuff from Sitka. They both work well as long as it's not extreme cold, which is often the case when hunting goats, sheep, and early-season elk, deer, moose and caribou. I'm also caught up in the debate over camo. I kinda like not wearing camo and believe game will see your movement or outline regardless what you're wearing. Still, the latest digital pattern from Sitka does come from a pretty well-thought-out military background, and so it may be worth trying.
John—When I'm climbing I want super hydrophobic clothing, and so the latest hunting garb from Sitka and UnderArmour really appeals to me. No matter how much I'm sweating, it just won't hold the moisture, and that helps keep me comfortable regardless if it's hot or cold. A basic fleece jacket—I get mine from Cabela's—is a must. Also, I want plenty of pockets--jacket, vest and cargo pants must be equipped to carry plenty and keep it all organized.
Raingear
Drew—I don't really like wearing raingear because it makes me sweat, is noisy and tears easily. But in this kind of hunting, it's essential. Even when it's not raining, you'll want to have durable raingear for riding horses through wet brush. I look for raingear that's hunter-specific and very packable, like the newest suit from Sitka.
John—I always carry a lightweight rain shells built on a Gore-Tex membrane, and have appreciated the Red Head PacLite and Sitka Ascent lines. These garments won't keep you as dry in a downpour as the deluxe Helly-Hansen suits favored by Alaskan guides, but they also won't make you sweat nearly as much when you're climbing and are a lot more packable. Whatever you prefer, don't go to the mountains without rainwear.