by
posted on October 6, 2015
Support NRA American Hunter
DONATE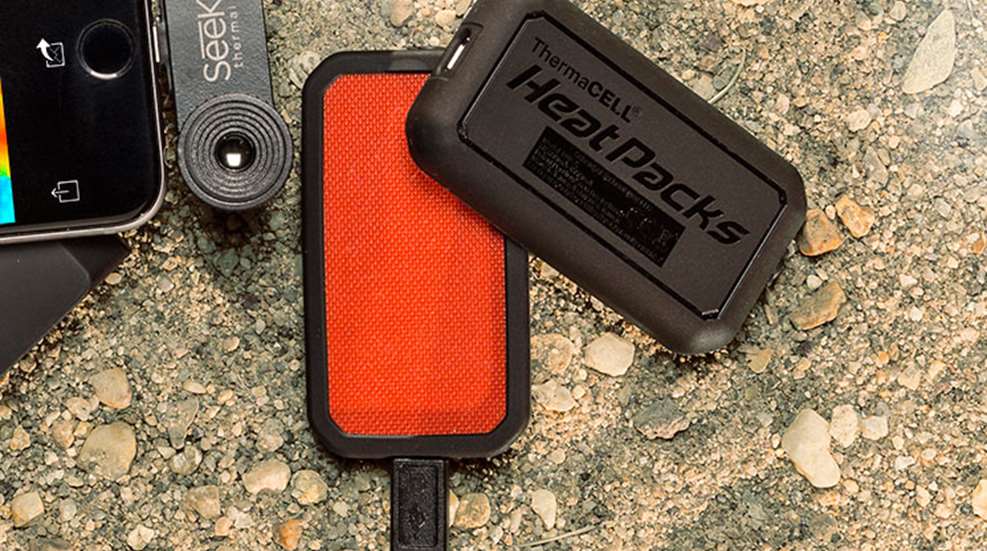 Fall hunting seasons have arrived and, for most of the country, fall weather has come with them. Temperatures are dropping, particularly in those oh-so-important hours at first and last light, and hunters are gradually adding layers to their clothing. I'm a bit of a polar bear when it comes to gearing up for cooler weather—it takes arctic-like conditions for me to don much more than a camouflage hoodie and a decent pair of pants. When it comes to my hands, though, it's another story entirely. They're the first part of my body to feel the cold—even if they wind up being the only part—and that makes for an uncomfortable sit in blinds and treestands alike.
The flipside is that I'm not fond of handling a firearm while wearing heavy gloves, creating something of an impasse. Like many hunters, I've relied on a bevy of pocket-sized hand warming solutions in the past. For 2015, ThermaCELL has introduced a new answer to an age-old problem with its rechargeable Heat Packs. Here are five things you need to know.
1. They're a modern approach to an ongoing battle.
Disposable plastic hand warmers have long been the go-to approach for preserving the feeling in your digits when afield, but ThermaCELL wanted something more. The company's new Heat Packs are rechargeable, and designed to slide right into whatever pocket you've got available on your gear. Activating a heat pack can turn any small, enclosed space—be it a pocket, or your glove—into a cozy retreat for your beleaguered hands. The design features materials that have thermal properties that allow for more effective transfer of heat to the body. And you don't throw them away at the end of the hunt—you plug them in and get them ready for tomorrow. No more regular trips to the store to replenish your wares with disposable solutions.
2. You've got options.
ThermaCELL's new Heat Packs are available in two versions: Hand warmers, which are sold in pairs, and the Pocket Warmer. The Hand Warmers are smaller (measuring 2.9"x1.6"x.45" each), and designed to be tucked directly into a glove or a small pocket. The Pocket Warmer is larger (4"x2.8"x.45"), and more suitable to be placed in a large front pocket, like you'd find on most of your jackets, parkas or sweatshirts.
3. They last.
The Hand Warmers and Pocket Warmer alike can last for six hours upon activation. No, that won't be the entirety of your hunt if you're determined to go into the backcountry and not come out until you've harvested your whitetail, but, on most sits, it'll be all you need. They're easy to recharge upon leaving the blind or stand. And if you're a tech savvy hunter, you don't even have to leave.

4. They're resilient.
Heat Packs are thin and lightweight—so much so that they're among the lightest rechargeable warming options on the market. But they're also fairly tough little buggers. Both models are water-resistant, which should allow you to take them with you into even the harshest elements. They're also shock resistant, and feature an easy to grip thermoplastic polyurethane material, which should help keep you from dropping them. I don't know if they'll survive falling off the duck boat with you, but you get the idea.

5. You control the temperature.
Both models feature three temperature settings: high, medium and low. High is roughly 116 degrees, medium is 110 and low is 106. So if you're feeling a little stuffy, just dial things down a notch.
For more information, go to Heat.ThermaCell.com.