by
posted on October 16, 2015
Support NRA American Hunter
DONATE
Few folks in the outdoor industry have proven fond of drone use, but that hasn't stopped the Skynet-looking things from popping up all over the country. They've gotten so prevalent that some national parks have had to ban drone use. Heck, even the native wildlife has taken a position. And, while many a hunter has made bold claims about shooting down any drone that they find hovering over them, it's not something I'd personally endorse.
That said, if shooting at drones is a bucket list item for you, Champion Target's latest offering is right up your alley. Meet the company's new "Attack of the Drones" paper target. Here are four things you need to know.
1. There are seven new targets available, in all.
The "Drone Attack" target joins six other new offerings from Champion (pictured below), which include "Junkyard Plinker," "Carnival Shoot," "Know Your Limits," "Put Your $ Where Your Mouth Is," "Dinosaur Hunt" and "Horse," which is just as basketball-themed as you might expect. And, I mean, c'mon, "Dinosaur Hunt?" Count me in for any kind of dinosaur target.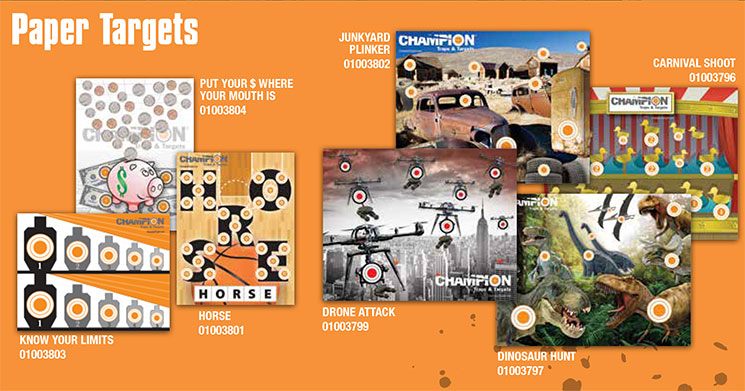 2. They're available now.
Though Champion doesn't yet have the new paper targets on the site, you should be able to find them online after a little digging. If you haven't spotted them at your local gun store yet, try Optics Planet. I found "Drone Attack" and "Dinosaur Hunt" there this week, among others.
3. They're affordable.
The targets, which are all printed on 60-lb. paper, are all available in 12-packs. "Drone Attack," "Carnival Shoot" and "Dinosaur Hunt" all ship with an MSRP of $5.95, the rest check in at $5.45. Very reasonably priced for "game" targets.
4. They're fun.
Whether you're introducing a new shooter to the hobby, or just trying to relax and have a little fun at the range, Champion's new offerings will get the job done. Who doesn't want to shoot at dinosaurs? Or maybe you the opportunity want to spank your kid at Horse on the rifle range, and then on the basketball court in the same day. Here's a chance to do it. And if you're still having trouble finding .22 LR, there are other rimfire options that should suffice.
For more information, go to ChampionTarget.com.