by
posted on June 25, 2019
Support NRA American Hunter
DONATE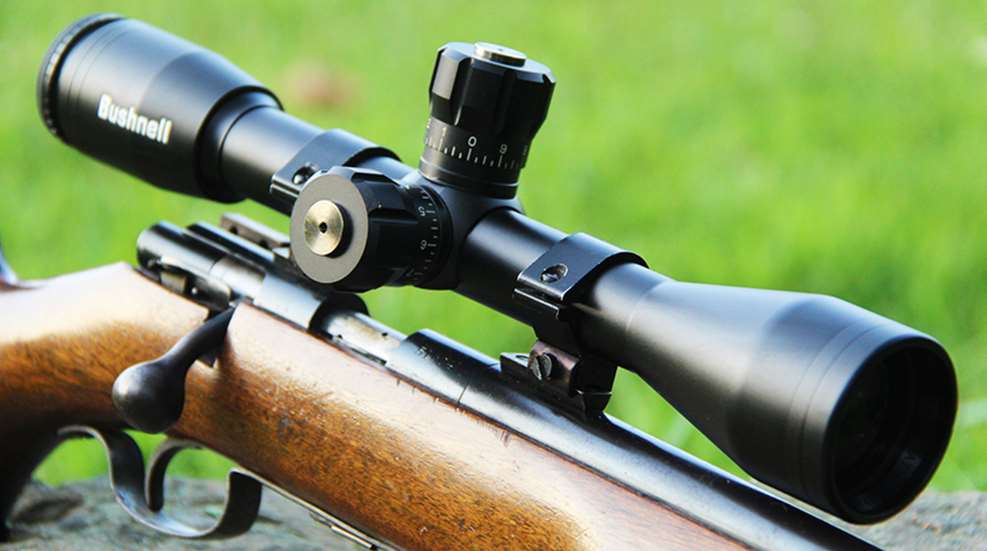 Precision rimfire competitions are one of the fastest-growing shooting competitions, and it's easy to understand why. Rimfire rifles are economical and pleasant to shoot, and they're also very practical. For a little more than $1,000 you can build a precision rimfire competition rifle that serves double duty as a small-game hunting rifle.

Bushnell recently introduced its Tac Optics LRS 10X40mm riflescope, and there's little doubt that this 1-inch fixed power scope will appeal to precision rimfire enthusiasts. Like other Bushnell optics, it features waterproof construction and fully multi-coated optics with the company's Exo Barrier lens protection that repels water, oil, fog, dust and debris. The fixed 10X magnification and pre-set 100-yard parallax make it suitable for shooting NRL22 competitions, and the 1-inch tube is lighter and more compact than competing 30mm tubes, and also looks more natural on a .22 hunting rifle.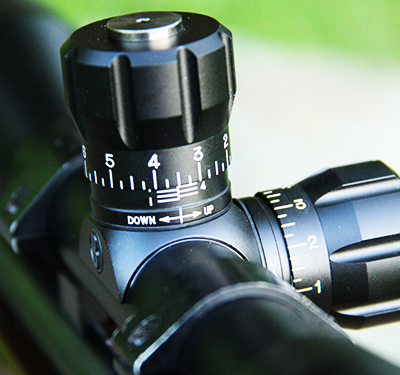 The scope comes with exposed windage and elevation turrets that allow for 85 MOA of rotation with 10 MOAs per revolution. Additionally, it scope comes with a Mil-Dot reticle with horizontal and vertical stadia lines, and features a second focal plane design. And, of course, it's backed by Bushnell's Ironclad Warranty.
All those features make it a great option for precision rimfire shooting, but if you're new to the sport—or simply want to dabble in precision rimfire by shooting a few matches—and want to build a rifle that's suitable for both competition and hunting applications the Tac Optics LRS 10X40mm is perfect. You get all of the features of a target scope in a compact, lightweight, versatile package. It weighs in at just 15 ounces and measures just under a foot long, which means it isn't as large or bulky as many competition scopes. It offers plenty of features that make it an excellent precision rimfire scope, yet it works equally well on your squirrel rifle.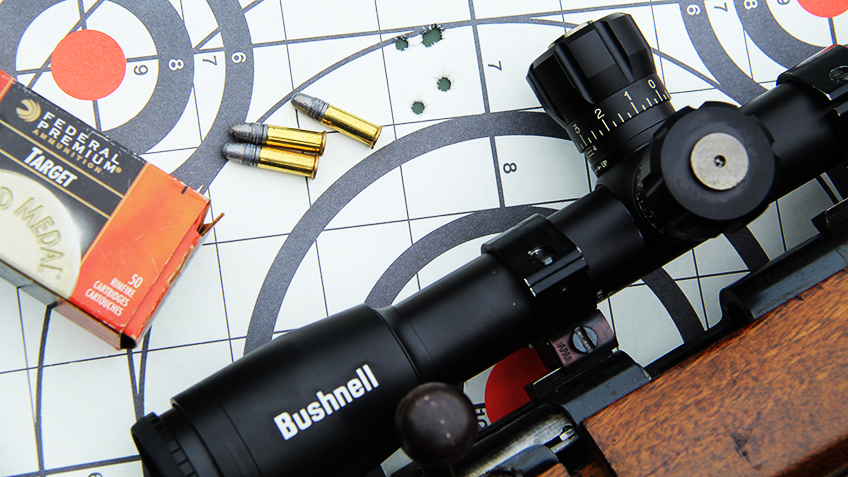 On the Range
I mounted the Tac Optics LRS on one of my favorite small-game rifles, a vintage Winchester Model 75 chambered in .22 LR. My father used that rifle for small-game hunting and target shooting for years, but it was equipped with an old 4X scope and was begging for an upgrade. The Tac Optics LRS 10x40mm was an ideal fit.
Shooting 40-grain Federal Gold Medal Target ammo from a fixed rest at 25 yards, the rifle/scope combo would stack five shots in a very small cluster. At 50 yards, the Model 75 was capable of producing 0.5-inch groups with the Bushnell scope, and at 100 yards, groups hovered between 1 and 1.3 inches—far better than I could achieve with the battered 4X scope. What's more, the 10X magnification wasn't a hindrance for close-range shooting. At 25 yards the field of view was still large enough to make head shots on small-game and varmints, and at 100 yards, the field of view was 10.5 feet.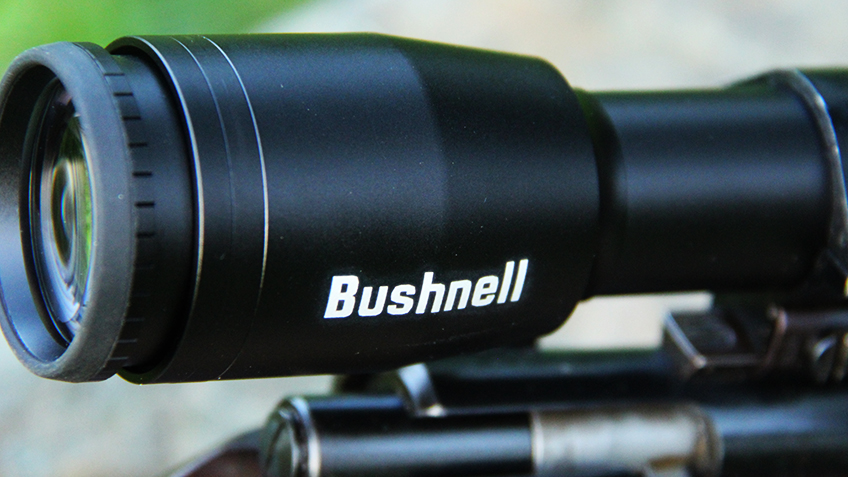 The scope tracks properly and features rotation indicator marks on the windage and elevation turrets. The indicators are clearly visible from the rear of the scope, so you won't have to lift your head off the rifle to determine the setting. The Mil-Dot reticle is free from the clutter that plagues many target scopes—and makes it difficult to see small holes in paper—yet the Mil-Dot design allows for very fast holdover and windage adjustments. Bushnell provides a tool kit that attaches to a keychain, a handy addition that ensures you'll always be able to adjust your scope as needed.
If you're interested in trying your hand at precision rimfire but you want a scope that's affordable and doubles as a hunting optic, the Bushnell Tac Optics LRS 10x40mm is an excellent option. It's durable and lightweight, yet offers all the features you need to push your target rifle to the limits—and with an MSRP of $299.99, it's also quite affordable.
For more information on the new Tac Optics LRS 10X40mm riflescope, visit bushnell.com.