by
posted on June 3, 2016
Support NRA American Hunter
DONATE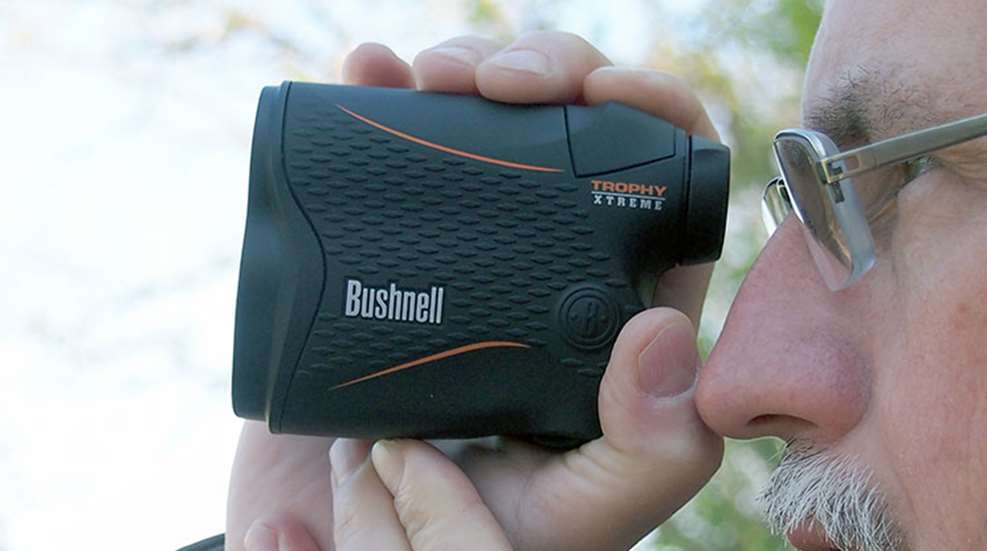 Bushnell has a reputation as a blue collar kind of optics maker. The company produces solid optics—but nothing flashy—at affordable prices. But with Bushnell's new Trophy Xtreme line, the company has gone a step further, offering budget-priced optics that get the job done without skimping on the features. Here are five things you need to know.
1. The 4x20mm Trophy laser rangefinder is rainproof, accurate to 1-yard and can reach out anywhere from 7 yards to a max of 850 yards. If you opt for the Trophy Xtreme laser rangefinder, you also get the added benefit of Angle Range Compensation (ARC) technology. ARC accounts for the steepness of the shot angle, giving shooters a true horizontal distance to the target for precise shot placement.
2. I tried out both models recently during a Manitoba black bear hunt, and the ARC technology really works on the Trophy Xtreme. Standing on the ground, a target I picked out ranged at 25.1 yards. At 12 feet up a hunting stand, the same target came in at 25.7 yards. For the rifle hunter, that's not a huge difference. But it is for the archery hunter, especially when the stands are in excess of 15 feet high. Of course, at longer distances the rifle hunter has a significant advantage knowing the exact distances at which he or she is shooting, especially when shooting at inclines.
3. Hunters told Bushnell that dark, non-reflective targets—both natural and man-made—were often difficult to range with consistency. Bushnell responded with the new Full Spectrum Targeting technology found in both Trophy and Trophy Xtreme laser rangefinders. Full Spectrum works. I picked out very dark targets at ranges from eight to 60 yards, and then actually paced them out to see if the rangefinder-provided distances were accurate (I have a pretty consistent three-foot-long stride). Again and again, both ranges coincided very closely, though I assume my paces were less accurate than the laser range finding technology. Yet, the Trophy reading was always within a pace to a pace-and-a-half.
4. Both models can measure distances in either yards or meters. They run on a single 3-volt battery, and one is included. The carry case has a magnetic fastener, so there's none of that Velcro-sounding "rrrippp!" when opening it—a very nice feature when that deer or bear is just yards away. The range finders can also be attached with a cord to hang around your neck.
5. Suggested retail: Trophy Rangefinder $199.99; Trophy Xtreme Rangefinder $229.99. Expect street prices at $10 top $20 under suggested retail.