Support NRA American Hunter
DONATE
Roy Weatherby was the godfather of the "speed kills" mantra, and so he designed his rifle cartridges to be the fastest and therefore the hardest hitting. Over 70 years later, the company is, er, sticking to its guns with the release of what is the fastest production 6.5-caliber cartridge, the new 6.5-300 Weatherby Magnum. Here are five things you need to know.
1. It has game-hammering speed.
Fired with a factory-offered 127-grain Barnes bullet, the 6.5-300 leaves a 26-inch barrel screaming downrange at 3531 fps, producing 3088 ft.-lbs. energy at 100 yards and 1704 at 500. As Roy himself knew, that'll do the trick.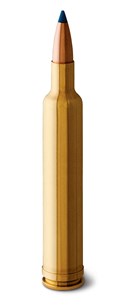 2. It offers superior 6.5-caliber sectional density in a magnum caliber.
There's a reason 6.5-caliber bullets are so popular with long-range target shooters these days, and that's because the diameter is a sweet spot between weight, recoil friendliness and sectional density that delivers downrange energy better than others. As such, is a tremendous round for long-range competition and long range hunting.
3. It will be available in several Factory loads.
Weatherby offers the new load in a 172-grain Barnes LRX, a 130-grain Swift Scirocco, and a 140-grain Swift A-Frame. As such, the factory loadings offer the non-reloader on option for all of his needs, from varmints, to targets to big game.
4. It's flat shooting.
When zeroed at 200 yards, a 130-grain bullet from the 6.5-300 Wby only drops 4.7 inches at 300 yards. This means that from 0 to 300, the rifleman can hold dead-center and expect to hit any big game animal if he does his part.
5. It's reloading ready.
Factory Weatherby brass is known for its quality, and the 6.5-300, with its giant case capacity will, of course, accept all types of premium 6.5-caliber bullets. From lighter, blistering varmint rounds to heavier hunting loads, your imagination—and your powder supply—is the only limitation in reloading this new Weatherby missile.