by
posted on June 16, 2016
Support NRA American Hunter
DONATE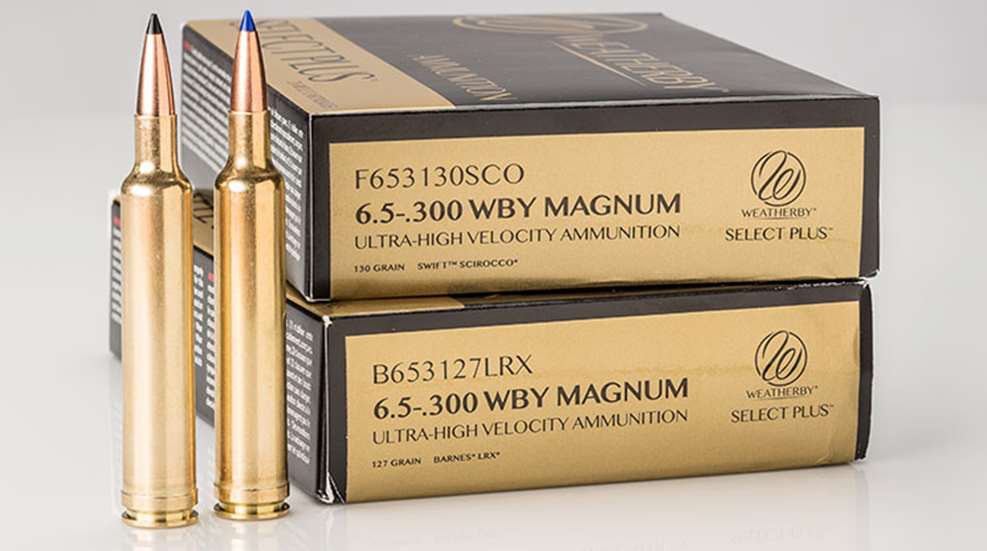 Many a Weatherby caliber has been celebrated, maligned and at times surpassed. But none can be called insufficient for the job. Today, 71 years after the company's founding, with the introduction of the 6.5-300 Weatherby Magnum, the company again claims the high ground.
It is the first cartridge in 17 years stamped Weatherby.
It is formed by necking down the .300 Wby. Mag. to 6.5mm. Case capacity is 101.1 grains of water. The cartridge develops pressure of 65,000 pounds per square inch, which is awfully high but in keeping with Roy Weatherby's legacy of developing high-power calibers. The capacity of the parent case launches the cartridge's lightest bullet, a 127-grain Barnes LRX, from the muzzle at 3531 fps. Such speed makes it the fastest commercial 6.5mm cartridge on the planet.
Two other loads include a 130-grain Swift Scirocco II at 3476 fps and a 140-grain Swift A-Frame at 3395 fps. Weatherby makes all the ammo for the 6.5-300 at its Paso Robles, Calif., headquarters.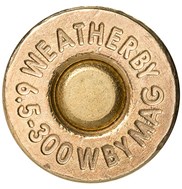 The 6.5-300 actually was designed by Roy about 60 years ago. Its release now follows timelines of other cartridges Roy tinkered with but the company did not release initially, such as the .30-378 and .338-378.
After proofing New Mark V rifles at company headquarters, our press group traveled to an outdoor range, sighted-in at 100 yards and thereafter plinked gongs at 200, 300, 500, 700 and 900 yards—no sweat. Yes, this 6.5 is fast, flat and accurate. Zeroed at 100 yards, the 127-grain LRX impacts 1.68 inches low at 200 yards, 6.99 inches low at 300 yards and 30.64 inches low at 500. Compare that to Hornady's 6.5 Creedmoor: Its 129-grain SST Superformance load, zeroed at 100, impacts 3.09 inches low at 200, 11.45 inches low at 300 and 47.4 inches low at 500. Also compare it to the .26 Nosler: Zeroed at 100 yards, the previous king of the 6.5mm hill flings a 129-grain Accubond LR 1.9 inches low at 200, 7.62 inches low at 300 and 32.46 inches low at 500. So the Weatherby cartridge is flatter-shooting than some 6.5mm competition, but it should be considering its case capacity.
There are caveats. While it beats competitors to the punch at 500 yards (barely), its velocity suggests barrel life may be reduced.
Cartridge overall length (COAL) might be a concern for hunters who want a svelte rifle. COAL of the 6.5-300 Wby. Mag. is 3.45 inches minimum, 3.6 inches maximum, according to company data. That's about the same as the .26 Nosler's 3.34 inches, but almost an inch longer than the Hornady cartridge (2.67 inches).
Consider cost. Hornady Superformance 6.5 Creedmoor 129-grain SST costs $41.21 a box; Nosler Trophy Grade .26 Nosler 129-grain Accubond LR costs $77.50; Weatherby Select-Plus 6.5-300 Wby. Mag. 127-grain Barnes LRX costs $95. That's steep, to be sure, but riflemen who like to play with fast toys likely won't balk.
Finally, understand that when you touch off the 6.5-300, you know you're shooting a round tied to a .300 magnum. However, the 8-pound-3-ounce "light heavyweight" New Mark V Accumarks we shot ably soaked up recoil off the bench. This cartridge is not nearly as bad as its big brother, no doubt due to the lighter bullets it flings. In the field, I can say I noticed nothing when I fired—dead-on accurately—cross-canyon at a 200-pound boar hog, and dropped it with a single 127-grain Barnes LRX, the only round we could shoot in the nontoxic "California condor zone."
But let's be honest: When did any of this become a problem? If you drive a muscle car, you're not concerned with gas mileage. Likewise, if you shoot an uber-magnum, you're not concerned with barrel life, unit cost or recoil. You want the latest, the greatest—and the 6.5-300 Wby. Mag. delivers it. It should be an able performer on many species at long range.
If all this doesn't sell you on a new cartridge, understand Weatherby also has introduced the New Mark V, which, like ammo for the 6.5, is made in California. It features the first significant refinements of the company's flagship bolt-action since its introduction in 1958. The stock sports reduced grip diameter, right-hand palm swell and a slimmer fore-end. Barrels are hand-lapped. The LXX trigger is adjustable down to 2.5 pounds of pull weight. Overall weight is reduced, and every flagship is certified sub-MOA.
New Mark V Accumark, Accumark RC and Ultra Lightweight rifles are chambered for the 6.5-300. So hunters who must have the new king of speed can get their ammo and their gun from the same plant. Such a package is a helluva statement.
Technical Specifications
• Caliber: 6.5mm
• Bullet: 127-gr. Barnes LRX, 130-gr. Swift Scirocco II, 140-gr. Swift A-Frame
• Muzzle Velocity (advertised fps): 3531 (127 gr.), 3476 (130 gr.), 3395 (140 gr.)
• Muzzle Energy (advertised ft.-lbs.): 3516 (127 gr.), 3487 (130 gr.), 3583 (140 gr.)
• MSRP: $95 per 20-rnd. box