by
posted on June 5, 2015
Support NRA American Hunter
DONATE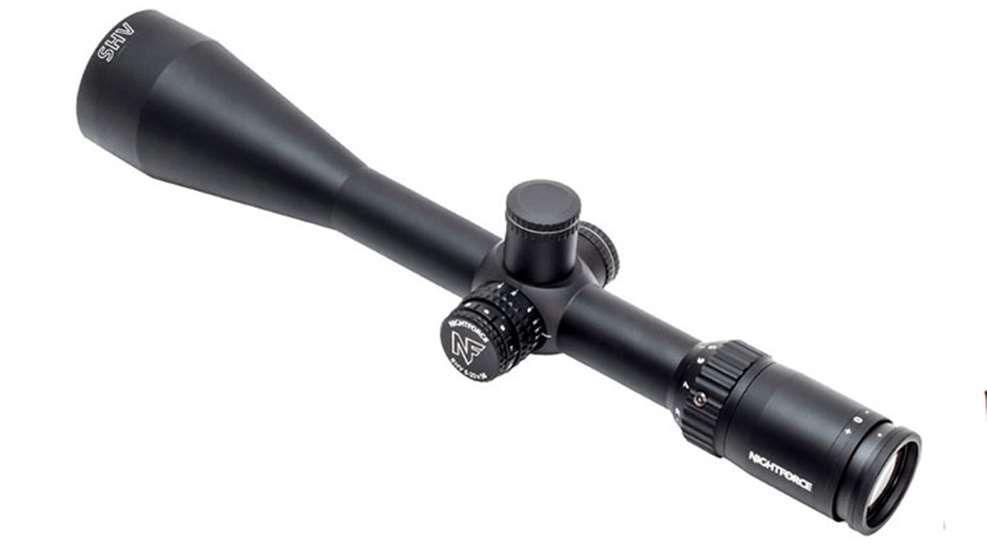 When choosing a scope for serious use, four main categories top of the list of demands: optical quality, durability, accuracy of adjustments and a catch-all we'll refer to as suitability. Nightforce has been in business since 1992, but is has been the past wartime decade of hard use that has established Nightforce as a company whose products epitomize durability and precision adjustment. The only critiques that you're likely to hear regarding Nightforce scopes is that they can be heavy—which is a byproduct of their legendary durability—and that their price tags put them out of reach of many potential customers. The idea of the SHV was to cut out a few of the features of Nightforce scopes built for combat, thereby reducing consumer cost.
Most Nightforce scopes are built in the U.S. but, to save costs, the SHV line is made in Japan. Not China, not the Philippines, but Japan—you know, the place that makes really good optics? If you don't like buying imports, don't—but be prepared to pay more for equal quality.
Guys who stand around Cabela's and look through scopes all day talk a lot about clarity, but I can't say that I've ever missed a shot because the image of the target was blurry—too dark, maybe. What matters to me is repeatability—I want the adjustments to track precisely and consistently. I also value durability, which means that the adjustments will continue to track once I bang the scope around a bit. I have the opportunity to test quite a few scopes and you'd be shocked at how fragile and inaccurate the adjustments are on many of them. The clarity on the SHV is excellent.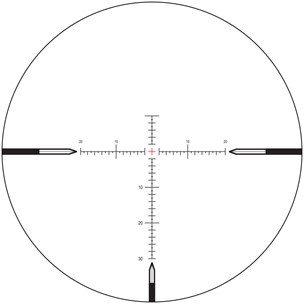 In order to test the accuracy and repeatability, I mounted the scope on a very accurate Tactical Rifles M40 T6 chambered in 7mm Rem. Mag. The accuracy of the SHV's adjustments were apparent as soon as the zeroing process began—what often takes far too many shots took two or three rounds. Throughout the testing of the T-6, the SHV held its zero and made precise adjustments when I changed from one load to another. Shooting the box (shoot, adjust right, shoot, adjust down, shoot, adjust left, shoot, adjust up, shoot) confirmed that the come-ups were indeed precise.
My test scope used NF's MOAR reticle, which features a floating crosshair, flanked by MOA-scale hash marks. The crosshair is small enough for precision holds but big enough to see, especially when it is illuminated. Only the floating center crosshair illuminates, which is both a blessing and a curse—a blessing because it makes the image less "busy," but a curse because it makes the MOA designations on the reticle unusable in low light. Is this an issue for hunters during legal shooting hours? Probably not. It is important to note that the SHV, like most U.S.-made scopes, uses a second focal plane reticle. This means that the 1 MOA reticle is only accurate at the scope's highest magnification setting. If you want to precisely compensate for drop or wind at any setting other than 20x, you'll have to use the dials. Overall, the reticle is easy to use and not overly complicated: I'm not a fan of reticles that require me to read a book to understand.
As a hunter, my biggest complaint about the turrets on most Nightforce scopes is that there's nothing to keep them from turning when they rub against a pack or a saddle scabbard. The SHV's turrets are covered by screw-on aluminum covers, which is a big plus. The adjustments are very positive—you can hear them and feel them, and the .25 MOA graduations are big enough that you don't need a magnifying glass to read them. Once the rifle is zeroed at the desired distance, the turrets can be rest to zero for simplicity of adjustment. The side-focus parallax adjustment is on the 9 o'clock position of the scope and is marked from 25-500 yards and then to infinity. The illumination switch/adjustment shares the same turret as the parallax dial and has 11 different brightness settings. Best of all, it has "off" positions between each setting so it only takes one notch to turn the illumination on at your desired brightness level.
At 15 inches long, the 5-20x SHV is a big scope and the 4-14x version is only fractionally smaller. If you're looking for a slick optic for your lightweight mountain rifle, keep looking. This scope would be right at home on a bigger rifle like a Remington Sendero and fits well within the niche of rifles intended for the long range shooting trend. We talked about "suitability" in the opening paragraph—this rifle is very suitable for making precise shots from a fixed position. A 5-20x scope would not be my choice for offhand shots in close cover, but for shooting prone, from a bipod, or from a fixed blind, this scope is perfect.
Our testing indicated that the SHV was waterproof and internally fogproof, but it is nearly impossible to evaluate real world durability under test conditions. Falling on a boulder is a good way to find out if your scope holds its zero (ask me how I know this), but beating our loaner scope against my driveway didn't seem like a great plan. By the end of next hunting season, we should have a good sampling of reports on how the SHVs did while afield.
Nightforce's SHV line (which stands for Shooter Hunter Varminter) brings the price point down significantly, while appearing to maintain the quality construction that has made their products legendary. Anytime that I test a scope/rifle combination where the adjustments work as they're intended and the rifle shoots as well as I can hold it, I'm a happy man. This happens less-often than you think but it was the case with this rifle and scope combination. With a street price of right at $1000, this still isn't an inexpensive scope, but real quality comes at a price. Only time will tell if the SHV will stand up abuse in the field, but everything else about this scope tells me that it will.
Technical Specifications:
Magnification: 35-20X
Objective Lens Diameter: 56mm
Reticle: Second focal plane, MOAR tested (illuminated)
Adjustability: 80 MOA (21.8 mil) of elevation; 50 MOA (13.6 mil)of windage; .25 MOA increments
Field of View: 17.9-5 feet @ 100 Yards
Eye Relief: 3.14-3.54 inches
Tube Diameter: 30mm
Length: 15.2 inches
Weight: 30.5 ounces (illuminated)
MSRP: $1345.00 (illuminated), $1195.00 (non-illuminated)