by
posted on April 17, 2012
Support NRA American Hunter
DONATE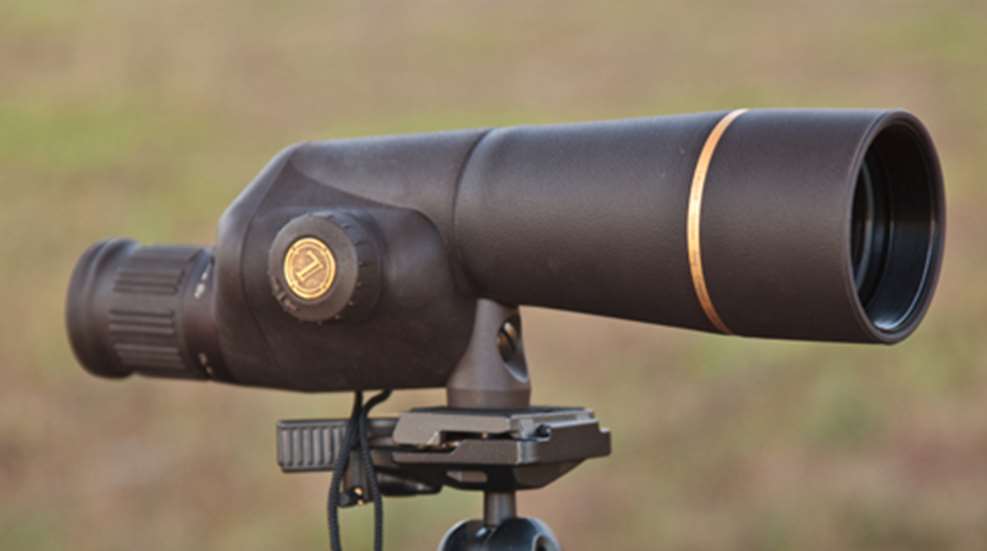 In open country, glass is king. The key word in spot-and-stalk hunting is usually the "spot"—that is generally the activity that consumes most open country or mountain big-game hunts. High-quality optics are a key part of this equation and fortunately, the marketplace is full of great options. Today's binoculars are amazingly bright, clear and lightweight, but for the real work of spotting and judging game animals, a spotting scope is a necessity.
The high-end American and European spotters are of excellent quality but are generally heavy and often frightfully expensive. If I lived in the mountainous west and did enough do-it-yourself hunts to justify the cost, I would own a full-size spotting scope, but as a guided client, their capabilities really exceed my needs. What I need is a compact, lightweight and affordable spotter with sufficient capability for me to pull my weight alongside a guide. What I call a "client scope" is enough glass for me to do my job, but nothing more. My choice of a scope that meets these criteria is the Leupold Golden Ring Compact 15-30x50mm spotting scope. The aptly named 15-30x Compact is small in size and light in weight, but big on capability.
The brown "armored" scope features a screw-on cover for the objective lens and a slip-on cap for the rear eyepiece which folds down for use with eyeglasses. Magnification is adjusted by turning the eyepiece—180 degrees of twisting achieves the full zoom. A starboard-side focus knob ensures that you are able to obtain a sharp image from 13.5 feet out to infinity. A lanyard strap and nylon case round out the package unless you spring for the "kit" which contains a tripod and hard case.
The Leupold Compact's field of view ranges from 136 feet at 1,000 yards at the low end of the power range (technically it is 15.2x) and 89 feet at 30.4x. This field-of-view is roughly the same as that of Leupold's full-size Golden Ring spotter, the 12-40x60mm HD, so the compact model doesn't give up much ground there. On paper, where the Compact does compromise is eye relief—at 17mm it has about half of the eye relief of the full-size model. Optical quality also suffers a bit; though great for its size, the Compact's image just can't match the amazing resolution of the HD glass on Leupold's full-size spotter.
So what do you gain over the larger models or even a quality pair of binoculars? Well, the Compact gets you an approximately 40 percent reduction in weight from the HD spotter for starters. According to my digital scale, the Leupold Compact weighs 23.8 ounces in the nylon case with the carrying strap attached and the lens caps in place. (It weighs 21.5 ounces "naked.") By comparison, my Leica 10x42 binoculars weigh almost 35 ounces. When you talk about gear and weight, it's all about compromise. Does a less-than-2 pound spotting scope have the optical quality of an 80mm objective Swarovski that weighs twice as much? No, it doesn't and, depending on the particulars of the hunt, the heavier model may be worth it. That being said, the multicoated lenses on this little scope produce a very good quality image—better than most full-size scopes were capable of in the not too distant past.
Any optic over about 10x is pretty difficult to use effectively without some type of support—things just get too shaky at high magnifications. At the low end of the magnification range, this scope can be rested on a pack, but at 30x you really need something more solid. The easy answer is a full-size tripod, but even the lightest carbon-fiber models weigh more than the Leupold Compact which negates some the weight savings of using this small scope. Small tabletop camera tripods are light and handy if you can find a rest high enough to use them comfortably. My personal solution to this problem has always been a lightweight monopod, which doubles as a walking stick/shooting rest. Leupold has taken this a step further with its Trek Pod II, a monopod/walking stick that converts into a tripod.
Whether you choose the Compact or a full-size model such as the 12-40x60mm comes down to your individual needs. If I were guiding a sheep hunt where the ability to judge a ram at 1,000 yards may save hours or days of brutal travel, I would opt for a full-size spotter. However, if I were the client on that same hunt, or planned to use the scope to spot mule deer in their beds across a canyon, I'd save the weight and carry the 15-30x50mm Compact. With a "street price" of just under $400, this is a lot of scope for the money, especially with Leupold's lifetime warranty. This scope strikes a great balance between quality and price—you may actually be able to afford to go hunting after buying it.
Specs:
Actual Magnification: 15.2x - 30.4x
Linear Field of View: (ft/1000 yd) 136 - 89
Linear Field of View: (m/1000 m) 45 - 30
Angular Field of View: (degrees) 2.6 - 1.7
Weight: 21.5 oz / 610 g
Length: 11.0 in / 279 mm
Obj. Apertur: (mm) 50
Twilight Factor: 27.6 - 39.0
Exit Pupil: (mm) 3.3 - 1.6
Eye Relief: (mm) 17.5 - 17.1
Close Focus Distance: 13.5 ft / 4.1 m