Support NRA American Hunter
DONATE
I just got back from Colorado so I'm distracted by thoughts of all the elk I saw, which naturally makes me think about archery elk season and my little arsenal of elk-hunting tips and tactics. Of all the calling tips I've learned from my husband, Phil Phillips, hunting guide and host of "Phil Phillips Unleashed," this one has to be in the top five.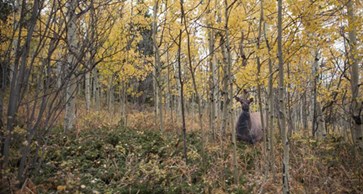 When you're setting up to call a bull, the key is to set up where the bull you're after knows there could be elk behind you—on a ridgeline, at the edge of a thicket, amid thick aspens—so it has to come close and check. If a bull is answering and moving toward you but then can't spot another elk, it may put on the skids before getting in range. Set up where the bull can't be certain there's not a cow or bull where you're standing. Put out a cow decoy while you're at it, such as this Fred Eichler elk decoy from Montana Decoy. Watch the bull drop its guard and let the games begin!
Sure, this seems like mere common sense but it's worth mentioning. Once that monarch suddenly sounds off, countless things run through our minds all at once as we rush to set up for that one good shot opportunity.