by
posted on December 23, 2014
Support NRA American Hunter
DONATE
Introducing kids to hunting and shooting is one of my favorite pastimes these days. I've blogged quite a bit about how my husband, Phil Phillips, and I have had a blast over the past year teaching our two nephews, Andrew and Joey Mehall, to shoot their Mission Craze and Menace compound bows. Though they became very proficient, they weren't yet drawing quite enough weight to hunt deer, but they were still in business, thanks to the Mission's fantastic crossbow line—specifically the MXB-360 and MXB-Dagger crossbows. With just a little practice alongside us and Dad Joe, they were confident and ready—and couldn't wait to hunt Aunt Karen and Uncle Phil's place in Virginia.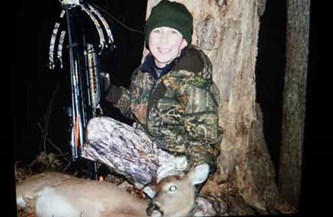 Last month, Joey proved how effective the Mission crossbows are when he took his first deer in the first hour. Next up was Andrew, but getting a deer in range wouldn't happen so quickly as he learned to play the waiting game. He finally got his chance two weeks ago while sitting alongside Dad in our Millennium L-220 double stand, but as a new hunter who was still learning about arrow trajectory, he hit a branch. Though he shot the crossbows incredibly well, all of his practice had involved drilling targets in the wide open. When the deer stepped into an opening in the branches, Andrew didn't realize the arrow's trajectory would take it above the opening he was looking through so a small branch deflected the arrow. A new lesson learned—and a good one for long-time rifle hunters.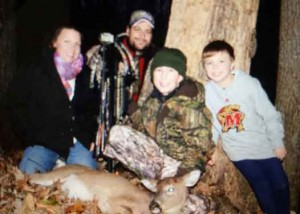 This past Saturday, Andrew and Dad were back in the stand for round two. Andrew spotted three deer that morning, but they all passed out of range. As temps dropped to the 20s for the afternoon hunt, I was proud when Andrew later told me he was able to remain still. Perhaps as a reward for his patience and dedication, Christmas came early when two deer stopped 20 yards in front of him. He made a perfect shot, and a Grave Digger broadhead sealed the deal.
The apple doesn't fall far. Andrew and Joey are so proud and excited about being hunters like their parents, and Phil and me. Now the whole family can say they've put venison in the freezer as everyone gets in on the hunt.
As for the kids' Christmas break, they can't wait to come back. I have to watch Andrew, though, because he already has his eye on my Hi Mountain Seasonings Salami-Sausage kit and knows venison salami is the perfect touch on pizza. Just wait until they find my Hi Mountain jerky kits!