by
posted on July 6, 2016
Support NRA American Hunter
DONATE
Groundhog hunting used to be almost a cult in central Pennsylvania before all the farms became subdivisions, and as a teenager I spent many summer evenings patrolling lush fields of alfalfa and clover. In that circle there was much tailgate show-and-tell of custom varmint rifles chambered for exotic cartridges that could pop a whistlepig at a quarter-mile or more. I did just fine with a plebeian Remington Model 788 in .22-250 Rem. borrowed from my grandfather, but I longed to set up in a fresh-cut hay field with one of those fancy heavy-barrel rigs. That dream was out of reach, however, as my parents had made it clear my savings account was strictly for college.
Twenty-five years later, my savings account isn't really mine since I have a family and it includes even less room for a custom tackdriver. Such luxuries are difficult to defend against two kids who outgrow their wardrobes every six months. Grandpa's 788 still serves me well when I find a field without houses planted in it, and I had back-burnered my dream groundhog gun until the kids were old enough to pay their own bills.
Then Magpul rolled out its Hunter 700 stock last year, and I realized I didn't have to wait another 25 years for the varmint rifle I desire. I had an old Remington Model 700 with a cracked stock. The rifle was missing a couple other key components such as the forward trigger guard screw and the magazine spring, but none of this mattered. With the replacement Hunter 700 stock and Bolt Action Magazine Well from Magpul, all I needed was the barreled action.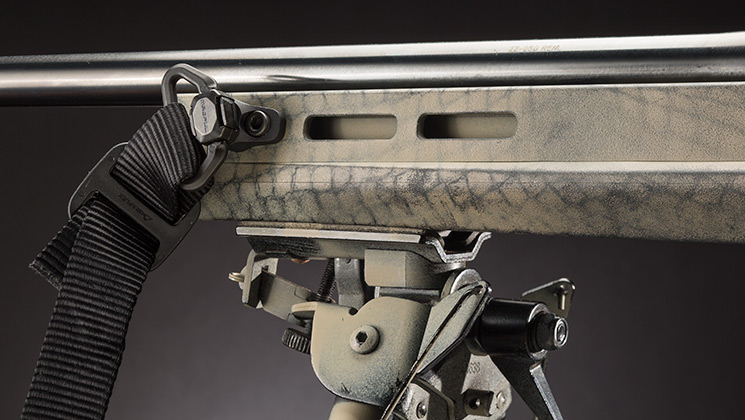 The short-action Remington was chambered in .22-250, and the polymer Hunter 700 stock with its aluminum bedding block fit perfectly. In the five minutes it took to back out the action screws, swap stocks and snug the Hunter 700 to the barreled action, I was well on my way to a new varmint gun.
I've come to think of the Bolt Action Magazine Well as "bottom plastic," as opposed to bottom metal. It's a single piece of polymer that includes the trigger guard and forms a frame that fits into the Hunter 700 stock below the receiver area to accept Magpul PMAG 7.62 AC detachable box magazines. The dual-paddle magazine release is steel, and two steel pillars surround the action screws. Although the PMAG 7.62 AC magazine is designed for the .308 Win. family of cartridges, I was happy to discover the dimensions of the .22-250 Rem. cartridge are close enough to work in it. Again, the only tool I needed to install the Bolt Action Magazine Well was a screwdriver.
I could have made do with the original trigger, but since I was building my dream gun I dropped in a Timney with a 3-pound pull. Those custom rifles I remembered from my youth had wonderful triggers—some were probably from Timney—and even back then I understood the benefits. If I wanted to shoot my groundhog gun to its potential, a crisp, light Timney would help.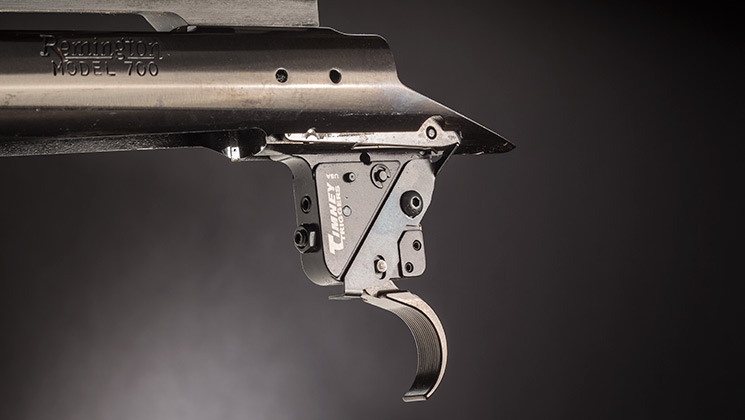 A handful of other additions would be useful when sitting over 'hog holes. Of course a scope was necessary, so I screwed on a Picatinny rail from Badger Ordnance and replaced the standard cheekpiece on the stock with a higher one for a tighter cheek weld. The fore-end of the stock has slots that accept accessories via Magpul's M-LOK system, so it was easy to attach the company's bipod mount and QD sling mount. I installed a second QD sling cup in the hole provided for it in the Hunter 700 buttstock.
Groundhogs wouldn't care about the color of the stock, but since my rifle would pull double-duty as a coyote gun, I hit the black stock with a can of flat-tan spray paint from a home-improvement store. A mesh produce bag taped to the stock kept some of the black covered and yielded a neat pattern. I was happy with the results, but the cheap spray paint started to wear off during my first trip afield. Future plans include repainting with durable Brownells Aluma-Hyde II.
I figured on replacing the barrel with one having a faster twist and heavier contour, but I've changed my mind. With Hornady Varmint Express ammo loaded with 55-grain V-Max bullets, the rifle puts five shots inside a dime at 100 yards. It's a dream come true for less than $700, not including the barreled action, and I put the entire rig together in less than half a day.
But is it custom? Considering the rifle is set up exactly how I want it, is configured to fit my frame precisely thanks to the adjustability of the Hunter 700 stock and wears a paint job unlike any other—absolutely. With companies such as Magpul and Timney making new components that attach to old rifles with building-block simplicity, you don't need a gunsmith or a big budget to realize your custom dreams.