by
posted on September 4, 2015
Support NRA American Hunter
DONATE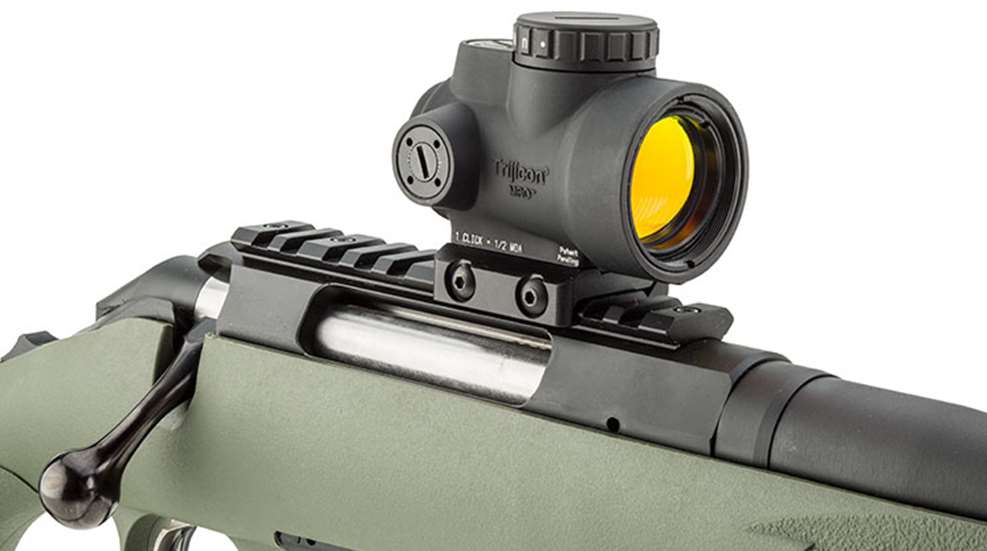 Electronic red-dot optics enjoy crossover status with tactical shooters and hunters for good reason. No magnification and a simple, easy-to-see aiming point make them shoot now! fast on up-close, moving targets—whether bad guy or black bear. While Trijicon designed its new Miniature Rifle Optic (MRO) with both eyes open on the tactical crowd, many of its features make it ideal for hunters who realize the benefits of topping their rifle—or shotgun—with a red-dot. Consider these features:
1. It's tough.
With military contracts to its credit, Trijicon doesn't build fragile optics—even those that rely on battery power like the MRO are designed to shrug off substantial abuse. A stout, forged 7075 aluminum housing protects internal components, and it's sealed against the elements. The MRO (MSRP: $579; $629 with mount) is waterproof to 100 feet and is nitrogen filled to guard against internal fogging. The guys over at Shooting Illustrated tested all these claims, even bouncing the MRO off the range floor and walls, and it held up perfectly. A run-in with a rock or a rainstorm in the field likely won't affect the MRO.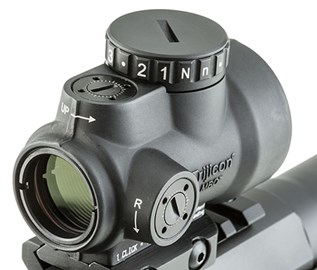 2. It has a battery life of 5 years.
The oft-feared downfall of electronic sights is the battery being dead—and the red dot being gone—when it's time to shoot. Yes, it could happen, but a misfire could happen, too, and no one really worries about that ruining a chance at a buck. The circuitry in the MRO is designed to preserve battery life, and Trijicon says the single CR2032 lithium battery is good for 5 years of continuous use on brightness setting 5. That means if you forget to turn it off at the end of this season, the 2 MOA dot will be waiting for you even if, heaven forbid, you don't get back into the woods until the turn of the decade. If you must, replace the battery on the eve of every opening day and sleep soundly.
3. It's a cinch to zero.
No caps to remove, no special tools required—just put something with a somewhat square edge into the slot in the windage or elevation dial, and turn. Click-adjustments track in 1/2 MOA increments. The dials are exposed but slightly recessed so they won't move accidentally.
4. Its brightness dial is on top, where it's easy to see and reach with either hand.
It's big, too, meaning you won't have a problem dialing it up or down with cold fingers covered in gloves. The MRO has eight intensity settings. (Most hunters won't have much use for the two lower ones, which are calibrated for pairing with a night-vision device.) A half-turn of the dial takes you through the whole range, and the "off" setting is in the middle. Although we didn't test this—and hopefully never have to—it may be possible to make a brightness adjustment on the fly with the support hand and still get a shot a gobbler before he spooks. The dial is that fast. 
5. It's small but not tiny.
The MRO is only 2.6 inches long and weighs about 4 ounces, but it has a 25mm objective lens. It provides a wider field of view than other mini red-dot optics, which minimizes the sense of looking through a toilet-paper tube when sighting through it. For game moving through the brush at close range, it would be hard to beat the Trijicon MRO.