by
posted on August 9, 2016
Support NRA American Hunter
DONATE
In his day, Granddad never dreamed a pickup truck could cost upwards of $60,000 and look and drive better than his Cadillac. But today's trucks do cost a lot of money, and many of them drive as well and are as comfortable as luxury sedans sold not long ago. They're more than the workhorses used by previous generations. In many cases, they're fully equipped, luxurious, crew-cab-equipped special editions many of us enjoy driving every day on the road—and off road.
But today's trucks also are covered with expensive paint none of us wants to see damaged.
No one who owns such a truck wants to see its paint become deteriorated from road salt during winter and gravel that flies all times of the year. Road debris can reduce an expensive paint job to a dull luster in short order. I know, because at the end of 2015 I purchased a 2016 Chevrolet Silverado Z71 Off-Road Blackout edition pickup, and not long after I began driving it on the roads and trails of Potter County, Pa., I began noticing damage to the truck's front end from flying rocks and other debris. In fact, within a week of taking delivery, I noticed a few small chips on the truck's front bumper, which is painted black.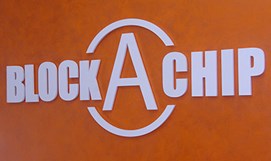 To guard against more damage to the new truck, I consulted Albert Helcberger, who owns and operates Block A Chip in Mentor, Ohio, to install a clear bra on the front end.
A clear bra is a clear film that covers the front end of a car or truck. Helcberger uses several products, depending on customer choice. Like many similar businesses nationwide, he prefers Xpel Ultimate and is factory-authorized and trained to install the product. It does not compromise the look or finish of your vehicle.
The clear bra is 8-mil.-thick Xpel film, which is, from what I've learned, perhaps the best product available to protect the truck. The vinyl comes in sheets, and is custom-cut using a computer program and an industrial vinyl cutter. I watched in amazement as Helcberger used an applicator, alcohol/water spray and a heat gun to apply the film; within 24 hours, it was completely dry and ready to guard against most chip hazards. After nine months of driving, I still see no chips on my truck. What's more, the Xpel film can be waxed and buffed as long as you are careful around the edges of the vinyl.
A clear bra is available in many colors. Helcberger can even do a complete color change on any vehicle; it can be removed easily to expose your vehicle's original paint. He also offers on-site clear bra installation service in Ohio, western Pennsylvania and eastern Indiana, wherein the work is performed at your home or place of business. He also works with new-car dealers to install paint protection film on your new vehicle before it ever leaves the dealership. He's performed work for many customers, he says, who have been frustrated with do-it-yourself paint-protection kits they've purchased online. He advises against being one of those guys. Without an experienced installer who knows what he's doing, such kits usually end up in the garbage can, he says. Instead, Helcberger advises truck owners to find a highly qualified and factory-authorized installer like Block A Chip (216-287-2575).
Helcberger installed front clip coverage on my Chevy for about $1,000, which, compared to long-term maintenance costs, is far cheaper than several visits to the paint shop over the life of the truck. I remember what he said the first time I met him: "You'll never forget your first chip." Now, after watching his installation process and driving my truck another nine months, here's hoping I never see another one.