by
posted on January 25, 2017
Support NRA American Hunter
DONATE
For many of us, Carhartt has been a trusted hunting brand for decades. Sure, their heavy-duty canvas duck jackets and jeans are principally intended and relied on as outdoor work clothes, a market dominated by the Michigan-based firm. It's hardly a leap, though, to wear workingman Carhartts in the uplands, to deer stands or even to duck blinds if you can embrace old-school ways.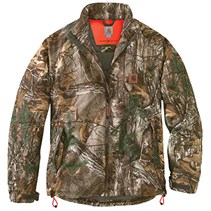 If not, then you need to know Carhartt is now producing cutting-edge huntwear. Since last year, the company has been phasing in its new Rugged Outdoors line expressly designed for hunters. The Carhartt stand at this year's SHOT Show caught my attention in a big way, and upon closer review, I found camo aplenty, high-tech breathable/waterproof fabrics, combo garments incorporating contrasting fabrics, and even an updated turn on iconic cotton duck. The camo looked like camo is supposed to, and the rest is pure hunt-camp chic.
Equally important are built-in features utilizing new fabric and fabric-treatments, along with smart sizing tweaks that allow free, unencumbered movement.
Most hunters understand that staying dry is a key to all-day-long comfort, and Carhartt counters clamminess with its Force Extremes/37.5 technology that promotes the conversion of perspiration to wickable vapor. Rain Defender is surface repellent that keeps the wet stuff on the outside, Comfort also requires clothing that fits properly and moves with hunter, rather than simply being too snug or overly baggy. Carharrt calls its approach to this "Full Swing," providing components that promote full range of movement at the elbows, knees, back (between the shoulders) and under the arms, along with Rugged Flex for additional stretch.
Cotton-duck diehards aren't left behind in this Carhartt innovation. The company says its new Quick Duck is 30 percent lighter than the traditional armor-like canvas, and it appears to be considerably more flexible. Even so, they say that ounce-for-ounce, it's just as sturdy as the old stuff.
All this technology comes to fore in clothing intelligently geared for various kinds of hunting throughout the seasons. Promising introductions for 2017 include: the 8-Point Jacket in Realtree Xtra treated with RainDefender; the Force Extremes Mock Neck Half-Zip hoodie; the blaze-orange-trimmed Upland Field jacket, vest and shirt, all in Quick Duck; also the Upland Field Pant with an integral chap covering the front legs and half of the back half legs with Carstrong, an exclusive durable non-stretch nylon. Finally, for a blend of old and new, there are a rackful of Camo Dungarees, serious work pants cut from Realtree Xtra 12-ounce cotton duck that come with tool pockets and a hammer loop. Wear them at work and wear them at play, but don't expect to wear it out.
For the full story on all the new clothing in Carhartt's Outwork-Outhunt series, click here.