by
posted on April 13, 2018
Support NRA American Hunter
DONATE
Carhartt is go-to famous for its outdoor work clothes, and the family-owned, Michigan-based outfit also makes its mark in hunting wear. If being active outdoors reflects the real you, then no doubt you are familiar with the brand and chances are you have some of your own. Since the stuff wears almost forever, some wise guy (me actually) was saying that if you piled up all the used but still functional Carhartts they would reach to the moon, at least.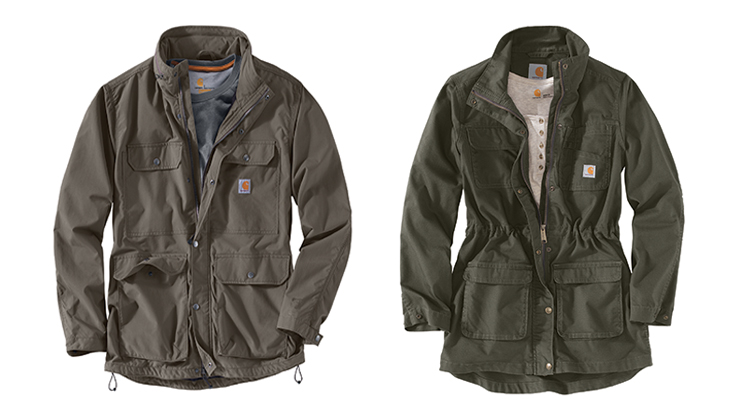 New for this spring is a collection that kind of bridges the gap between work, hunting and (ugh) casual garments. In keeping with the season's striking weather swings, the offerings range from T-shirts and shorts to substantial yet lightweight top layers. Nearly all the garments have been variously upgraded with emerging textile technologies, some that increase wearer comfort, others that up the durability factor. Included are proprietary features like: Force Extremes and Fast Dry for odor control and speedy wicking; Stain Breaker to release stains in the wash; Rugged Flex to ensure stretch where you need it most; and Rain Defender water repellent. This breed may be a far cry from iconic road-crew Carhartts, but the telltale built-to-last fingerprints are evident nonetheless.
We are in the early stages of "field-testing" a couple of new lightweight jackets, the men's Utility Coat, and the women's Smithville Jacket, both of which sport versatile, healthy styling that looks right in just about any outdoor venue. You likely won't choose either jacket for a north-country bear hunt or when re-shingling your roof, but they'd sure fit the bill for camping, gardening, fishing, hiking, dog training, yard work and myriad other fresh-air activities. Around town, yeah, they might raise a few eyebrows, but mostly from folks envious of your campfire chic.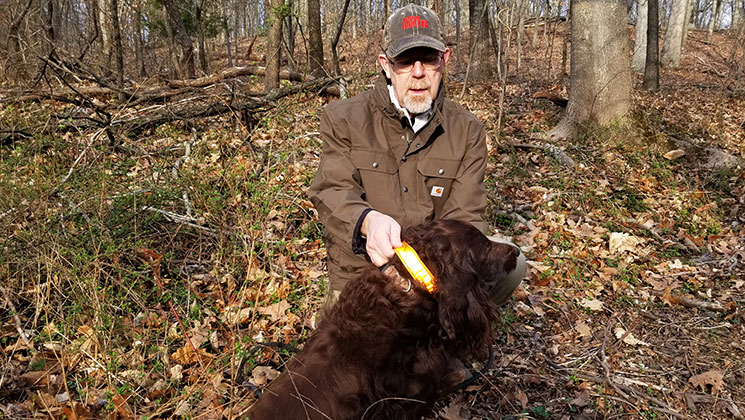 The Utility Coat is made from the proprietary fabric Carstrong, which the company claims is every bit as tough as its traditional sandstone duck. It's going to take me some time to buy into that notion, but I will allow it is way more pliable and portable than the famed "chain-mail" canvas. This water-repellent, full-length jacket boasts generous, flap-protected outer pockets along with a pair of secure interior pockets. The mesh body lining promotes wicking. And when a blustery April day keeps some folks indoors, the Utility cinches tight in front with a chin-high zipper covered by a snap-down flap, and it converts in a flash with a hood that stuffs away into the stand-up collar. True to its no-nonsense name, this is a serious coat. And you know what? I'll just might be taking this one to hunting camp, after all. MSRP: $109.99-$119.99; carhartt.com.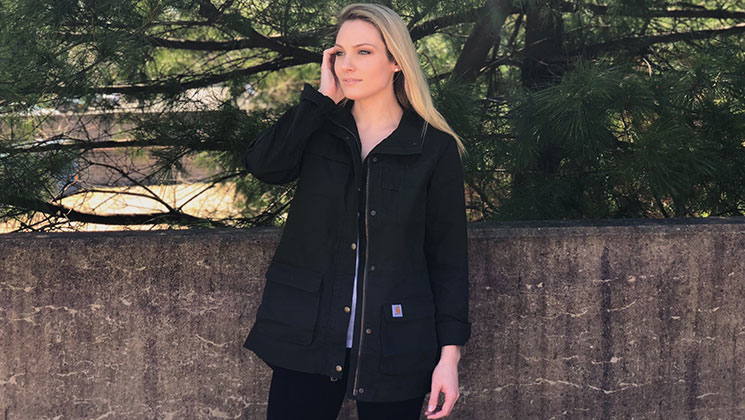 Associate Editor Rose Bier has this to say about the Smithville Jacket:
The new midweight Smithville Jacket is stylish yet comfortable and low-maintenance, making it an ideal go-to jacket for almost any outdoor activity in spring or fall weather. The jacket's stain-busting fabric keeps it looking like-new wash after wash, and features an interior drawcord at the waist for an adjustable fit, a two-way zipper, multiple pockets and—my favorite detail—snap-adjustable cuffs. I can't tell you how many times my jacket sleeves have gotten soaked and dirty when hosing out coolers or cleaning fish. I have a feeling that whether perusing the farmers market, sitting around the campfire or working in the garden, I'll more than likely be donning the Smithville this year. MSRP: $79.99; carhartt.com.