by
posted on March 5, 2021
Support NRA American Hunter
DONATE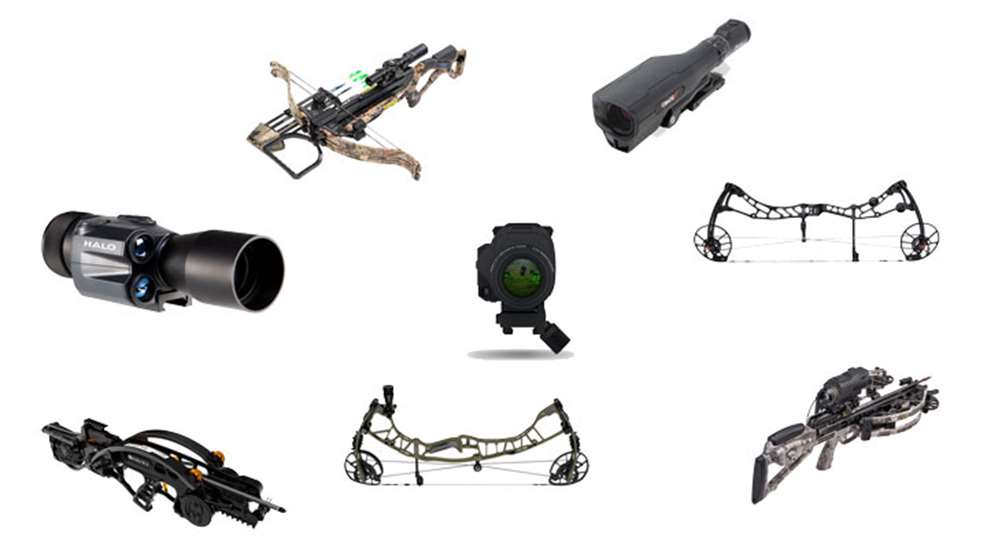 The world may have suffered from a severe case of hiccups in 2020, but the archery industry never missed a beat. The Archery Trade Association (ATA) scrambled to change its in-person venue to a virtual show in January 2021, and companies clamored with excitement to show off new products.
New technology in vertical bows makes them fast, forgiving, adjustable and more stable than ever. The crossbow world continues to grow by leaps and bounds, stealing the limelight with compact and efficient tools that transfer energy at mindboggling speed. Crossbow optics have some of the most profound new offerings, with the potential to make hunters more successful with less gear.
Here's a look at some of the most noteworthy bows and archery gear introduced this year.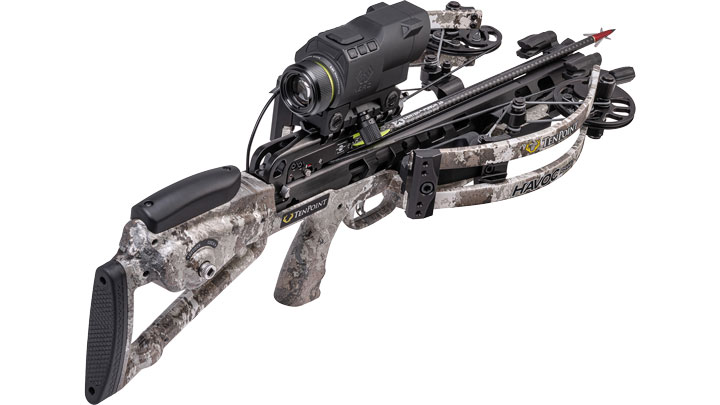 TenPoint Havoc RS440
TenPoint has perfected crossbow reverse-draw limbs to elongate the power stroke and maximize stored energy. The new Havoc RS440 takes things to the next level, being smaller, shorter, lighter and well-balanced. The Havoc is 26.5-inches long and 7.5-inches wide axle-to-axle when cocked. The compact bow sports a 13.5-inch power stroke, allowing 16-inch, 400-grain arrows to fly at an honest 440 fps. Weight without accessories is 7.5 pounds. The two-stage trigger breaks at 3.5-pound pull, increasing consistency and accuracy. The ACUslide system, which runs up and down the rail, allows the bow to be cocked or de-cocked with the cranking handle, locking into the trigger box when ready to fire. The bow design and components make it exceptionally quiet. It is available with either a Garmin Xero X1i or Evo-X Marksman Elite scope that is speed-adjustable. MSRP: $2,549.99-$3,649.99; tenpointcrossbows.com.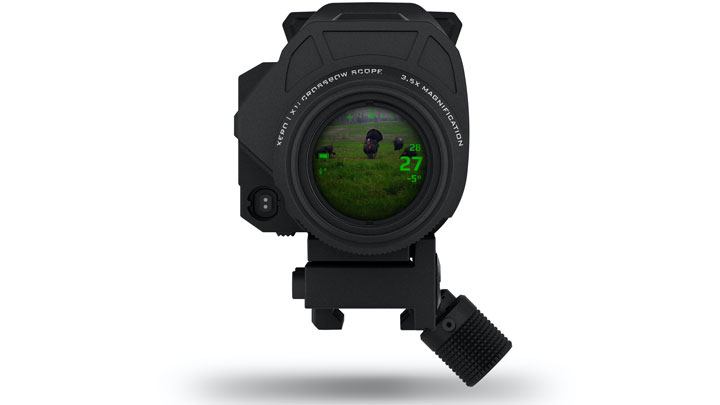 Garmin Xero X1i Crossbow Scope
The Xero X1i crossbow scope uses a Picatinny or Weaver mount, offers 2.4 inches of eye relief and has windage and elevation screws with ½ MOA adjustments. The 3.5x magnification provides a 5-degree field of view and diopter focus. The optic setup and sight-in are intuitive, with instructions illuminated in the scope when turned on. Arrow speed is entered, with steps to calibrate the scope at a specific range. The scope display provides information and adjustment for brightness, color, aim-point shape and multiple bolt profiles, not to mention it indicates when the laser locks on a target. The scope operates on two AAA lithium batteries, has a temperature operating range of −4°F to 140°F, and is nitrogen-filled. The unit interface is with a micro USB, and can plug into a computer for software updates. Simply aim, range and shoot without movement. MSRP: $1,399.99; garmin.com.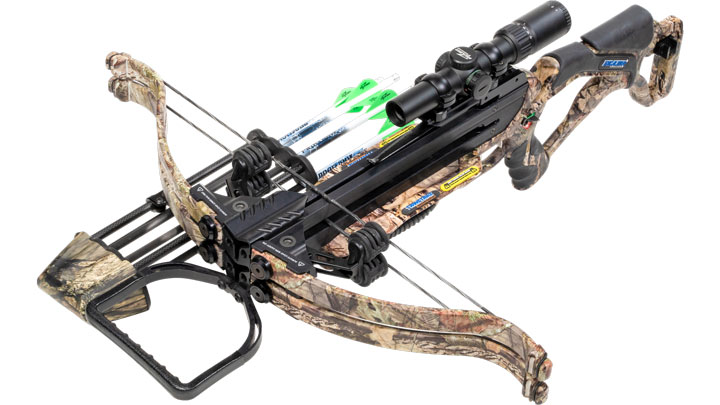 Excalibur TwinStrike
Crossbows offer several advantages for archers, but the ability to launch two arrows within a second of each other takes things to a new level. With the new TwinStrike, Excalibur has developed the first crossbow proficient at firing two arrows within seconds, without re-cocking the bow. When the bow is cocked, two sets of limbs are ready to fire arrows down two rails. There are two triggers—much like some double-barrelled shotguns—where the front trigger fires the top rail's arrow and the back trigger launches the second arrow from the bottom rail. For safety, the bow will not fire if an arrow is not fully seated on the nock. The crank handle takes 14 ft.-lbs. of pressure to cock the 358-pound draw-weight limbs. The double-railed bow weighs 7.75 pounds and is well balanced. Overall length is 33.375 inches and width is 21.125 inches fully cocked. MSRP: $2,222.22; excaliburcrossbow.com.
Ravin R18
If you thought HeliCoil technology was advanced, try the new VertiCoil Cam System on the Ravin R18, with limbs that expand vertically rather than horizontally. The limbs sit parallel to the rail, and release up and frontward. This futuristic-looking crossbow is narrow at 4.75 inches wide and 18 inches long. It has a detachable stock for a simple takedown. The new cams rotate a mindboggling 720 degrees. The crossbow string and cables wrap around the cam and the cam's axle. Archers may not be used to an axle-to-axle height measurement, which is only 1.3 inches when cocked and 4.1 inches uncocked. The bow features a built-in cocking mechanism, anti-dry fire technology and a safety that automatically switches when cocked. The R18 weighs 6 pounds with an integrated quiver. The bow comes with a Reflex sight, 16-inch arrows and a removable draw handle. MSRP of $1,549.99; ravincrossbows.com.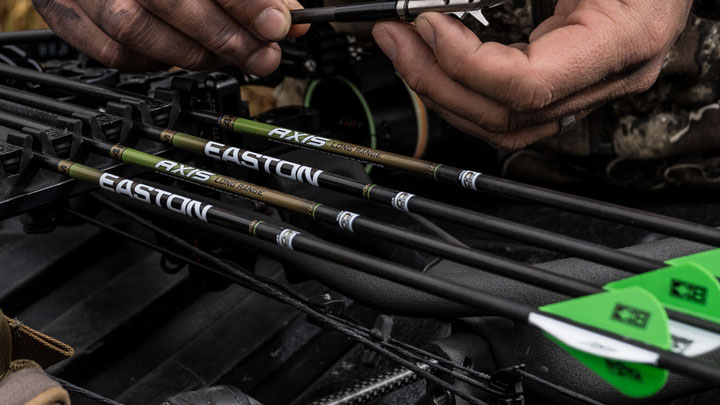 Easton 4mm Axis Long Range
Would you rather get an injection from a thin gauge needle or one thick enough to puncture horsehide? Narrow diameters penetrate much easier and efficiently, but require the strength to do so. Archers should consider small diameter arrows, like the new 4mm Axis Long Range shaft, for better penetration and wind resistance. The Easton shaft is made of lighter-weight carbon for improved velocity and FOC balance. The pre-installed Microlite nocks aids to keep the rear of the shaft light, while the threaded insert for the head adds extra weight to the front. Small shafts offer better accuracy and reduced friction to retain velocity, kinetic energy and add penetration. The 4mm ultra-micro-diameter carbon core is fitted with a 7075-alloy jacket for strength and durability. Four millimeter Axis Long Range is available in four sizes—250, 300, 340, and 400—in both standard straightness, and the ultra-precise ±.001 Match Grade. MSRP: $105.99 per six-pack fletched (standard straightness); eastonarchery.com.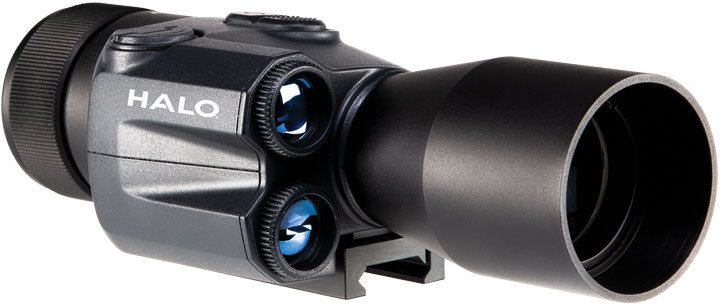 Halo Hyper X Laser Rangefinding Crossbow Scope
Halo's new 4x32mm Hyper X crossbow scope has a built-in laser rangefinder that functions while looking through the optic. Find the target, obtain the range and shoot with precision without ever moving. The scope allows you to range the distance to the target, then gives you an accurate, illuminated drop reticle for your point of aim. The wireless remote to trigger the rangefinder mounts to the stock, where the press of a finger can activate it. The unit compensates for elevation. The speed of crossbow can be adjusted in the scope's settings for dead-on accuracy and flexibility for various crossbow models. It features fully multi-coated glass lenses for maximum light-gathering, and a Weaver-style rail mounting system. MSRP: $499.99; halooptics.com.


Bowtech Solution SS
Bowhunters looking for a simple, smooth draw cycle and a back wall that holds effortlessly should check out the Solution SS. The bow is built for comfort and speed, accommodating draw lengths of 25.5 to 31 inches. The bow measures 30 inches between the axles, and features a forgiving 7-inch brace height. The SS weighs 4 pounds and has a speed rating of 332 fps. The cams can be adjusted on the axle without a press, meaning custom tuning on the range or in the field is possible. The bow's draw cycle and performance can be adjusted in the cam without going to a pro shop. The bow is built quiet, with the company's DeadLock Cam System, DeadLock limb pockets and a center pivot riser design to reduce noise and vibration that needs to be felt to be appreciated. The "SS" in the bow's name stands for "Super Smooth." Available in 50-, 60- and 70-pound draw weights. MSRP: $1,149.99; bowtecharchery.com.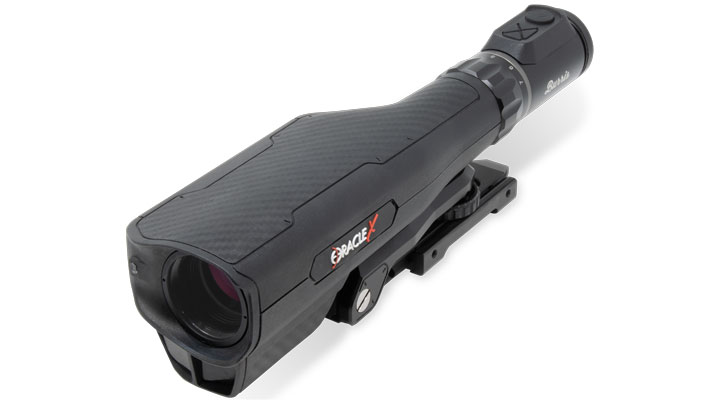 Burris Oracle X Rangefinding Crossbow Scope
Burris has entered the horizontal-bow optics market with its new Oracle X rangefinding crossbow scope. Built on the company's decade-long experience with its Eliminator riflescope, the Oracle X is activated by a wireless remote or push button on the scope. When activated, the scope provides an instant reading in the optic for the range, and an aiming point adjusted for angle compensation calculated with an onboard inclinometer. The remote can be mounted to the bow or kept in a hand or pocket. The scope offers 2x-7x variable zoom, and stays accurate for range at any power. It weighs 30.8 ounces, uses CR123 lithium batteries, will range reflective targets to 500 yards and mid-size game, such as deer, out to 200 yards. A built-in electronic level helps prevent bow canting. The aluminum mount allows the scope to be used with most makes and models of crossbows. The optic is shock, fog and waterproof, is nitrogen-filled and is backed by the Burris Forever Warranty. MSRP: $899; burrisoptics.com.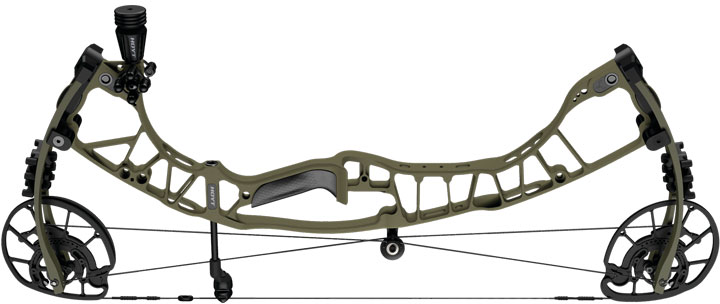 Hoyt Ventum 30
The Venum 30 features Hoyt's all-new HBX cam system, designed to improve performance and keep arrow release smooth and stable. The cam comes in one size that covers the full draw length range via two different module sizes to accommodate 25 to 28 inches and 28½ to 30 inches. The Ventum 30 is built on an aluminum riser, and lines up the sight mount and stabilizer with the riser to provide balance and quick target acquisition. The company's In-Line Sight Mount features a Picatinny rail to mount your sight on the front of your bow in-line with the riser for a more streamlined fit, better balance and more reliable attachment. Every component is either noise-dampened or designed to reduce friction, providing quiet, steady and consistent arrow release. The bow has an ATA speed rating of 342 fps, measures 30 inches axle-to-axle, sports a 6⅛-inch brace height and weighs 4.6 pounds. The Ventum is available in 30-40, 40-50, 50-60, 55-65, 60-70 and 70-80-pound draw weights, offering 80 to 85 percent letoff. MSRP: $1,199; hoyt.com.