Support NRA American Hunter
DONATE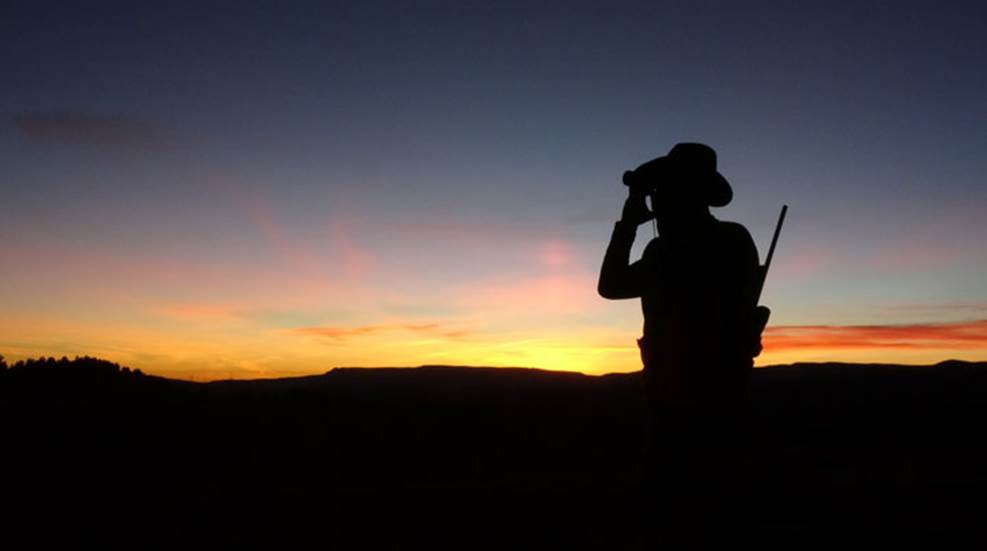 Hunting mule deer is high on most red-blooded American hunters' bucket list of adventures, and with good reason. Heavy-antlered, deep-forked muley bucks are majestic animals, and inhabit some of the most beautiful terrain on earth. Compared to most whitetail bucks they appear gigantic. Even the most experienced, savvy hunter can experience a high-speed come-apart at the sight of a big mule deer buck bounding through the sage or standing on a skyline.
Many experts believe—and I concur—that a fully mature mule deer buck is the hardest big-game animal on the North American continent to find and harvest. There are exceptions, of course (high-dollar private-land guided hunts), but the average blue-collar hunter is going to have to work hard and hunt smart to find a mature public-land mule deer buck. Here are the tools you need and the tactics you should employ in your quest: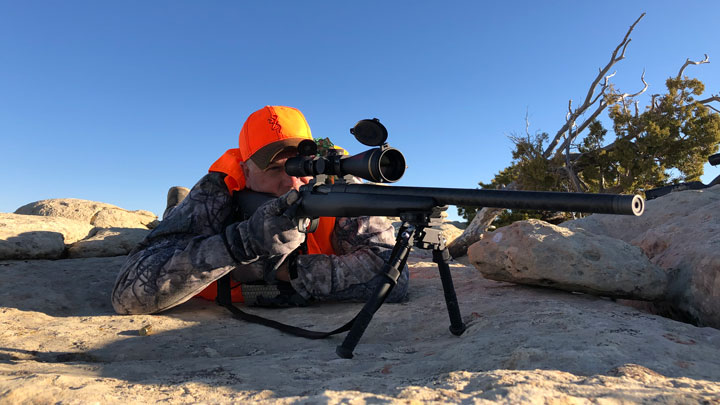 Tools of the Trade
Three tools form the foundation of your mule-deer hunting arsenal: your rifle, optics and backpack camping setup.
Rifle: Your rifle needs to be lightweight enough to carry through rough country, and capable of shooting the extended distances common in mule deer country. Try to keep bare rifle weight (without scope) to 6.5 pounds or less. For ease of maintenance, use a rifle that's constructed of stainless steel in a fiberglass or carbon-fiber stock.
Some of my favorite cartridges for mule deer hunting include the 6.5 PRC, .280 Ackley Improved, 7mm Remington Magnum and .30-06 Springfield. Loaded with a premium, heavy-for-caliber bullet, they are lethal beyond distances most hunters have any business shooting at game. Test the following loads in your rifle and choose the most accurate for your hunt: Federal Premium Terminal Ascent, Hornady Precision Hunter, Winchester Expedition Big Game Long Range and Barnes LRX.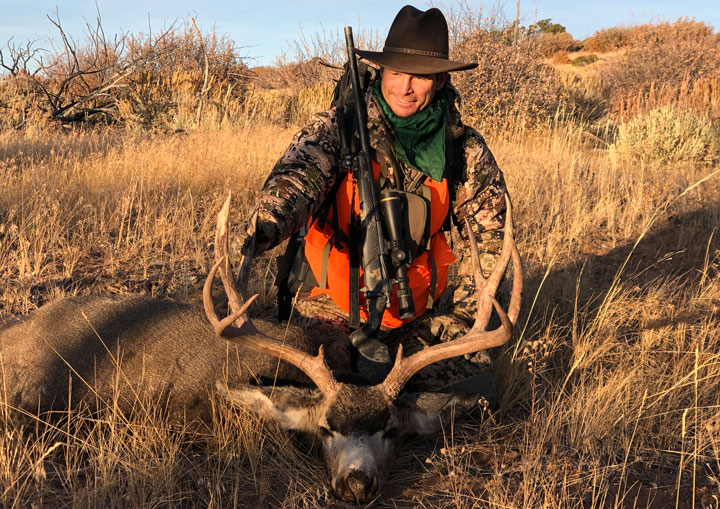 The scope your rifle wears is the most important component of your system. It needs to be lightweight, tough and sport a dial-up turret with a zero-stop type mechanism. This turret will enable you—with dedicated training—to make accurate shots out to 500 yards or more. That extended shooting capability can make the difference when you're hunting spooky old bucks in big terrain. Leupold, Swarovski, Zeiss, Vortex and others make scopes worthy to mount on your backcountry mule-deer rifle. I particularly like Leupold's VX6-HD, VX5-HD and VX-3i scopes for their lightweight, made in the USA nature, as well as for their excellent turrets. Don't fall into the high-magnification trap—use a scope with a low power between two and four, and high-end magnification between 10 and 18.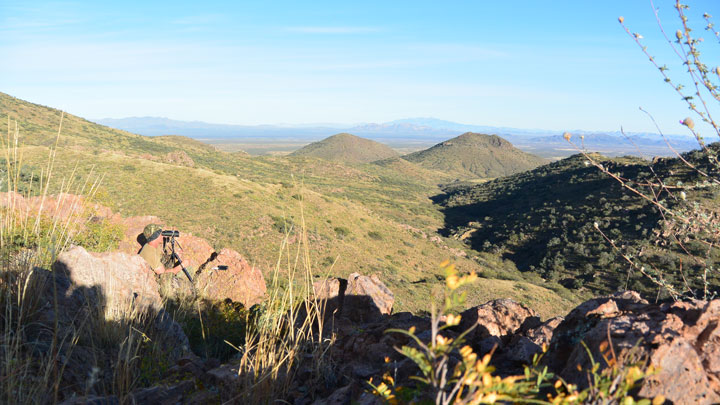 Optics: The hardest part about harvesting a truly mature mule deer is finding one. We'll talk more about that in the "Tactics" section, but the point here is good optics can (and most likely will) mean the difference between success and failure on your hunt. Odds are high that the first time you see your buck it will be though binoculars. Get the best glass you can afford. In my opinion, the finest optics are available from Swarovski, Zeiss and Leica.
Binocular size and power is a well-debated subject, with some hunters preferring a seven- or eight-power binocular for its compact and lightweight nature. Others—typically hunters who glass big, open country—prefer big glass in the 15-power range, which they mount on a tripod. I use and like both, but probably the best all-around binocular size is 10X-42X. You can still mount it on a tripod if you wish.
After you've spotted a buck, use a spotting scope to study him and determine if he is a shooter. Much of the time, you'll be carrying your spotter with you as you backpack hunt, so get a lightweight version in the 15X-45X-60mm range, complete with a lightweight tripod. Currently my two favorite backcountry tripods include a lightweight Outdoorsmans, and a carbon-fiber model from Leupold.
The last tool necessary to round out your optics arsenal is a good rangefinder. I like models that reliably read at distances of at least 1,200 yards, and preferably double that. Often, conditions in the field make it hard to get a good reading, and having a quality rangefinder that will range much further than necessary is an advantage. I really like rangefinders from Leica, but my current favorite is Zeiss' Victory RF, which combines my binocular and my rangefinder into one superbly capable unit.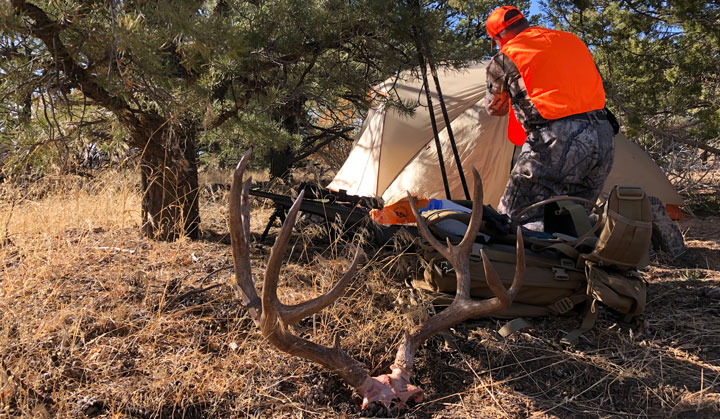 Backpack Camp: Why do you need a backpack camp, you ask? Because your chances of locating a big muley buck go up exponentially the further you distance yourself from easily accessed hunting areas. More about this later—for now, believe me; if you want to kill mature public-land bucks, you should plan on bivy hunting.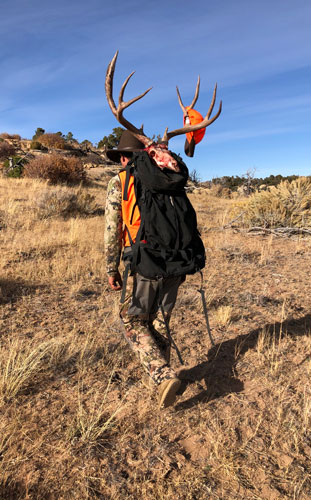 The ingredients to a good backpack setup can fill several articles alone, and I don't have the space to cover them in detail in this article. But here are the basic things you'll need. Buy the best gear you can afford, because at times your life may depend on it:
A comfortable backpack with a capacity between 4500 and 5500 cubic inches. Check out models from Kifaru, Mountain Hardwear, Mystery Ranch, Sitka and Barney's Sports Chalet.
An ultra-light tent. I'm currently rather infatuated with my Big Agnes Tiger Wall 2 Platinum.
A lightweight down sleeping bag with 0-degree rating, and a compact, inflatable sleeping pad. Big Agnes makes several superb options.
Backpacking stove with fuel and titanium cooking pot. I use an MSR PocketRocket
Canteens or water reservoirs. You'll want 3 to 6 liters worth, depending upon how dry the territory is you'll be hunting. I like to carry a 1-liter stainless-steel Klean Kanteen because I can boil water in it to purify, if necessary. I carry the remainder of my water in reservoirs (bladders) because they are collapsible and take up little space when not full.
Water purifying tablets, drops or pump.
Freeze-dried food.
Game bags, knife, and cordage for meat processing.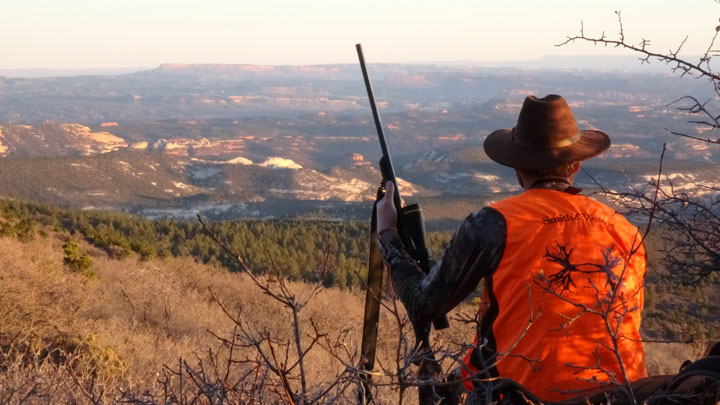 Tactics
My two favorite techniques for hunting big mule deer bucks are spotting and stalking, and waiting in ambush. Here's how:
Spot and Stalk: This is the quintessential way to find and kill mule deer in the West. It's a simple technique that can take a lifetime to master. First, locate a good vantage point from which you can glass a ton of good habitat. Often you can hide your bivy camp nearby. Set up and glass for several days or until you locate a big buck. If nothing shows after a couple days of dedicated glassing, relocate to another promising vantage point.
Once you've found a deer you want to stalk, study his surroundings carefully. Try to ascertain what the wind is doing at his location. Choose a destination shooting position, then plot a route from your vantage point to that position that will keep you downwind and under cover. Be sure and memorize landmarks along the way. Everything looks different once you leave your vantage and begin stalking.
Once you've begun your stalk, don't mess around. Cover ground as rapidly as you can, always being careful not to allow the deer to see or scent you. Slow down as you make the final approach. Relocate the buck, settle into a good shooting position, and press the trigger.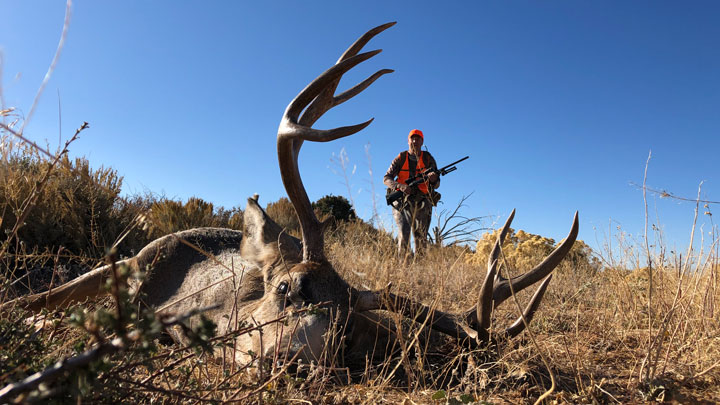 Ambush: If you've found an area with good deer numbers, or that you know a big buck frequents, the best tactic can be to sneak into a position from which you can cover all, or most, of the area with your rifle. Make sure your scent does not blow into the area, and don't ever skyline yourself. Get set up for a shot, and then keep your movement to an absolute minimum. Big bucks only get that way by being wise and wary—if you're not clandestine they will figure out you're in the area and stay out of sight.
For a morning hunt, make sure you're in position before light arrives, and be very, very quiet. If you're not, the bucks will hear you and slip away. You'll never know they were there. Watch exit routes, and look for bucks slipping toward bedding areas as dawn approaches. If you've hiked far enough from heavily pressured areas, wait and watch for bucks loitering around a favorite food source, or sparring in the early morning sunshine.
If you're hunting heavily pressured territory, stay alert and in position late into the morning. Many big bucks have been shot while evading a hunter who is tromping his way back toward his truck and a donut. Don't just watch for running deer. Most big old bucks will sneak carefully away from hunters, staying in brush where possible and using cover to their advantage. You've got to be sharp to spot them.
For an evening hunt, get into position long before you expect deer to move, then be still and watch. In my experience, mature bucks will not usually move until the very thin edge of dark. Glass until light is completely gone. Even if legal shooting light has passed you might get a look at a giant buck, verifying that he's in the area. Often though, he'll show up with just enough legal light left to make a shot, if you're prepared and ready.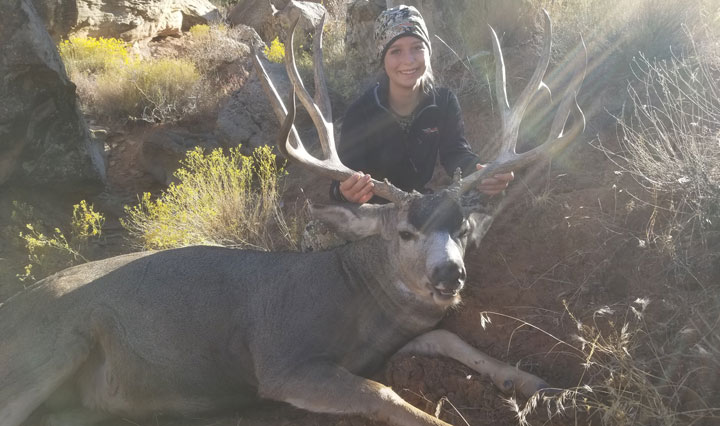 Be Flexible
When you're hunting big, mature mule deer it pays to be alert and flexible. You can combine spotting, ambushing and stalking as the situation dictates. Think like a big buck that's really good at avoiding hunters and try to outsmart him. Most importantly, enjoy the time you get to spend hunting majestic bucks in some of the most beautiful country on earth.
Want to read more from Aram von Benedikt? Check out the following articles:
• Tips and Tactics for Hunting the West
• How to Prep for Elk Hunting: Physical Fitness, Mental Toughness, Shooting Skills and Shot Placement
• Hunting African Plains Game: How and Where to Place Your Shot
• Dream Hunt: How to Make an African Safari Come True
• Top 5 Backcountry Hunting Rifles
• Hunting Cartridges: Rising Starts of the New Millennium
• Tips and Tactics for DIY Hunting and Fishing in Hawaii
• Peccary Quest: Where and How to Hunt Javelina
• Tips and Tactics for Hunting Western Cottontails
• How to Convince Your Wife to Let You Buy as Many Guns as You Want
• Backcountry Survival Tips: How to Deal with Disaster
• DIY Backcountry Hunting Tactics and Gear
• How to Be an Ethical Long-Range Hunter
• Tips and Tactics for Hunting Coues Deer
• Essential Stalking and Still-Hunting Skills
• A Beginner's Guide to Traditional Bowhunting
• 6.5 Creedmoor Proven: How Does It Actually Perform on Big Game?
• How Hunting Rifles & Gear Have Evolved Over the Last 50 Years
• How to Sharpen a Knife
• How to Set Up Your Rifle and Scope for Long-Range Dialing
• 7 Common Predator Hunting Mistakes to Avoid
• 6 Tips for Hunting Public-Land Mule Deer
• 10 Tips for Bowhunting Elk
• Tips and Tactics for Bowhunting Mule Deer
• How Do You Build the Ultimate Western Big-Game Rifle?
• 10 Ways to Prep for Your Next Western Big-Game Hunt
• Tips and Tactics for Hunting Canyon-Country Gobblers
• 12 Tips for Shed Hunting the West