by
posted on November 5, 2020
Support NRA American Hunter
DONATE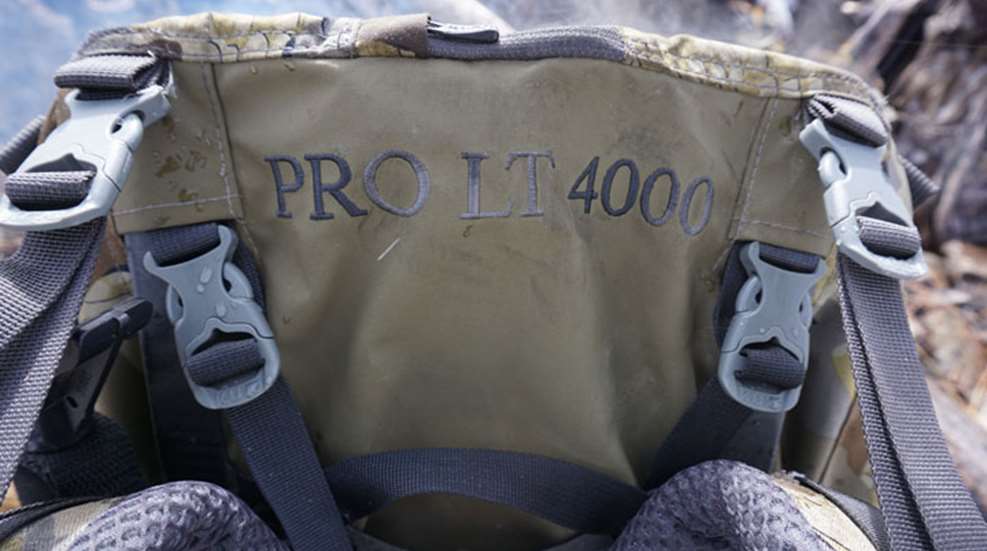 There are few aspects of the hunting world in which I could be labeled a "gear junkie." I wear camo until it has more holes than cloth, still drop at least one deer a year with my original hunting rifle and wear the soles off my boots with regularity. Packs loom as a stark exception. From full-size haulers with clunky metal frames, to ultra-light, cottage-industry, internal-framed jobs, to frameless daypacks, I've humped my fair share of fitted and unfitted packs up terrain from the jagged New Mexico mountains, to the Grand Canyon, to the rugged stretch of Appalachians near my home. As such, I was delighted to take Kuiu's new ultra-modular PRO LT pack system on a taxing backcountry hunt in Idaho this fall. Weighing in at a mere 3.8 pounds, an almost unheard-of number for a load-hauling external-frame pack—much less one with a 4,000-cubic-inch capacity—I had high expectations for the PRO LT going in. It exceeded them.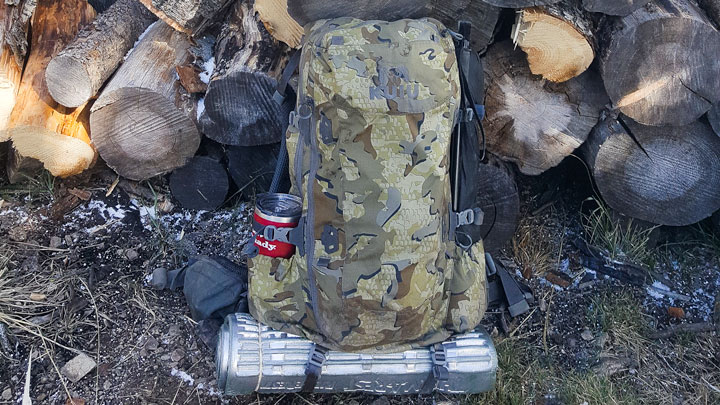 In terms of test conditions, this hunt was a doozy. From horrendous weather, to horseback rides, to the possibility of spike camping, this hunt threw absolutely everything my way, and as any experienced backcountry hunter knows, you're only as good (read: comfortable) as what you can fit in your pack. I selected a model decked in the brand's new Valo camouflage, perfect for the burned-out section of forest we hunted.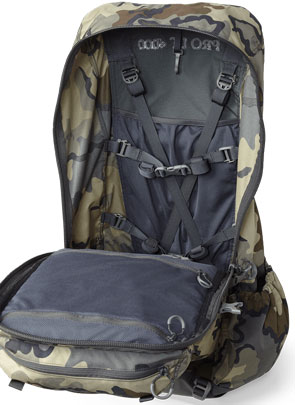 As mentioned, I opted for the 4,000-cubic-inch bag, and was able to fit all my cold-weather gear (including spare socks), sleeping pad, bag, ultralight tent, stove, food and water/water filters required for a few nights alone in the wild. Four other sizes (1850, 2300, 5500 and 7000) are available depending on your specific needs, all of which can be swapped on and off the same Kuiu Carbon Fiber Frame using simple buckle attachments, making this truly a pack system, not just a pack. The bag itself features a near-minimalist style, with a full-zip main compartment; a long, flat, side-zippered pocket for storage at the rear; a small top pocket, ideal for quick-access items like beanies and gloves; and the usual side-stuff and (removeable) hip belt pockets. Inside the main compartment are two flat-zippered mesh compartments running its length, load-securing straps, a mesh hydration-bladder pouch, and a hanger and zippered opening for a hydration hose. Kuiu also makes an ingenious Pack Accessory Compartment for extras you can't fit or want to keep separate, which clips either inside or outside of the pack. I, fortunately, had no real need for this, but enjoy the added capacity it yields if needed.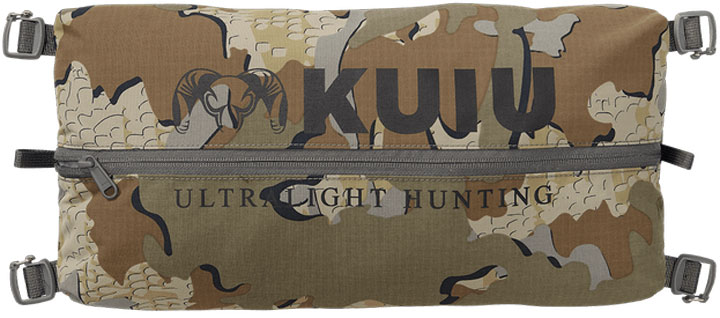 My setup weighed in at a hair under 30 pounds (consumables included, not baseweight). Fitting all essentials into one bag may have been a little excessive on my part, considering we would ride on horseback to a main base camp and were only considering spiking out occasionally, but I'm a worst-case scenario type of guy and like to know I can put my house on my back and walk if need be. Despite the light nature of the pack system, the load balanced well and carried like a breeze on several long test hikes around my home mountains. This is due in no small part to the tailoring of the system to each customer, with three sizes of frame and two sizes of fully-padded suspension (hip belt, sternum strap, shoulder straps and load lifters) available. If this is your first serious pack and that sounds like overkill, trust me, it's not. A properly fitted pack can make the difference between a well-distributed load and overtaxed shoulders or hips.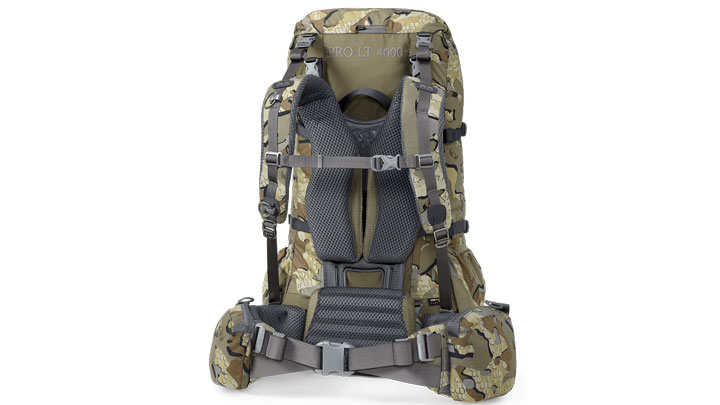 Once at camp, the pack got most of its exercise as a day pack, toting hunting equipment and cold-weather gear on our daily excursions. The section of Idaho we encamped was rough, with every hike dominated by vertical ascents and tenuous descents down snow-covered shale in search of elusive mule deer. The system's ability to maintain a low and close center of gravity—thanks in no small part to its sturdy bottom-and-side compression system—was constantly on display as I worked to keep my balance on the slick hillsides.
Also in focus was the pack's rugged durability. This was the one area I had some questions coming in, being that the fabric had been lightened from the traditional PRO series, to create the lightweight PRO LT (thankfully no Dyneema was involved, as seems to have become all the rage among ultralighters). Instead, the change was from 500D Cordura Ripstop Fabric, to 330D Cordura Ripstop, which yields only a small decrease in (mostly long-term) durability. Indeed, the pack showed no signs of wear, despite five days of bushwhacking through trees, being used as a seat on jagged shale and exposure to popping embers from nearby drying fires.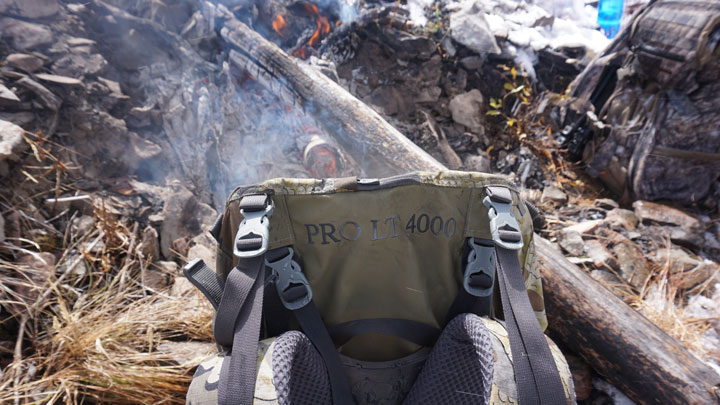 While on the topic of drying, let me make one suggestion. Buy the rain cover. I forgot to grab my old ALPS pack cover before heading out and regretted it sorely. Save for the back and bottom, the material is in no way waterproof, and in the sort of drenching rain we experienced the last day allowed all gear inside to become damp. This is NOT a slight on the pack, by the way. It's not advertised as even water-resistant (which it is, holding up well through snows and light rain)—simply a word of advice from one who learned the hard way.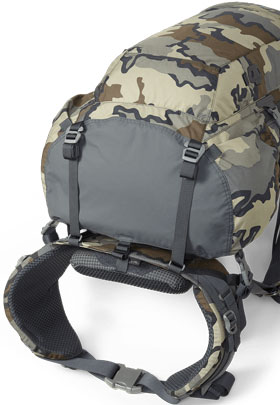 The only function I was unable to test on the system was its meat-hauling capabilities. In addition to its interior storage space, the bag itself loosens away from the frame, allowing one to stuff a full quarter or dry bag into a 2,500-cubic-inch space, before tightly cinching the bag back down to hold it in place. Unfortunately, a hellacious storm wrecked our camp and injured a friend of mine before we were able to down any muleys, and we were forced to come out of the woods several days early (click here for more on that story). That said, I plan on using the pack for a few more personal hunts this year, and if I manage to drop a deer while doing so, will update this article accordingly with how it performed. For what it's worth, I did try the feature out with some other materials, and it seems to work beautifully.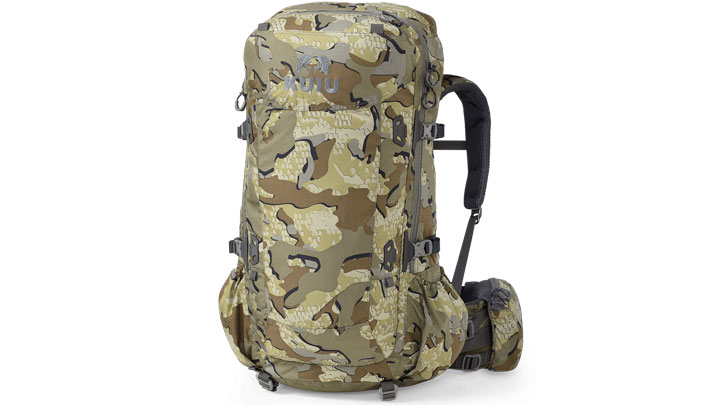 All in all, Kuiu's PRO LT system should be the loadhauler of choice for any serious, weight-minded, backcountry hunter. The modularity of the system makes its size adaptable to everything from day hunts to weeks-long outings, while numerous fitment options give it custom-level comfort. The minimalist design, which emphasizes large compartments over numerous, smaller pockets, also makes it ideal for hauling large sections of meat. Finally, the fact that the line is available in all three of Kuiu's well-conceived camo patterns, as well as solid Phantom (green), is just icing. Learn more about this simultaneously purpose-built yet adaptive system, at kuiu.com.
MSRP:
PRO LT 4000 Bag: $139
Kuiu Carbon Fiber Frame: $175
Pro Suspension: $145
Pro Hip Belt Pouches: $20
Total price (as tested): $479