by
posted on February 7, 2015
Support NRA American Hunter
DONATE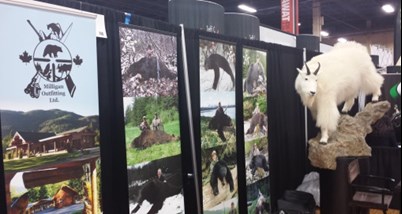 When the annual SCI Hunters' Convention is in town, it's funny how all roads in Las Vegas seem to lead me to it. Yesterday evening, my husband, Phil, and I decided to put a few dollars in a slot machine at Mandalay Bay on our way back to the room. As we got up to leave we ran into Chummy Plummer and Lorane Poesch of Plummer's Arctic Lodges. Lorane was about to put money into the same slot machine as Phil said, "I primed it so you're about to win hundreds of dollars," which unfortunately happened to him here last year, but she stepped away to chat with us and someone else sat down, put in a few bucks and won $500. At that point we had to change the subject in a hurry and talked hunting.
As the third-generation owner of Plummer's Arctic Lodges, Chummy operates the oldest fishing and hunting lodges in Canada's Arctic, Northwest Territories. Seventy years later, Plummer's has grown to seven trophy fly-in fishing lodges north of the Arctic Circle, including very exclusive muskox hunting. Speaking of muskox hunting, Phil and I just did it in Greenland in August so I can say from firsthand experience it's an amazing feeling to pursue a pre-historic game animal that ran around with the wooly mammoth! Visit Chummy at SCI Booth #1786 and check into booking one of your own. Chummy, who started guiding the Arctic in 1956 at the age of 13, will be onsite until the close of the show. Of course, consindering his lodges hold the world records for lake trout, Arctic grayling and the 32-pound, 9-ounce Arctic char caught at Plummer's Tree River Char camp at the mouth of the Arctic Ocean, fishing excursions are also great option! For more information on the history of this operation, visit plummerslodgeshistory.com or email [email protected]
Another premier booth to visit from British Columbia is Milligan Outfitting, exhibiting in Booth #746. Outfitter Bob Milligan, who operates the largest territory in the province, offers fly-in and backpack hunts for mountain goats and grizzlies, as well as both lodge- and boat-based black bear hunts. Of course, these trips also offer opportunities for great fishing and catching a few monster crabs and prawns along the way. Bob, who Phil has hunted with multiple times for his TV show, "Phil Phillips Unleashed," was in our wedding in June 2013 so from firsthand experience, we can vouch for him! In fact, Phil's life-sized goat mount is on display in the booth. And by the way, Milligan Outfitting has the world record for archery mountain goats, the pending No. 2 record for archery grizzlies, two or three of the top 10 mountain goats and, last but not least, the No. 1 muzzleloader grizzly! For more info, visit coastmountainoutfitters.comor email Bob at [email protected].