by
posted on October 6, 2016
Support NRA American Hunter
DONATE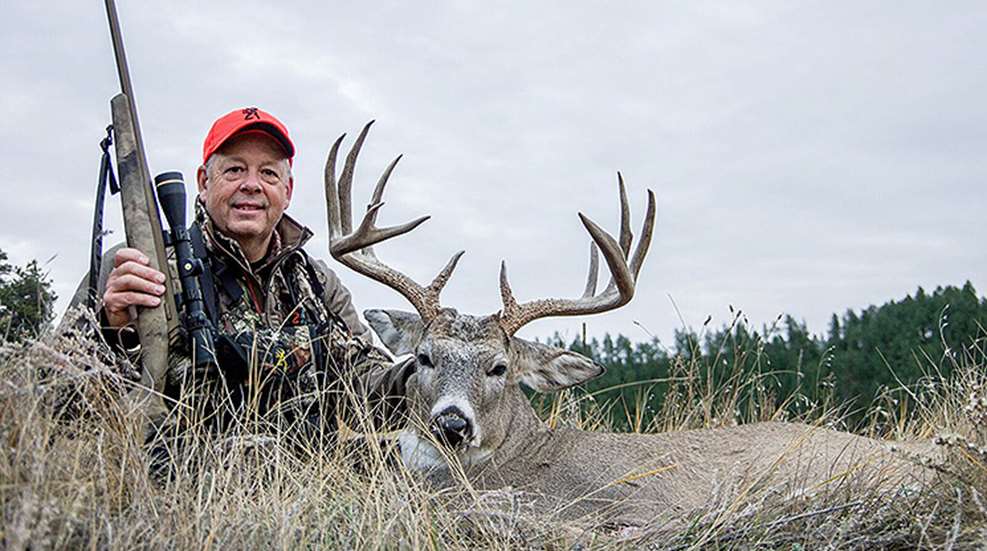 The whitetail deer is unquestionably the most popular big game animal in North America, and each fall millions of hunters head to the woods with the same thing on their mind—intercepting a record-book buck. But whitetails are also big business, and states that have historically produced giants like Iowa, Illinois, Kansas and my home state of Ohio bring in significant revenue from non-residents looking to fill their deer tag. Over the last decade, though, the nationwide movement toward improved deer management on private lands has changed the whitetail hunting landscape. We're seeing bigger deer each year, and many of those deer are coming from states that aren't on the radar of most hunters.
That isn't to say that states like Iowa, Kansas, Missouri and Wisconsin won't continue to produce huge deer. It just shows that big deer live in a variety of places—maybe even in your own backyard.
Wyoming
Tell your friends that you're hunting in Wyoming and they'll probably assume you're chasing elk, sheep, mule deer or pronghorn. Tell them you're traveling there to hunt whitetails and they might scratch their heads, but hunters in the know are aware that Wyoming—particularly northeast Wyoming around the Black Hills and Devil's Tower—produce some awfully big deer and hunting pressure remains relatively low. Last year my friend Kevin Howard took an excellent deer near Carlisle (pictured above), and I happened to be on a mule deer hunt 50 miles away at the same time. I got a big mule deer, but I was amazed at the number and quality of whitetail bucks I saw in that area. This is wide-open country, and most deer are hunted with rifles, but a savvy archer could slip into a cottonwood drainage and bring home the biggest buck of their lives.
Indiana
Despite being sandwiched between two of the Midwest's best big deer states, Indiana is rarely mentioned as one of the best whitetail states. But that's quickly changing, thanks in no small part to the fact that a bevy of big bucks are being taken in the Hoosier State each fall including Timothy Beck's 2012 monster that measures 305 7/8 and ranks fifth in the B&C record book of non-typical whitetail deer. So it's clear that Indiana's whitetail herd has the genetics to produce magazine cover bucks, but it lacks some of the pressure from out-of-staters that Ohio and Illinois experience. This means that hunting leases aren't as expensive as they are in either of those border states, too. If you opt to hunt public land that's also an option, and the vast Hoosier National Forest is certainly home to some huge deer that die of old age.    
Mississippi
Mississippi wasn't always known as a prime location for big deer, so when the Boone & Crockett all-time number seven non-typical buck was taken there in 1995 it sent a ripple through the hunting community. Since that time other Magnolia State monsters have started appearing—a 184 6/8-inch brute that went down in Adams County in 2011, a double drop-tine buck that grossed 183 outside Leland, and many more—deer that would make even the most jaded Midwestern hunter jealous. Couple that with the fact that the state offers more than a million acres of public hunting land and low hunter densities and you have the recipe for an underrated deer state. Additionally, the relatively mild fall and winter weather make Mississippi a more comfortable place to hunt that big buck enclaves farther north.
Oklahoma
Like Indiana, Oklahoma is positioned between two famed whitetail states—Texas and Kansas. But the Sooner State is home to some really impressive deer like Preston Lynch's 198 3/8-inch non-typical harvested in Seminole County during the 2013-2014 season. The state is home to almost a million acres of public land and guided hunts on private land remain an affordable option here as well. I had first-hand experience with one of these Oklahoma giants last year at the Stuart Ranch in the southern portion of the state; I tagged out early and on the last day of the hunt while I was chasing coyotes a huge buck walked across a pasture field, a deer that was easily in the 160s and maybe larger. The lesson here is don't underestimate what Oklahoma has to offer.
Idaho
Like Wyoming, Idaho is best known for elk, mule deer, black bear, moose and some of the largest cougars in North America. But there are also lots of whitetails in Idaho, especially in the Panhandle region where apple orchards and thick, old-growth forests make a prime habitat for big bucks. In 2001 Ronald McLamb harvested a 186 7/8 inch monster—the largest typical ever harvested in Idaho—in Bonner County, and with millions of acres of public hunting land available the Gem State is a real gem for those looking to bag a record book deer. During the late rifle season snow in the mountains pushes these deer down from their summer hideouts and if you're willing to brave the elements you might be rewarded with the deer of a lifetime.
Kentucky
Kentucky definitely deserves a spot among the most underrated whitetail states, and Justin Mooney's 204-inch non-typical monster harvested in September, 2014 is just one of the growing number of Bluegrass whitetails that are filling up the record books. Kentucky is a whitetail hunter's dream destination—lots of public land, relatively low hunting pressure compared to many traditional big buck states, and a deer herd with the genetics to produce huge antlers. Kentucky produced the number five all-time Boone & Crockett whitetail in 2000, and yet the state hasn't received the attention it deserves from many traveling hunters. It's still a relatively affordable destination that holds the potential for great deer.