by
posted on May 16, 2019
Support NRA American Hunter
DONATE
Now in its 17th year, readers may count on American Hunter's Golden Bullseye Awards to denote excellence. Indeed, these days many companies knowingly strive to hit the mark—to produce innovative products that catch our attention. After all, any product worthy of our gold standard must meet or exceed American Hunter's expectations of innovation—and they absolutely must provide hunters with value for their money.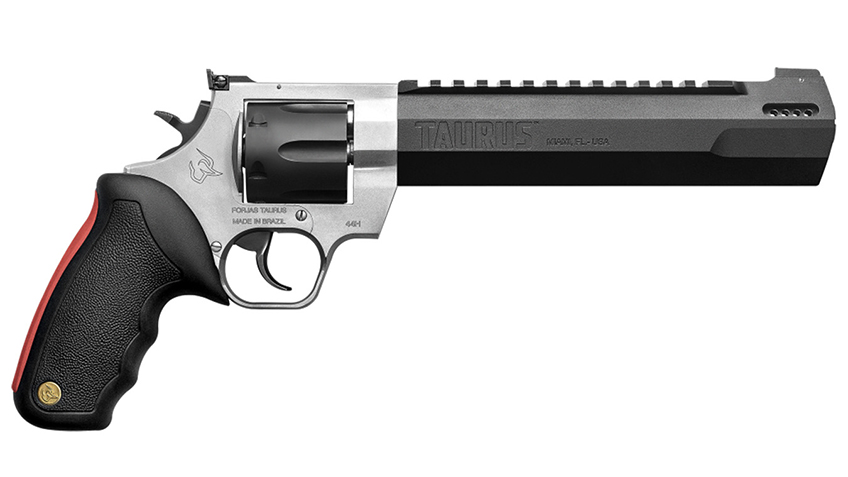 2019 Hunting Handgun of the Year: Taurus Raging Hunter
Like its older brother, the Raging Bull, the Raging Hunter is a big handgun for big game. In fact the guns share many features: a red, cushioned insert running along the back of the grip pads the hand against recoil; an 8⅜-inch-long ported barrel aids accuracy for long shots; and a secondary cylinder lockup point adds mechanical strength to a large frame that fires powerful .44 Rem. Mag. loads. But to our minds, the Raging Hunter is more practical in the field than the Raging Bull; it weighs less and chambers a more manageable cartridge.
At 55 ounces, the Hunter is a half-pound lighter than the Bull thanks to a two-piece aluminum shroud and barrel assembly. Recoil is mitigated by eight gas ports at the muzzle; propellant gases escape the ports to force the muzzle downward to reduce flip as the bullet exits the barrel.
Sights include an adjustable rear blade with a square notch and a Patridge-style front blade. A Picatinny rail machined into the barrel shroud accommodates optics. The trigger breaks crisply in single-action mode at 4.5 pounds; double-action pull is 12.5 pounds. A transfer-bar safety ensures the hammer won't contact the frame-mounted firing pin unless the trigger is pulled fully to the rear and held there; it prevents accidental discharge should the hammer be snagged, or when lowering the hammer on a loaded chamber.
"Despite the gun's name, I'm anything but angry about the performance of the Raging Hunter," wrote Executive Editor Adam Heggenstaller ("Hardware," December 2018). "Most handgun hunters would be happy to carry this latest offering from Taurus into the field." MSRP: $919; taurususa.com.
Editor's Note: Winning products must be tested by the editors, meet or exceed expectations on innovation, and provide hunters and shooters with value for their money. NRA Publications presented the annual Golden Bullseye Awards at an invitation-only breakfast during the 2019 NRA Annual Meetings & Exhibits in Indianapolis, Ind., Apr. 25-28.